>>> Dak Nong urged to ensure social security and poverty reduction
At Dak Plao School, Deputy PM Dam graciously encouraged teachers and students to teach and learn, expressing his pleasure at the results achieved during the last school year. He also expressed his deep gratitude to teachers working in remote areas with special difficulties, such as Dak Plao Commune.
He noted that the teachers had overcome many difficulties in life to bring knowledge to disadvantaged regions, helping ethnic minority pupils to get full educations.
"It makes me very emotional that when we asked the teachers about their aspirations, no-one talked about personal aspirations, although I know that they are facing many difficulties," the deputy PM said, adding that: "We should not forget the teachers who bring knowledge to the most difficult of places, with the simple wish that all children will receive proper educations."
Dak Plao School is located in the especially difficult Dak Plao Commune and has more than twenty teachers and 169 pupils, in which ethnic minority students account for 84.6%.
At the ceremony, the National School Milk Programme awarded more than 6,000 boxes of milk to nearly 350 pupils at Quang Trung Primary School in Dak Plao, with a total value of nearly VND200 million. The programme was organised to bring millions of glasses of milk to elementary pupils in Dak Nong.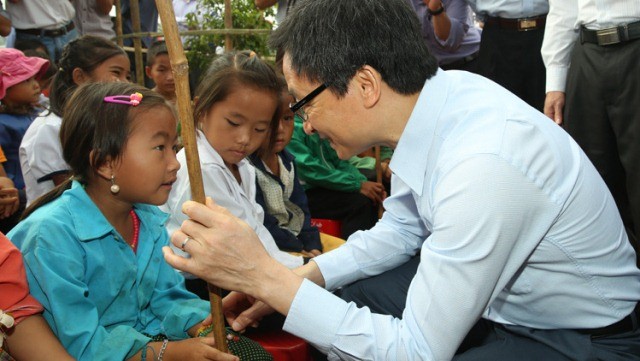 Deputy PM Vu Duc Dam talks to pupils at the celebration of Vietnam Teachers' Day at Dak Plao Secondary School on November 19. (Credit: VGP)
* The same day, Deputy PM Dam attended the Great National Unity Festival in Quang Khe Commune.
He recalled a Vietnamese legend stating that all Vietnamese were born of the same mother, and that thanks to the unity of all the ethnic groups across Vietnam, the country has overcome many enemies' attempts at sabotage to protect and develop the nation as it is today.
After the establishment of the Communist Party of Vietnam, the Party and Uncle Ho established the United Front (the predecessor of the current Vietnam Fatherland Front) and the tradition of solidarity and the bloc of great national unity is always included in the views of the Party, helping the nation attain independence and carry out renovation work with comprehensive development.
The deputy PM expressed his wish that ethnic minority groups in Quang Khe, under the leadership of local authorities and the Fatherland Front, would strive and unite to facilitate socioeconomic development, poverty reduction, political stability and social order in the province, and especially to promote and enrich their ethnic traditional culture.
Quang Khe is in Dak G'long District's centre. It consists of twelve hamlets with a population of about 15,000 people from 22 different ethnic groups. Currently, more than 90% of the total households in the commune have access to electricity, while 95% of them have access to clean water.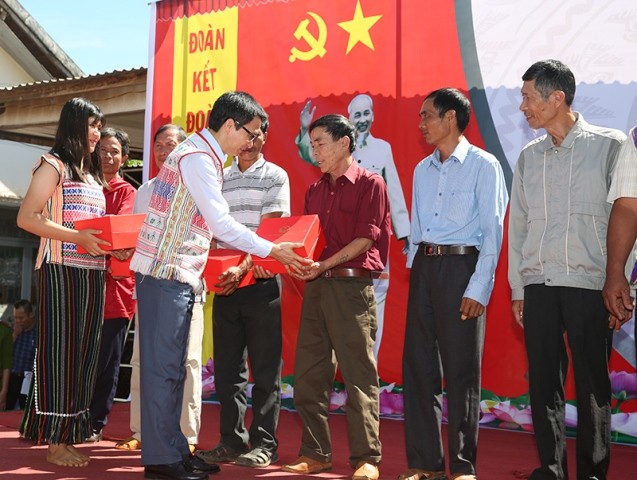 Deputy PM Vu Duc Dam presents gifts to locals at the Great National Unity Festival in Dak G'Long District's Quang Khe Commune on November 19. (Credit: VGP)