The sea tourism season 2023 is expected to be the perfect step to develop tourism in the provinces of Thanh Hoa, Nghe An and Ha Tinh.
According to Le Tran Sang, Deputy Director of the Department of Culture, Sports and Tourism of Ha Tinh Province, besides natural tourism potential, Ha Tinh coastal area has got a diverse system of coastal intangible cultural heritages, many major festivals associated with national monuments, such as the Chieu Trung Temple Festival in Thach Ha District, Chan Tien Pagoda Festival in Loc Ha District, and Cau Ngu (whale worship) Festival in Cam Xuyen District. There are many types of folk songs and dances associated with the folk beliefs of coastal residents.
The beaches in Ha Tinh are connected with relics and scenic spots in other areas of the province, such as Ke Go Lake, the relic site of General Secretary Ha Huy Tap (Cam Xuyen District); Dong Loc T-junction, Huong Tich Pagoda (Can Loc District); the relic of General Secretary Tran Phu (Duc Tho District); Hai Thuong Lan Ong - Le Huu Trac Ecological Area (Huong Son District); and the relic site of the great poet Nguyen Du (Nghi Xuan District), are ideal destinations attracting both domestic and foreign tourists.
Vice Chairman of Sam Son City People's Committee Bui Quoc Dat said that visitors from Hanoi and northern provinces to Sam Son Beach this year will see travel time shortened by the Mai Son Expressway-National Highway 47.
The Quang Xuong-Sam Son coastal road section has also been completed and put into operation, connecting Sam Son with Thanh Hoa City.
In order to attract tourists to Sam Son, in addition to the daily and nightly art performances of SunGroup, Sam Son City will organise a series of events, festivals, cultural and sports activities, creating unique cultural tourism products, such as: ceremony to mark 60th anniversary of Sam Son tourist urban area and many exciting cultural and sports activities, to realise the goal of receiving 7.2 million tourists this year.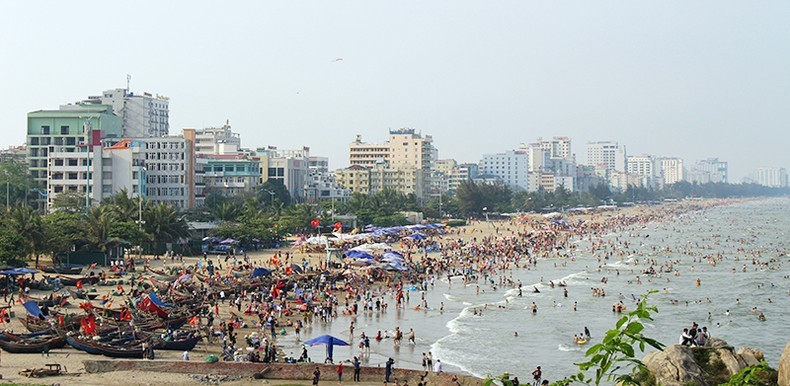 Sam Son Beach Resort (Thanh Hoa).
Cua Lo Town (Nghe An Province) this year has a diverse system of accommodation and resort facilities with hundreds of quality hotels and resorts such as: Summer Cua Lo, Muong Thanh Cua Lo, Cua Beach Golf Resort, Melia Vinpearl Cua Hoi Beach Resort, serving more than 30,000 visitors per day.
According to Hoang Van Phuc, Vice Chairman of the People's Committee of Cua Lo Town, 2023 is determined to be the pivotal year for the breakthrough of urban sea tourism towards a new look, recovery, and sustainable development for the coming years.
Therefore, the locality is focusing resources for planning, investment, urban embellishment, site clearance for the system of sea kiosks on the east side of Binh Minh Street, creating a clean ground for reconstruction of the eastern forest area.
Meanwhile, the locality is also implementing projects in the west side of Binh Minh Road. Renovating and upgrading road surface, technical infrastructure, trees, lighting; speeding up the expansion of Binh Minh Street, Sao Nam Street, and inner-city roads, investment in synchronous and modern parking lots in the west side of Binh Minh Street is being carried out urgently.
Cua Lo is aiming to develop four-season tourism. In particular, the summer focuses mainly on swimming and resort services. Spring focuses on exploiting cultural and spiritual tourism in the area such as: Van Loc Temple Festival, the Mai Bang Temple relic, Thu Lung Temple, and Dao Ngu Pagoda. In the fall and winter, accommodation establishments in the area will reduce room rates, creating an attractive travel combo.
The town also focuses on the Meeting Incentive Conference Event (MICE) tourism; at the same time, paying attention to invest in culinary culture - the strength of Cua Lo beach, Hoang Van Phuc emphasised.
In addition to promoting the image of tourism in Laos and Thailand, Hanoi and Ho Chi Minh City, representatives of tourism industry leaders in Thanh Hoa, Nghe An and Ha Tinh provinces have worked together to continue welcome Famtrip and Presstrip delegations from north-eastern Thailand, Hanoi, Ho Chi Minh City, the Central Highlands, and the Northwest to survey and develop new tourism products that link tourist attractions of the localities, attractive tour routes for domestic and foreign tourists, especially the experience tour "Three localities – One destination – Many experiences".