HANOI
PERFORMANCE
Concert with Reißner Big-Band
7pm, August 11
Pedestrian Zone, Hoan Kiem Lake
This band plays the type of music that makes you happy. Bavarian folk music has been made famous worldwide through folk festivals such as the Oktoberfest in Munich, and is played at weddings in Öland and in the city. The musicians of Reißner Big Band have packed their bags and will come to Hanoi, carrying with them their wind instruments: tuba, trombone, trumpet, saxophone, clarinet, as well as a positive mood and professionalism. It is their desire to get to visit Vietnam and contribute to the international friendship between Germany and Vietnam.
Free admission
EXHIBITION
Exhibition "The Tropical"
VICAS Art Studio
32 Hao Nam Street, Dong Da District, Hanoi
Works on display at the exhibition include 39 multi-colour paintings by five artists: Nguyen Thanh Hai, Pham Sinh, Tao Linh, Nguyen Manh Quynh, and Luu Vu Long.
Opening hours: 9 am – 12 pm and 1.30 – 5 pm, Monday – Sunday
Exhibition "Fragments" by Hiraki Sawa
Vincom Center for Contemporary Art (VCCA)
B1 – R3, Vincom Mega Mall Royal City
72A Nguyen Trai, Thanh Xuan District, Hanoi
The Vincom Center for Contemporary Arts (VCCA) proudly presents "Fragments", an exhibition showcasing surreal art pieces by one of the top artists in Japan, Hikari Sawa. Through this exhibition, the VCCA hopes to bring video art closer to the public.
Exhibition "Summer" by Bui Trong Du
Lotte Center Hanoi
54 Lieu Giai Street, Ba Dinh District
You are invited to the exhibition "Mua Ha" (Summer) by Bui Trong Du – the artist behind many impressive oil-on-canvas works of delicate simplicity with a strong identity of Vietnamese folk art.
With the theme of "Summer", the exhibition will shape a unique experience for each visitor through the artist's passion for lotus flowers.
Free entry
HO CHI MINH CITY
PERFORMANCE
Teh Dar: Vietnamese Tribal Culture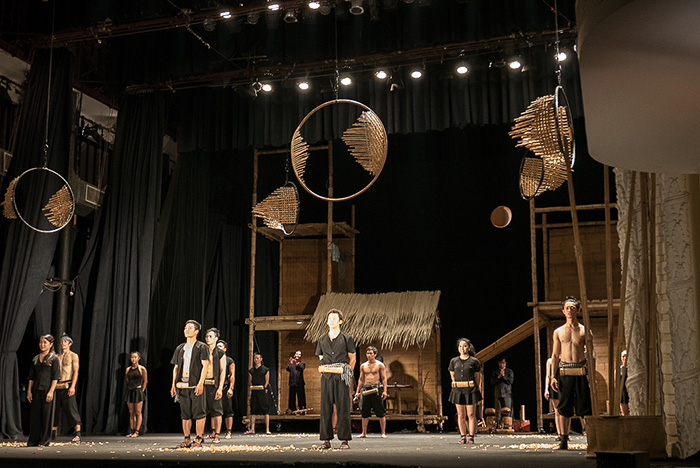 6:00 pm, every day except Monday and Friday
Ho Chi Minh City Opera House
7 Cong Truong Lam Son, Ben Nghe Ward, District 1
'Teh Dar: Vietnamese Tribal Culture' features a vibrant display of circus arts, aerial acrobatics, and tribal music within an hour-long performance.
The show highlights the lives of tribal families from the southwest highlands of Vietnam, using UNESCO-listed percussion instruments, such as Vietnamese gongs and buffalo horns, as well as vibrant costumes, and a stunning bamboo cirque depicting various landscapes and creatures from tribal folklore.
Price range: VND630,000 - VND1,470,000
EXHIBITION
Exhibition "museum of the mind"
685/30/59a Xo Viet Nghe Tinh, Ward 28, Dist Binh Thanh, Ho Chi Minh City
You are invited to solo exhibition "museum of the mind" by Phan Anh.
This half-real half-fictional museum presents the artist's personal archive of the memories from his late grandmother. The objects or artifacts (collective memories) are metamorphosed (into personal memories) to reflect the identities of two individuals whose beliefs and ideologies are influenced by differing geographical and historical contexts – in which, the mind and compassion of humankind are the shared heirloom to be inherited and continued. The repetition of images and human behaviours are intentionally observed, documented, and reconstructed, not only to replicate history, but also to pose questions or, in a way, re-identify the given objects and phenomena.
Exhibition "ELLIPSIS"
Toong Minh Khai
126 Nguyen Thi Minh Khai Str, District 3
The "Ellipsis" exhibition is an attempt by 4 image-making artists: Danny Bach, Minh Pham, Dat Vu and Cietisoo Nguyen, to connect and share their personal approaches to photography and image-making with the creative community.
Free entrance
Exhibition "King" by Pham Thanh Toan
Craig Thomas Gallery
27i Tran Nhat Duat Street, Tan Dinh Ward, District 1
Toan's "King" collection comprises of a bold batch of primarily over-sized canvases with several of the works themselves being quadriptychs and pentaptychs. The effect of such large paintings, often done in luxuriantly thick layers of imported oils, is immediate and visceral.
Opening hours: Monday to Saturday 11 am to 6pm; Sundays 12 to 5 pm; and by appointment