HANOI
PERFORMANCE
Installations "Dance of the City Warriors"
November 17 – December 4
Ho Chi Minh City Museum of Fine Arts
97A Pho Duc Chinh, Nguyen Thai Binh Ward, District 1, HCMC
"Dance of the city warriors" is an immersive, participatory course of interactive installations centered on hip-hop dancing.
Spectators will enter an intimate space and explore a series of installations such as live animation and recording, interactive editing and virtual reality: 360 ° film, virtual choreography, image distortion…
Ticket prices: VND 200,000
Special price for students members of IDECAF: VND 100,000
EXHIBITION
Exhibition "7 Years: A Metamorphosis"
9 am – 5 pm, October 29, 2019 – January 16 2020
Cuc Gallery
Room A4703, Building Keangnam A, Duong Dinh Nghe street, Nam Tu Liem district
The exhibition presents the most up-to-date works of our seven distinguished Vietnamese artists: Ly Tran Quynh Giang, Lai Dieu Ha, Nguyen Son, Nguyen Truc, Nguyen Trung, Tulip Duong and Do Hoang Tuong.
The exhibition marks the seven-year-long period of development and transformation in the artists' career trajectories and CUC gallery since its first exhibition opening in 2012.
Vietnam- RoK Monochrome Painting Exhibition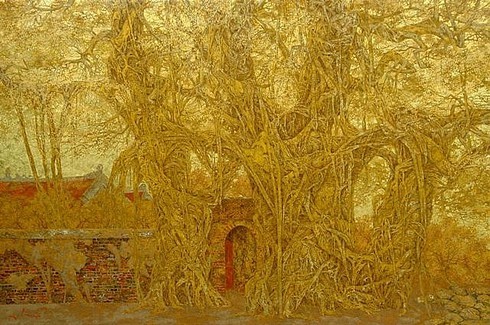 Vietnam Fine Arts Museum
66 Nguyen Thai Hoc, Hanoi
& Korean Cultural Center
49 Nguyen Du, Hanoi
Vietnam – Korea Contemporary Art Exchange Exhibition will introduce to art enthusiasts of the two countries the most beautiful, multi-dimensional views of monochrome painting by 12 talented Vietnamese – Korean artists.
This is the first time the Korean Cultural Center has organized a large-scale contemporary art exchange exhibition. In cooperation with Korean curator Chung Joon Mo (former Head of the Arts and Literature Research Department, National Museum of Modern and Contemporary Art) and Vietnamese curator Trịnh Tuân (Lecturer at Hanoi University of Industrial Fine Arts) to select 12 successful artists to participate in the exhibition such as Khang Youngsoon, Kim Keun Tai, Kim Chun Soo, Kim Taek Sang, Yoon Sang-Yuel, Jin Young Lee, Lee Jin Woo (South Korea) and Nguyễn Quốc Huy, Doan Hoang Lam, Cong Kim Hoa, Trinh Minh Tien, Nguyen Linh (Vietnam).
HO CHI MINH CITY
PERFORMANCE
A O Show by Lune Production
6:00 pm, November 11, 12, 13, 14
Ho Chi Minh City Opera House
7 Cong Truong Lam Son, Ben Nghe Ward, District 1
The A O Show features optical illusions and impressive acrobatics, paired with traditional music performances by a troupe of talented local artists.
Known as the Cirque du Soleil of Vietnam (minus the flashy outfits), this live show depicts the transition of rural Vietnam into today's modern landscape, using props such as giant woven baskets, scaffolding, bamboo canes, and ropes.
Price range: VND630,000 - VND1,470,000
EXHIBITION
Exhibition "Singing to the Choir?" & "Silent Intimacy"
The Factory Contemporary Arts Centre
15 Nguyen U Di street, Thao Dien ward, District 2
You are invited to two new exhibitions: 'Singing to the Choir?', a group exhibition by Phan Anh, Tran Minh Duc, and Ngoc Nau; along with 'Silent Intimacy', a solo exhibition by Dang Thuy Anh.
Works on display at the 'Singing to the choir?' exhibition present the artists' reflections on humanity's demonstrated attachment of purpose to an intangible realm justifying the meaning of life.
Meanwhile, 'Silent Intimacy' is Dang Thuy Anh's first solo exhibition in her artistic endeavor with apple snails, contemplatively dubbed with the impact of urbanization on human life.
Tickets:
For adults: VND 50,000
For students: VND 40,000 (with appropriate student ID)
For children under 12: free (with appropriate ID)