HANOI
PERFORMANCE
'Lang Toi' (My Village) by Lune Production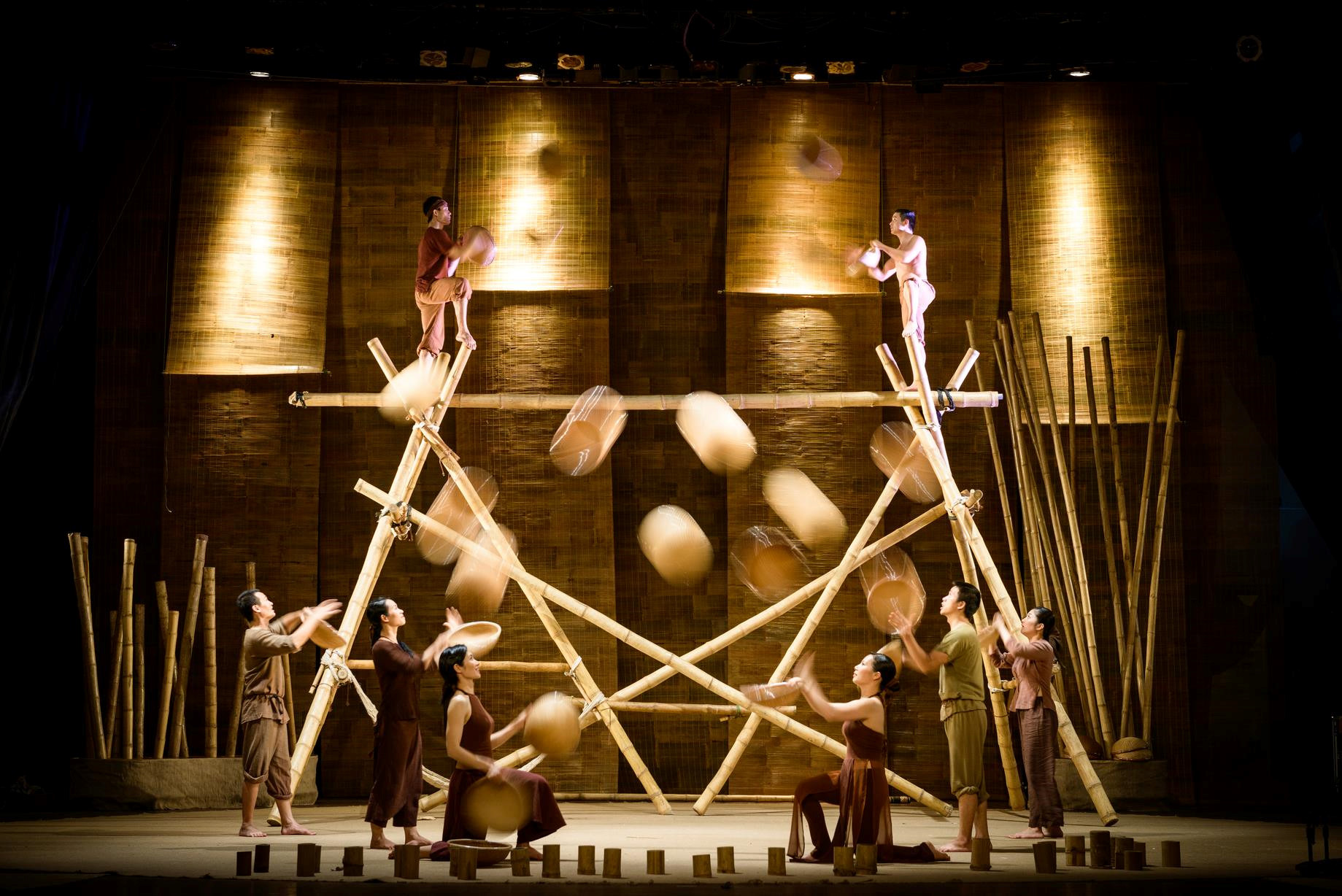 6pm on February
Vietnam Tuong Theatre
51A Duong Thanh Street, Hoan Kiem district
Lang Toi (My Village) is a delicate merge of tradition and innovation, where the poetic beauty of Northern Vietnam's village life is presented through a new cirque approach.
Farming, building activities, traditional games, and the lifestyle of the Northern villagers are recreated through ancestral bamboo props, breath-taking cirque and acrobatics performances, as well as rhythmic dancing, performed with distinct folk music from more than 20 musical instruments.
Ticket prices: VND 700,000- VND 1,150,000
Pop – Rock: The Rodeo
8pm on February 21
L'espace
24 Trang Tien, Ha Noi
The Rodeo is the stage name of French-Vietnamese musician and singer Dorothée Hannequin (The reversed version of Dorothée is odeo). This multi-talented female artist is also known as an actress, costume designer and film producer.
The Rodeo, the French-Vietnamese female singer, will perform for the first time on L'Espace stage. The Rodeo and all the musicians will surely fascinate the public by the smooth voice and sweet melodies filled with melancholy.
A wild rock night of pop music should not be missed!
Ticket price: VND2 10 000
Membership tickets: VND 130 000
Student ticket: VND 100 000
EXHIBITION
Exhibition "The Foliage 3"
December 20, 2019 – February 23, 2020 (Tuesday – Sunday), 10 am – 8 pm
Vincom Center for Contemporary Art (VCCA)
B1 – R3, Vincom Mega Mall Royal City
72A Nguyen Trai, Thanh Xuan District
The exhibition brings together young and talented Vietnamese and international artists: Quynh Lam, Phan Ah, Nguyen Van Du, Nguyen Dinh Phuong, Luong Trinh and Tristan Jalleh (Australia), the duo Caleb Stein & Andrea Orejarena (Colombia).
Continuing to support diverse creative activities, "Foliage 3" introduces the public to more than 50 artworks of various art languages: painting, photography, sculpture, video, installation and concept, a daring experiment in medium and expressions of promising artists.
Exhibition: "Green river, blue mountain"
L'Espace
24 Trang Tien street, Hoan Kiem district
You are invited to an exhibition – installation "Nuoc xanh non biec" (Green river, blue mountain) by visual artist Le Giang, the winner of the resident artist program "Tuong ho" Villa Saigon 2019.
The exhibition is an attempt by the Hanoi-based artist to identify painful obstacles in dealing with a region of conflicting memories, as well as the need to face the myths about Indochina in the current Vietnam context.
Flying Pieces of Silk
AGOhub
12 Hoa Ma street, Hai Ba Trung district
This exhibition features works by students majoring in Silk Arts at Vietnam Fine Arts University. The event not only boasts painting traditional silk materials of young generation of artists but also marks their start in their journey of art.
HO CHI MINH CITY
PERFORMANCE
Teh Dar: Vietnamese Tribal Culture
6pm on February 10 and 11
Ho Chi Minh City Opera House
7 Cong Truong Lam Son, Ben Nghe Ward, District 1
'Teh Dar: Vietnamese Tribal Culture' features a vibrant display of circus arts, aerial acrobatics, and tribal music within an hour-long performance.
The show highlights the lives of tribal families from the southwest highlands of Vietnam, using UNESCO-listed percussion instruments, such as Vietnamese gongs and buffalo horns, as well as vibrant costumes, and a stunning bamboo cirque depicting various landscapes and creatures from tribal folklores.
Price range: VND700,000 - VND1,150,000
EXHIBITION
Exhibition: "Leaf Picking in the Ancient Forest"
The Factory Contemporary Arts Centre
15 Nguyen U Di, Thao Dien Ward, District 2, Ho Chi Minh
The exhibition "Leaf Picking in the Ancient Forest" introduces the works of Vo Tran Chau on the journey to find the heritage, revisiting history as well as memories. Fabric is the material throughout Vo Tran Chau's art practice for many years, which is also the main material in this exhibition. Over the past two years, Chau has been collecting clothes from containers that have appeared at wharves in Saigon. Overwhelmed by their confusion, Chau envisioned the vicious circle of the second polluting industry in the world: production (in developing countries) – consumption (in developed countries) – discharge (returning to third countries). The series of works appearing in the exhibition "Leaf Picking in the Ancient Forest" by Vo Tran Chau is the journey of picking up the lost things, weaving the memories slowly – in contrast to the rapid disappearance of the old architectural construction make way for today's rapid urban development.
Exhibition "The Crossing of Disaster"
Galerie Quynh
118 Nguyen Van Thu, Dakao, District 1, Ho Chi Minh City
Ho Chi Minh City, Vietnam – Galerie Quynh is pleased to present The crossing of disaster, a solo exhibition by François Andes, curated by Luiz Gustavo Carvalho. Conceived in 2016 and expanded upon during two periods of artistic residence in Vietnam between 2018 and 2019 at Villa Saigon, this project features an ensemble of works: drawings, animation, sculptures, costumes, masks, and musical compositions commissioned from acclaimed composers Samir Odeh-Tamimi (Palestine/Israel) and Sérgio Rodrigo (Brazil).