>>> V.League Matchday 4 preview: All eyes on Ho Chi Minh City derby
>>> V.League 2020: SHB Da Nang bag first points with 6-1 rout of Quang Nam FC
The match at Thong Nhat Stadium was much anticipated as fans wanted to see whether HCM City could redeem themselves after a goalless draw against Hai Phong FC on the previous matchday to strengthen their lead in this year's title race.
With the tension and ferocity of a derby, the two teams fought fiercely and prevented each other from creating many opportunities throughout the 90 minutes.
After completing his engagement ceremony, favourite striker Nguyen Cong Phuong returned to HCM City's starting squad shouldering the team's hopes for the full three points. However, on the day, when all eyes were on him, Phuong was carefully "taken care of" by Saigon FC players and had little room to showcase his talent.
A solid display by both teams forced the first half to pass with few opportunities. HCM City accelerated their pace after halftime and missed several chances to score, with Alex Monteiro and Seo Yong Duk making off-target attempts.
The return of striker Nguyen Cong Phuong (R) could not help HCM City earn a good result against their city rivals.

Saigon FC successfully opened the scoring with their first opportunity in the first half, with Pedro Paulo serving up a right-flank corner kick with a powerful header at the far corner seven minutes after the hour mark.
To safeguard the advantage, Saigon FC manager Vu Tien Thanh sent a series of defensive players onto the field with the aim of grabbing the full three points.
In such a solid game, HCM City were unable to produce any more opportunities in the remaining 25 minutes, even though Saigon FC had to play with only 10 men after Quoc Long was shown a straight red card for his brutal foul on Diakite.
The 1-0 victory lifted Saigon FC to the top of the table with eight points, placed above Viettel FC and Song Lam Nghe An on goal difference. The triumph was also an affirmation that Vu Tien Thanh's side have now significantly narrowed their gap with city rivals HCM City FC compared to the previous seasons, when they lost 1-4 and 0-5 away against Chung Hae-seong's side.
After a fabulous 2-0 win over higher-rated Quang Ninh Coal in the previous matchday, newly promoted Hong Linh Ha Tinh continued to produce another shock on Friday by playing out a 1-1 draw against defending champions Hanoi FC, who possess the best attacking lineup in V.League.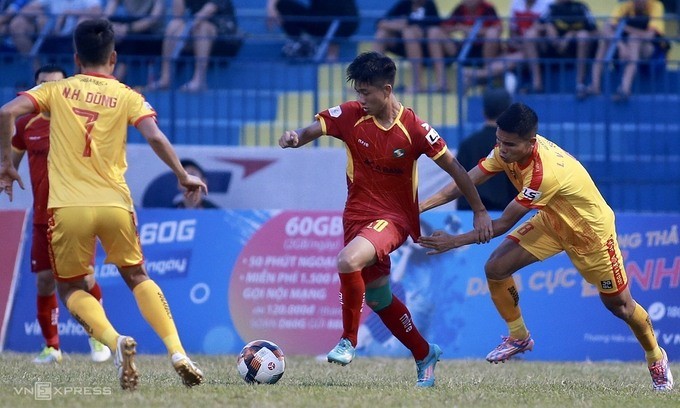 Song Lam Nghe An's midfielder Phan Van Duc (C) in action during their clash against Thanh Hoa FC.
Hoang Anh Gia Lai defeated Nam Dinh FC 1-0 at home thanks to a goal on the hour-mark by Walsh, while Song Lam Nghe An were the only team to maintain a clean sheet after the first four matchdays with a scoreless away draw by Thanh Hoa FC.
V.League 2020 Matchday 4 Table