At the event, officials shared the view that thanks to the drastic implementation of the resolutions and conclusions issued by the Party Central Committee, Politburo, National Assembly and Government, the macro-economy
remained stable, with growth boosted and major balances of the economy guaranteed.
In particular, inflation has stayed under control and continued declining gradually, with an eight-month rate of 3.1% – much lower than the year's ceiling level of about 4.5%. The State budget revenue topped 1.12 quadrillion VND (46.5 billion USD) during the first eight months, equivalent to 69.4% of this year's target. Public debts, government debts, and State budget overspending have been controlled well.
Meanwhile, foreign trade has continued bouncing back. Exports increased 7.7% while imports up 5.7% in August from the previous month, with a trade surplus of nearly 3.82 billion USD. The eight-month exports reached 227.7 billion USD, resulting in a surplus of almost 20.2 billion USD.
Officials also highlighted positive results in terms of energy and food security, the labour market, agriculture, industry, trade and services, development investment, the development of enterprises, social security, people's life quality, defence - security, social order and safety, the fight against corruption and negative phenomena, along with diplomacy and international integration. Besides, many activities were held to celebrate the 78th anniversary of the August Revolution and the National Day (September 2).
However, Government members also pointed out certain problems, shortcomings, and challenges needing to be addressed, including economic growth failing to reach the set target, latent risks posed to macro-economic stability and major economic balances, high inflationary pressure, the tightening of monetary policies in many countries, the slow recovery of industrial production, the number of international arrivals yet returning to pre-pandemic levels, and many enterprises still struggling with difficulties.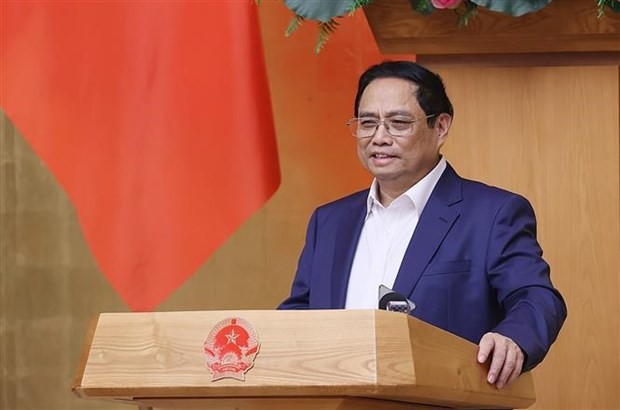 PM Pham Minh Chinh speaks at the Government meeting in Hanoi on September 9. (Photo: VNA)
PM Chinh affirmed that the August socio-economic situation continued the positive trend with many areas recording better results than July, thus sustaining month-on-month and quarter-on-quarter improvements.
Analysing problems and causes, he emphasised several lessons, including seriously complying with the Party, State, and Government's leadership and directions; tightening discipline in management and governance; enhancing solidarity and unanimity and improving the coordination among ministries, sectors and localities; and having a good grasp of the situation to make quick, timely and effective policy responses.
He also requested upholding the spirit of self-resilience and exerting stronger efforts amid difficulties, boosting decentralisation, mobilising and optimising every domestic and external resource, stepping up administrative reforms and business climate improvement, and further listening to people and enterprises to take drastic actions to remove problems facing them.
Outlining the focal tasks and measures that must be implemented in September and the remaining months, the PM underlined the need to stay resolute, persistent, and determined to reach the set targets and not to step back in the face of difficulties.
He urged focus on promoting the three growth drivers of investment, export, and consumption.
At the meeting, the Government leader also assigned detailed tasks to each ministry, sector, and locality.