Nguyen Dinh Can, Former deputy head of Hoa Lo prison's liaison board:
Remembering a resilient revolutionary soldier
On receiving the news of former Party General Secretary Do Muoi's passing away, I recollected my memories of those fierce days at Hoa Lo prison in Hanoi. During the time I was imprisoned, I fully understood the obstacles and fierceness faced by brother Do Muoi and I became more respectful of the strong will and courage of brother Muoi and his fellow prisoners, who made their escape from the prison to continue to serve the Party in March 1945.
Brother Do Muoi joined the national revolutionary in 1936. In 1941, he was arrested by the French colonialists and sentenced to 10 years in jail. He served his sentence at Ha Dong and Hoa Lo prisons in Hanoi.
Although revolutionary soldiers faced fierce living conditions at Hoa Lo prison, brother Muoi joined his fellow prisoners to manage their lives. Despite being sentenced, he and his fellow prisoners made every effort to collect news about the revolutionary happenings outside, while nurturing their intention of escape. A number of plans were mapped out and they waited for proper time to execute them.
In March 1945, when Japan staged a coup d'état, he joined other revolutionary soldiers, including Tran Tu Binh, Cao Dam, Tran Quang Hoa, Nguyen Tuan, and Phan Lang, and successfully escaped from the prison. Soon after the escape, they took part in the preparation for the August Revolution.
Recalling those days past, I feel great admiration for the firm stuff, strong will and trust in victory of brother Do Muoi. During his arduous time serving his sentence, he still maintained his calm and clear mind to find a way in the dark of prison.
Experiencing hardship, brother Do Muoi attached great care and devotion to the country, as well as his fellow countrymen and comrades, which could be seen through his practical actions.
No matter if he was working in an office or even after retiring, brother Do Muoi always paid great attention to former Hoa Lo prisoners and had regular meetings with us, during which he fuelled us with motivated sprit and courage.
We will always remember him, today and forever more.
Hoang Van Nghien, former Party Central Committee member, former Chairman of Hanoi city People's Committee:
Contributing to the capital city's development
During my time in office, I had the opportunity to meet and directly work with comrade Do Muoi, during which I received his directions and suggestions on a number of issues in Hanoi, particularly those related to space organisation, urban construction and management.
I remember that when we were crossing by collective buildings, comrade Do Muoi said that the State budget was not enough for the construction of new urban areas, thus the city authorities need to search for solutions to attract businesses' participation in this work.
During the construction of the Linh Dam new urban area, comrade Do Muoi showed a lot of attention to the project. He visited the apartments and contributed opinions on the project. He said that the construction and design for the complex should be in accordance with the residents' demand.
He also told the leaders of Hanoi city that Hanoi is the capital of the country, with rapid growth in population, thus a thorough consideration was needed in the building of a socio-economic development strategy for the city, which must satisfy the people's need while ensuring social welfare.
He listened to and made a number of revisions on the Hanoi's master plan until 2020. Many of his ideas have become reality and contributed to the beautiful appearance of Hanoi today.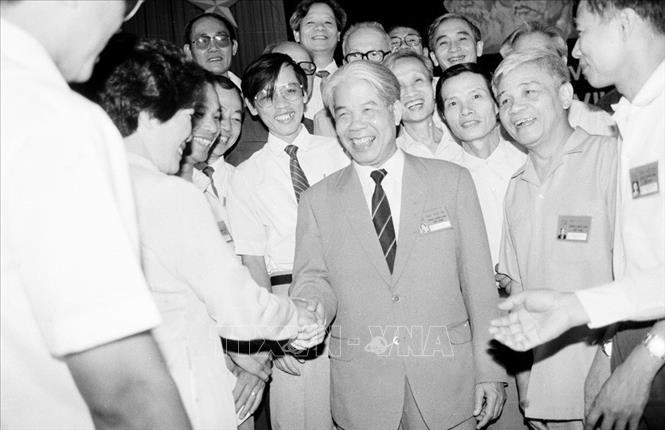 Party General Secretary Do Muoi (C) exchanges with delegates attending the 7th National Party Congress in June 1991 (Photo: VNA)
Tran Vinh Tuyen, Vice Chairman of Ho Chi Minh City's People's Committee
Devoted to the Party, State and people
In the early 1990s, I joined Youth Union officers throughout the country at the talk with Party General Secretary Do Muoi on the implementation of the eighth Party Congress' Resolution. Former Party leader Do Muoi left a vivid impression on us thanks to his impassioned speech, which included practical realities and touched upon many existing problems at that time. He called on drastic and immediate actions from officers, Party members and the entire system to bring the Resolution to life.
Through his talk, we could feel his dedication to his work, his readiness to embrace difficulties and his concern about the country's situation. Comrade Do Muoi's enthusiasm strongly inspired all of the participants at the talk, motivating each of us to make more contributions to the country and its people and promote the vanguard role of youth.
This touching memory of mine about former Party leader Do Muoi reminds me that in any circumstance or in any position, leaders must inspire others and put themselves in other's shoes in order to develop a close connection with the people and fully understand them.
Truong Van Trinh, Secretary of Tan Lap hamlet's Party Committee, Tan Trao commune, Son Duong district, Tuyen Quang province:
A leader with close attachment to the people
Uncle Do Muoi visited Tan Trao commune to attend the 50th anniversary of August Revolution and National Day in 1995 when I was Secretary of Tan Lap hamlet's youth union.
Soon after his arrival, uncle Do Muoi saluted the families of policy beneficiaries, the elders, children and households in the hamlet to learn more about the living conditions of the locals.
He asked the leaders of the province, district, and the relevant ministries and sectors to pay greater care for people in the mountainous region. He also ordered the construction of a kindergarten for students in the hamlet.
During his speech at the celebration, he called on the Tuyen Quang people to advance economic development, reduce poverty, and build a prosperous life.
Residents in Tan Lap hamlet have kept their impressions of the former Party chief as a humble leader who had a close attachment to the people and penetrated the people's aspiration.