This is the first time that Ba Be district organised such an activity, to attract more visitors to Ba Be Lake, one of the most beautiful freshwater lakes in the world.
Taking place from November 4-6, the programme features various entertainment, cultural and sports activities, with many attractive and exciting experiences.
Visitors will have the chance to experience a community-based tourism model in Phieng Phang village of Yen Duong commune, with many unique activities including harvesting sticky rice in Nep Tai rice field, pounding 'banh day' (glutinous rice cake), visiting waterfalls and Pu Lau bamboo forest. In addition, visitors can enjoy specialities, agricultural products and traditional art performances in Pac Ngoi, Bo Lu, Coc Toc and Ban Cam villages in Nam Mau commune.
Notably, travellers will chase clouds in Don Den village, Khang Ninh commune and admire the "yellow colour" of rice fields in Na Man and Na Hai village of Quang Khe commune, visit Ba Be Lake tourist area and walk around Ba Be National Forest Park.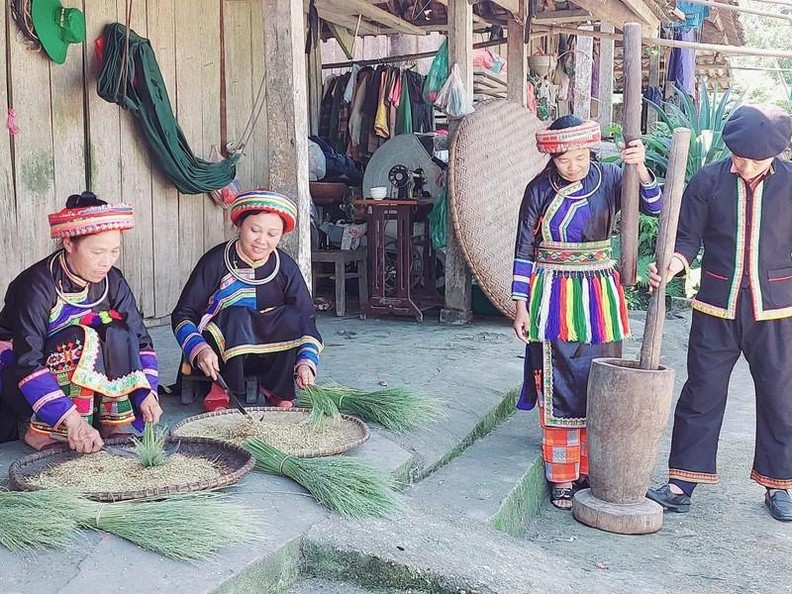 People in Phieng Phan village, Yen Duong commune processing green rice.
Several sports activities, which are held for the first time, are promised to satisfy visitors, such as the Kayak race on Ba Be Lake, paragliding experience at Don Den village of Khang Ninh commune and Khuoi Slun and Na Sam villages of Thuong Giao commune, and cycling.
On the occasion, the products from the One Commune One Product (OCOP) programme, as well as typical agricultural products of the localities are being introduced.
The programme is expected to contribute to promoting the cultural and tourism potentials and values of the heritages and tourist attractions throughout the district.