The event features 30 booths introducing specialties such as custardapples, star anise, specialty vegetables of all kinds, and black jelly.
Hanoian consumers can enjoy many specialties of Lang Son province at No. 489 Hoang Quoc Viet Street in Cau Giay District.
In addition, the capital city's consumers also have the opportunity to shop for many specialties and taste local cuisine of localities nationwide with assurance of quality, food hygiene and safety.
The Chi Lang custard apple, a special fruit of the northern province of Lang Son, is the highlight of the trade promotion week.
Chi Lang custard apples have been granted a protection certificate by the National Office of Intellectual Property and is recognised in the top 50 famous fruit specialties in Vietnam.
Luong Trong Quynh, Vice Chairman of the People's Committee of Lang Son Province, said that Lang Son's districts of Chi Lang and Huu Lung are home to more than 4,000 ha for custard-apple cultivation, including more than 1,000 ha under the VietGAP and GlobalGAP standards, with an annual output of over 35,000 tons.
The total production value of custard apples is estimated at 1.2 trillion VND, with an average income of 275 million VND per ha.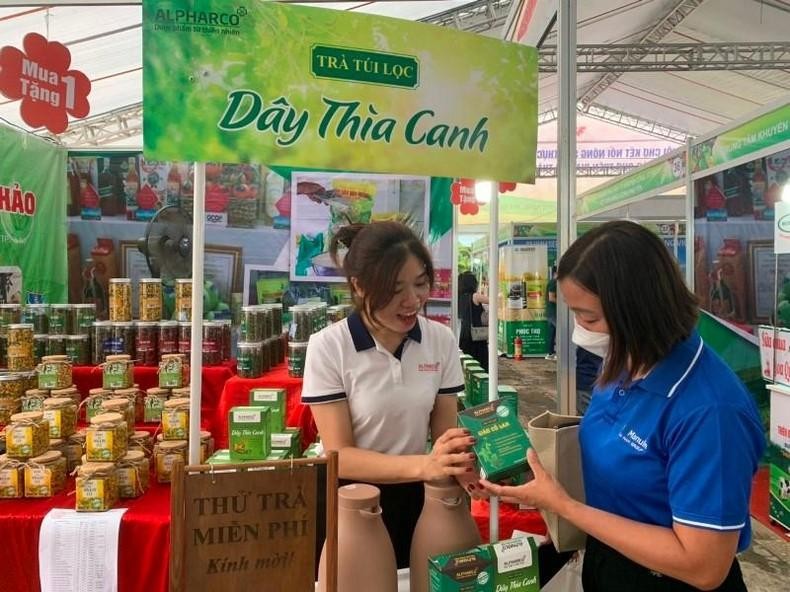 Local consumers shopping at the fair

Director of the MARD's Department of Agricultural Product Processing and Market Development Nguyen Quoc Toan said the event aims to actively support farmers in branding safe agricultural products and food and protecting regional specialties with geographical indications.
"It is expected to create opportunities for stakeholders to connect and cooperate in the sale of Vietnamese agricultural and forestry products," he added.
The event will run until August 16.