On December 16, the United Nations Children's Fund (UNICEF) in Vietnam, coordinated with the Ministry of Health (MoH) and the World Health Organization (WHO) in Vietnam, to organize a closing ceremony of the "Safe Journeys" campaign, in Hanoi.
The 'Safe Journeys' campaign has brought important information to people in all corners of Vietnam, especially the more disadvantaged groups, building their confidence in the safety of COVID-19 vaccines, to ensure no one is left behind in these efforts,

Rana Flowers

UNICEF Representative in Vietnam

The closing ceremony is an opportunity to look back at the nine-month journey to equip the public with accurate information on COVID-19 prevention and control measures.
In 2022, after two years of battling the COVID-19 pandemic, Vietnam adapted to a new normal, where for the country to reopen with confidence, there was an ongoing need to remain alert to outbreaks and new COVID-19 variants.
Recognising the importance of keeping people informed and alert to the situation, UNICEF Viet Nam, in collaboration with the MoH and the WHO, launched the "Safe Journeys" media campaign on March 7, 2022, to emphasise and reinforce COVID-19 prevention and control measures, including COVID-19 vaccination.
Speaking at the closing ceremony, Rana Flowers, UNICEF Representative in Vietnam said, that after nine months of execution, the campaign has achieved significant results through mass media and social media.
"The Vietnamese Government has focused all its resources on accelerating COVID-19 vaccination coverage as an important and decisive measure in the process of safe, flexible adaptation and effective control of the COVID-19 epidemic", Assoc. Prof. Dr. Nguyen Thi Lien Huong, Deputy Minister of Health said.
The Deputy Minister highly appreciated that the result is partly due to communication efforts that have encouraged people to actively participate in safe vaccination against COVID-19.
"The Ministry of Health would like to thank the initiative and coordination of UNICEF and WHO Viet Nam in supporting and promoting safe vaccination," Deputy Minister Huong added.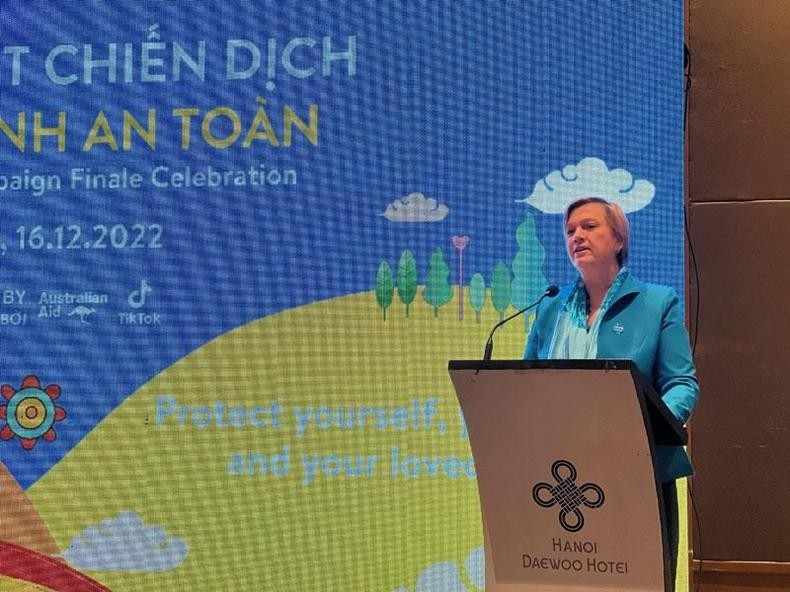 Rana Flowers, UNICEF Representative in Vietnam
The 'Safe Journeys' campaign has provided people with important and accurate information about COVID-19 vaccines, helping people to understand the safety, necessity and effectiveness of vaccines, especially for children.
The campaign has also highlighted that in the new situation, to maintain the balance between an open society and protecting health, we still need three things; firstly, for people to follow basic protection measures such as hand washing and mask-wearing in high-risk settings, secondly for parents to ensure their children are fully vaccinated with the primary vaccination series, and thirdly for all eligible adults to get their recommended booster doses.
As part of the campaign, a wealth of content, including short video clips and infographics was posted simultaneously on the Facebook pages of the MoH, UNICEF Viet Nam, and WHO Viet Nam. Influencers with large social media followers, including Miss H'Hen Niê, Minh Trang, Khang A Tua, Chao Yen, and MC Huong Giang, are acknowledged for their support to further amplify the campaign on their channels.
Importantly, the messages of the campaign were translated into ethnic languages and sign language to reach a variety of groups, including ethnic minorities and people with disabilities.