Also yesterday, the national export strategy consultation on priority sectors and cross-cutting functions opened.
The seminar and consultation were held within the framework of the Swiss Trade Policy and Promotion Programme.
At the event, representatives from the International Trade Centre (ITC) made recommendations for Vietnam in identifying priority industries based on their export potential and contributions to employment and socio-economic development, such as electronics, environment goods, woods and furniture, agricultural products, and textile and garments.
In addition, the five areas of commercial competition are: digital transformation; innovation and start-ups; quality and certification; sustainability and inclusivity; and trade facilitation.
The recommendations highlighted concrete actions, reforms and measurable development goals to provide national and international development assistance organisations as the basis for the building of technical assistance projects for Vietnam in the near future.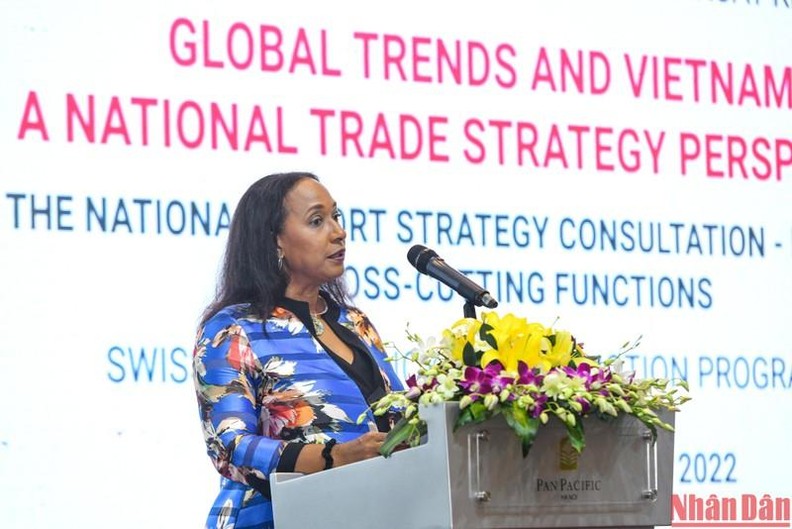 Pamela Coke-Hamilton, the ITC's Executive Director, speaks at the event. (Photo: NDO)
Pamela Coke-Hamilton, the ITC's Executive Director, said perfecting sector strategies is a top priority, followed by the implementation of eform recommendations to promote exports and create jobs for potential industries.
Chargé d'Affaires a.i. at the Swiss Embassy Nicole Wyrsch emphasised that Switzerland has focused on supporting the promotion of sustainable standards, low-emission and zero-carbon production and digital commerce, as well as compliance with the rules-based trading system.
Deputy Director of the Planning Department under the Ministry of Industry and Trade, Nguyen Thuy Hien, who is also the project director of the SwissTrade, said that the Ministry of Industry and Trade also identified green growth and economic development as one of the new growth drivers for the sector in the coming time.
"Export development is the driving force for the fast and sustainable economic growth", noted Nguyen Thuy Hien.