Such indigenous cultural characteristics have brought a unique charm to the land while contributing to enriching the cultural treasures of the Vietnamese ethnic group community.
To date, 12 heritages in Tuyen Quang have been recognised as national intangible cultural heritages.
They include the Long Tong (Going to the Field) Festival and Then folk singing of the Tay ethnic group; the Cap Sac (coming-of-age) ritual and Pao Dung folk singing of the Dao people; the festivals at Ha, Thuong and Y La Temples; Soong Co folk singing and the Dai Phan ritual of the San Diu people; the Sinh Ca folk singing of the Cao Lan people; the festival at Tho Vuc Temple; the tug-of-war folk game; and the art of decorating the traditional costume of the Red Dao and Mong Hoa ethnic groups.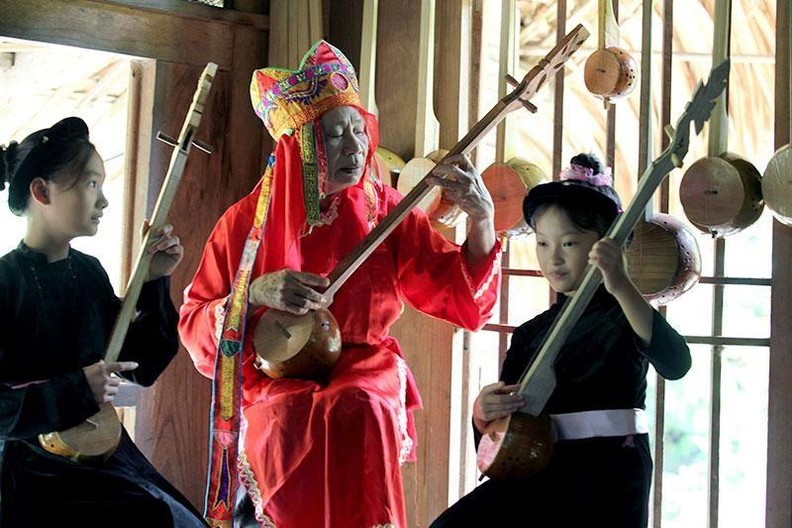 A performance of Then folk singing, part of the Tay ethnic group's culture
Since their establishment and throughout their development, the tangible and intangible cultural heritages of the ethnic communities of Tuyen Quang have contributed to diversifying the Vietnamese cultural treasure trove.
They have also helped improve the local people's spiritual life, creating more attractive tourism products for Tuyen Quang, making the province become a favourite destination for domestic and foreign tourists, and thereby promoting local tourism as a key economic sector.
The province aims to welcome more than three million tourists by 2025 and earn 4.8 trillion VND in associated revenue. It is hoped the provincial tourism will contribute more than 6% of the province's GDP and create up to 25,000 jobs for local residents.