The Orders of Playa Girón were granted to General Phan Van Giang, Minister of National Defence; General Luong Cuong, Director of the General Department of Politics under the VPA; and General Ngo Xuan Lich, former Minister of National Defence.
In addition, the Orders of Antonio Maceo were also presented to seven individuals, and the Friendship Orders to 23 others.
In his speech, General Phan Van Giang, Minister of National Defence expressed his thanks to the Cuban Party, State, people and the Cuban Revolutionary Armed Forces (FAR), for their affection and valuable rewards for officers and soldiers of the Vietnamese army.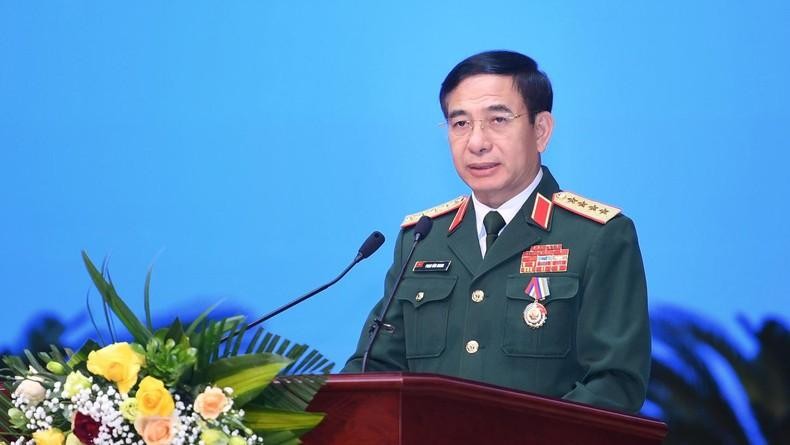 General Phan Van Giang, Minister of National Defence speaks at the ceremony.
Together with the good development of the relations between the two parties and the two states, the relationship between the VPA and the FAR has always received attention from generations of the two countries' high-ranking leaders, thus becoming an important pillar and bright spot in the bilateral ties, he noted.
To continue consolidating the defence cooperation in the coming time, the two sides will actively carry out collaboration activities, based on signed documents and agreements, and work towards the early signing of a cooperation plan for 2023-2025, the Minister said, adding that attention will be paid to maintaining existing cooperation and dialogue mechanisms, promoting the exchange of delegations at all levels.
The Order of Playa Girón is conferred on Cubans, foreigners, heads of state or heads of government, for their outstanding roles in the struggle against imperialism, colonialism and neo-colonialism, and who have contributed to the peace and progress of humankind. The Order of Antonio Maceo is presented to units and individuals of the FAR for their special achievements in military campaigns, outstanding combat qualities; or having merits in training and fostering commanders, contributing to the national safeguarding and development cause.
Meanwhile, the Order of Friendship is awarded to Cuban citizens and foreigners in recognition of their outstanding participation in the cause of building a just society and tightening solidarity, friendship, cooperation, and mutual assistance between countries around the world.