The showcase and piloting took place within the framework of the project Cool Chain to Maintain Produce Quality from Son La to Urban Market with funding from the Australian government through its Aus4Innovation programme.
CoolBot technology uses controllers that allow conventional air-conditioning units to reach a temperature as low as 5oC. This technology can be applied to walk-in coolers and trucks to store and transport fresh fruits and vegetables.
The fruit and vegetable sector is an important source of employment and income for the people in Son La Province, especially women. With supermarkets and convenience stores thriving in Hanoi and other big cities, high quality agricultural products are now in great demand.
However, the lack of a functional cool chain between Son La and Hanoi means that farmers are having to throw away up to 30% of the produce due to it arriving in poor condition, this particularly affects highly perishable crops such as lettuce, beans and tomatoes.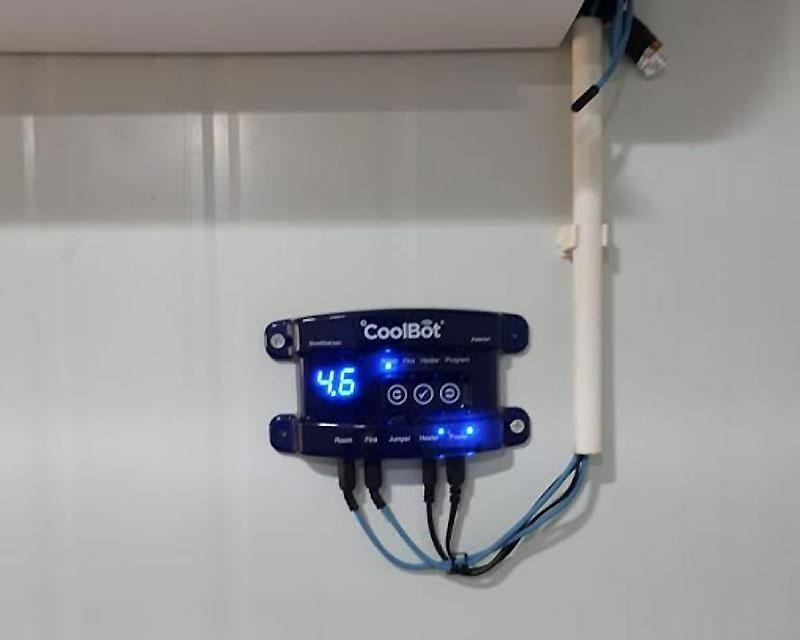 The CoolBot controller connected to the air conditioner helps bring the temperature down to below 5 degrees Celsius. A conventional air conditioner when installed with the controller can cool a storage space with maximum volume of 30m3.
The project started in September 2020 with funding of 378,000 AUD from the Aus4Innovation programme. The project team has since been working with farmer groups to pilot how low-cost CoolBot refrigeration using domestic air conditioners could provide the missing cooling function in the vegetable chain, increase farmer incomes and improve quality and supply of vegetables for consumers in Vietnam.
The project, which was implemented by Vietnamese company Fresh Studio and Applied Horticultural Research from Australia, has successfully installed eleven walk-in coolers and two refrigerated trucks using CoolBot for farmers and cooperatives in Moc Chau.
CoolBot is a proven solution developed for small householder farmers in developing countries and has been widely applied. By introducing this technology to Vietnam, we hope to bring about new opportunities for the local agrifood products to reach new markets and contribute to sustaining the livelihoods of local farmers.

Dr. Kim Wimbush

Director of the Aus4Innovation programme
In addition, in order for farmers to have full information, the project also conducted an initial evaluation on possible improvements in terms of produce quality maintenance and income for farmers after the application of CoolBot technology.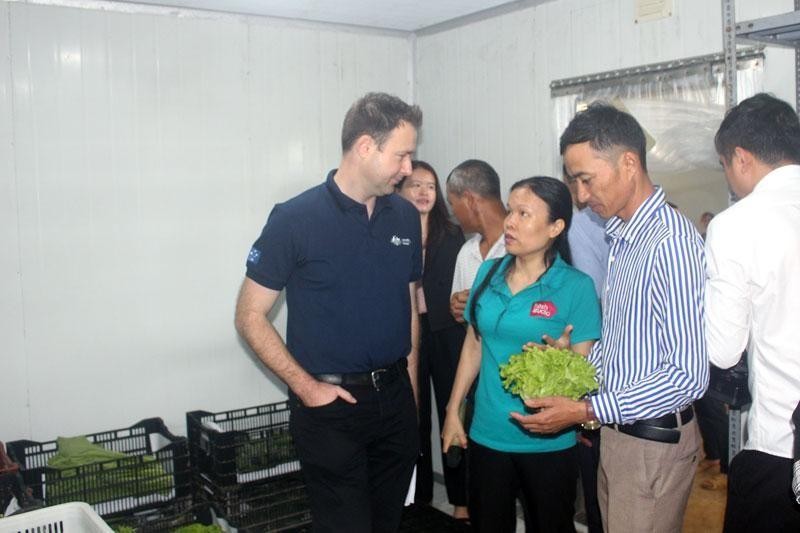 Representative of the project presents Dr Kim Wimbush, Aus4Innovation Program Director, about the project's achievements.
Cam Thi Phong, Deputy Director General, Son La Department of Agriculture and Rural Development added: "Application of science and technology is among the solutions for enhancing agriculture and food sector as determined by the province's leadership. We appreciate the project as it provides a whole package of technology transfer and training, and consolidating a network of business partners, research institutes and local government to enable the solution to work well and be sustained."
Aus4Innovation, launched in 2018, is a 16.5 million AUD flagship programme funded by the Australian Department of Foreign Affairs and Trade (DFAT), co-funded and managed by Australia's national science agency, CSIRO, and delivered in collaboration with the Ministry of Science and Technology of Vietnam.

It aims to strengthen Vietnam's innovation system, prepare for and embrace opportunities associated with Industry 4.0, and help shape Vietnam's innovation agenda in science and technology.