From the early morning of the New Year, many trips by cars, motorbikes, and nuongs have travelled beautiful passes on the more than 60 km journey from Kon Tum City to Mang Den Town, Kon Plong District.
The weather in Mang Den seems to please visitors, with cool temperatures ranging from 16-19 degrees Celsius, while rain and fog add to the fanciful beauty of this place.
Visitors stop to take souvenir photos at the roundabout in Mang Den Town.
Thanks to favourable weather, the cherry blossoms in Mang Den Town have bloomed simultaneously, showing more brilliant colours than in previous years and attracting a large number of tourists to visit and take pictures.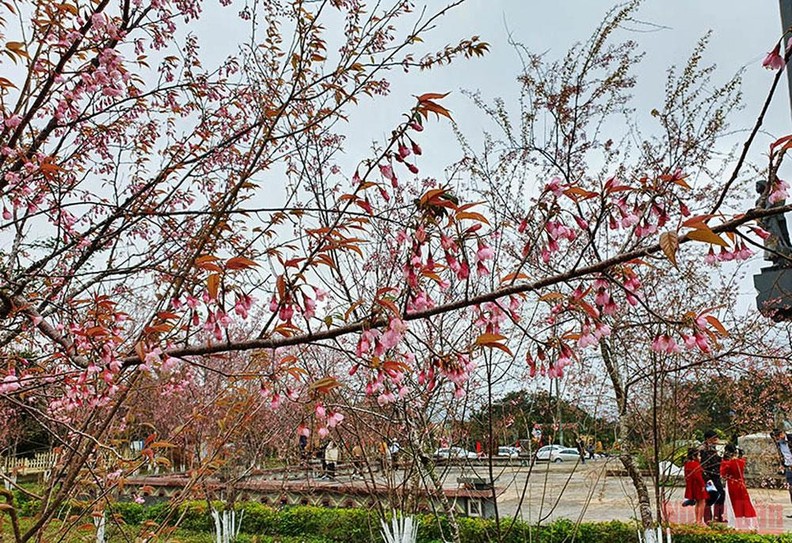 Cherry blossoms bloom brilliantly, inviting visitors to Mang Den.
Cherry blossoms have been planted in many places in Mang Den Town, which are mainly concentrated in Central Square, Dak Ke Lake, Pa Sy Waterfall, and along the roads leading to the town.
Panorama of cherry blossoms at the central square of Mang Den Town.
Rocks engraved with verses of famous people by Mang Den Town stand prominently next to the cherry blossom forest.
Hoang Ngoc My Linh (a tourist from Pleiku City, Gia Lai Province) said that every year during the cherry blossom season in Mang Den, she and her group of friends often invite each other here to see the flowers and enjoy the cool weather. It's cold and fresh here. This year, because of the COVID-19 epidemic, she couldn't go anywhere, so when she heard the cherry blossom news, she was very excited and got up at 4:30 am to come here.
Hoang Ngoc My Linh (Gia Lai) enjoys taking pictures with her group of friends.
Visiting Dak Ke Lake, Nguyen Trung Dung (a tourist from Da Nang) said he had learned through his friends that cherry blossoms were blooming in Mang Den, so he and his family came here to see the flowers and relax. "The first time I came here, I was very interested in the climate and scenery here, the cherry blossoms in full bloom are especially beautiful and eye-catching. The trip was interesting and meaningful for my family", Dung happily added.
Panorama of Dak Ke Lake, Mang Den Town.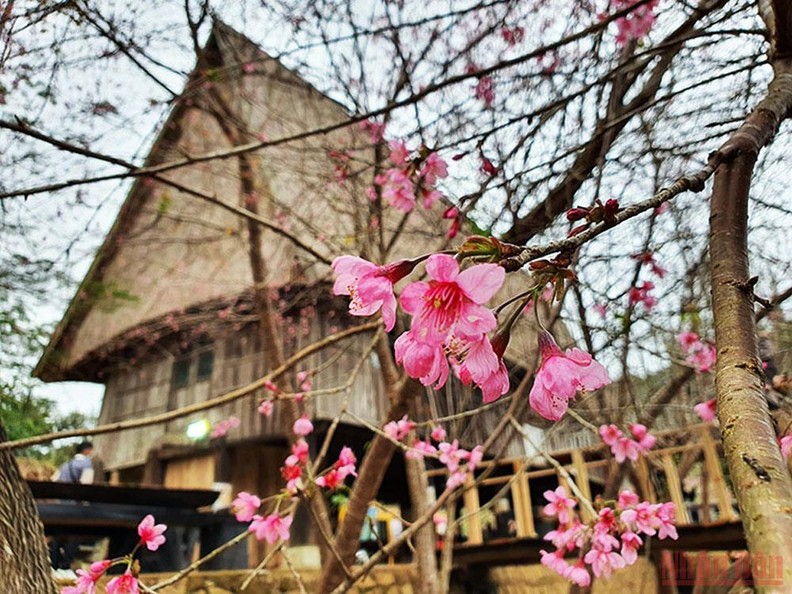 Cherry blossoms are shy by the traditional communal house of indigenous people at Dak Ke Lake.
As a regular visitor to Mang Den, Nguyen Thi Hoa (a visitor from Kon Tum City) still feels as surprised and excited as when first discovering Dam Bri Lake, Mang Den Town. Hoa said that she has come to Mang Den many times, but this is the first time coming to Dam Bri Lake with cherry blossoms bloom on both sides of the road, which combined with the scenery of the lake and mountains make this place so beautiful and poetic.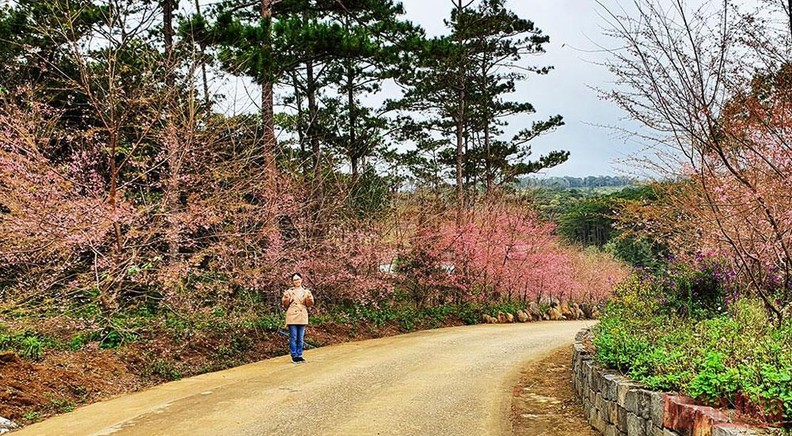 Cherry blossoms bloom on both sides of the road to Dam Bri Lake.
In addition to cherry blossoms, many beautiful flowers are also blooming together this season, making Mang Den Town even more colourful to welcome the new year 2022.
Hydrangea flowers bloom at the roundabout at the gateway to Mang Den Town.
Through surveys at hotels and accommodation facilities in Mang Den Town, there were a lot of tourists who booked accommodation in advance and most of them were in a state of "burning out" rooms during the New Year holiday.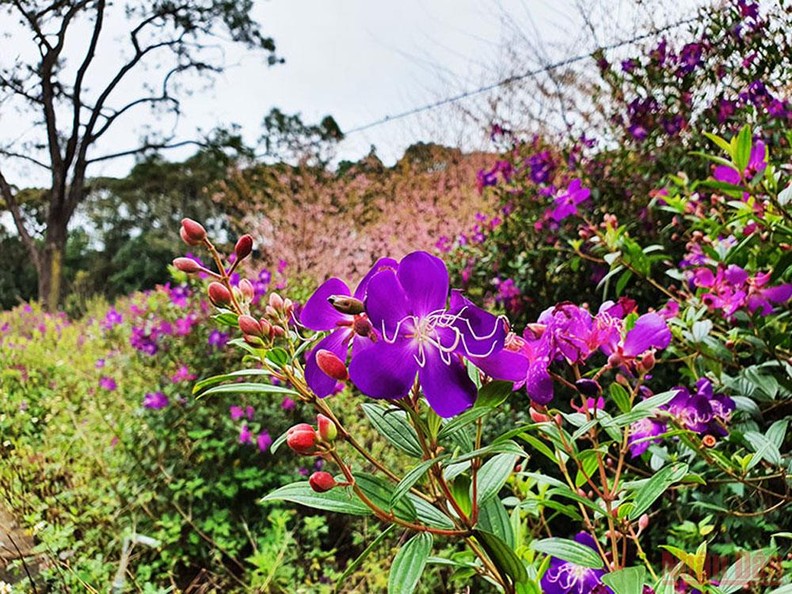 Melastoma flowers show off purple colour mixed with cherry blossom red, adding to the poetic beauty of Mang Den Town.
It is expected that cherry blossoms at Mang Den will bloom until mid-January. In addition to watching cherry blossoms, visitors can visit the statue of Our Lady of Mang Den Town or the high-tech agricultural area, enjoy dishes such as grilled chicken and lam rice or drinking can wine (wine drunk out of a jar through pipes), experience gong culture, or listen to the legend of "seven lakes and three waterfalls" of the indigenous Xo Dang people.