In his message delivered ahead of COP27, United Nations Secretary-General Antonio Guterres warned that the planet is heading towards irreversible "climate chaos". Extreme weather events and sea level rise have seriously affected the implementation of sustainable development goals and threatened the survival of many countries and communities.
There has been a 68% increase in heat wave-related deaths over a roughly 20-year period since 2000, according to a study recently published in the British medical journal, The Lancet. The report states that extreme weather events caused damage worth 253 billion USD in 2021.
However, with current climate policies, greenhouse gas emissions are still at record-high levels. According to a recent United Nations report, without drastic reductions in greenhouse gas emissions, global temperatures will increase between 2.1 and 2.9C above the pre-industrial level by the end of the century. This is much higher than the 1.5C target set out in the 2015 Paris Agreement.
Scientists have warned that with each increase in temperature of 1C, tens of millions of people around the world will have to suffer prolonged heat waves, severe flooding, and food and water scarcity, while millions of wild animals and plants could disappear.
Given the unprecedented challenges of climate change, the UN Secretary-General called on countries to take faster, bolder climate action now and in this crucial decade "when the global climate fight will be won or lost."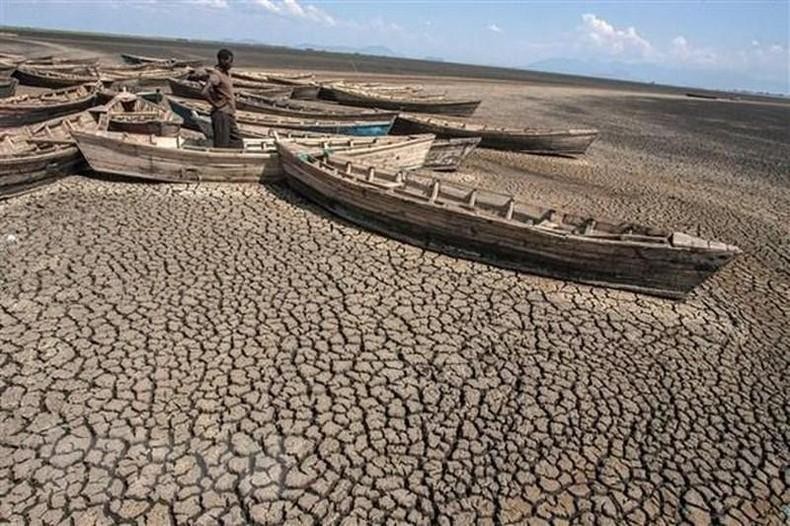 The dried inland Lake Chilwa in Malawi, on October 19, 2018. (Photo: AFP/VNA)
One of the important goals of the Conference is to mobilise financial resources to help vulnerable countries respond to climate change. Affirming that the financial responsibility of developing countries is undeniable, he stressed that wealthier countries must present a credible roadmap with clear milestones on how this will be delivered -- preferably as grants, not loans.
The contribution of finance to combating climate change has been mentioned many times during UN climate conferences. At COP15, rich nations promised to channel 100 billion USD a year to less wealthy nations by 2020, to help them adapt to climate change and transition to a low-carbon economy.
However, although the damage caused by extreme weather events has become more and more serious, the above goal has not been realised so far. According to the United Nations Environment Programme (UNEP), the current finance flows to developing countries are 5-10 times below estimated needs.
Facts have shown that although Africa only accounts for about 3% of global greenhouse gas emissions, it has suffered disproportionately from the results due to resource scarcity. Africa is losing between 5 and 15% of its GDP per capita growth, due to climate change and its related effects according to the African Development Bank (AfDB).
World Bank Group President David Malpass, has emphasised that fighting climate change requires significant financial resources from the international community. Accordingly, investing an average of 1.4% of GDP annually could reduce emissions in developing countries by as much as 70% by 2050.
However, the investment needs are markedly higher in lower-income countries which are more vulnerable to climate risk, often exceeding 5% of GDP. Therefore, the contribution of rich countries is an important key to the fight against climate change.
COP27 takes place in the context when the world is facing a series of complicated challenges, such as the conflict in Ukraine and the energy crisis, which have shaken the global economy. Egyptian Foreign Minister Sameh Shoukry emphasised that the above unfavourable developments may affect the unification of financial goals at the conference; however, there can be no room for delay in the fulfilment of climate pledges.