Vo Trong Thanh from the department said the development of livestock production in accordance with the circular economic model helps reduce input materials and minimise discharges; and optimally treat livestock waste serving plant cultivation, aquaculture and forestry.
Nguyen Giang Thu, Director of the MARD's Department of Science, Technology and Environment, said Vietnam has developed and applied models such as garden-pond-livestock pen (VAC); shrimp-rice and rice-fish rotary farming; production of organic fertilisers from agricultural discharges; 4F (farm-food-feed-fertiliser) bio-safe breeding; green cycle at dairy farms; and aquaculture with water circulation technology.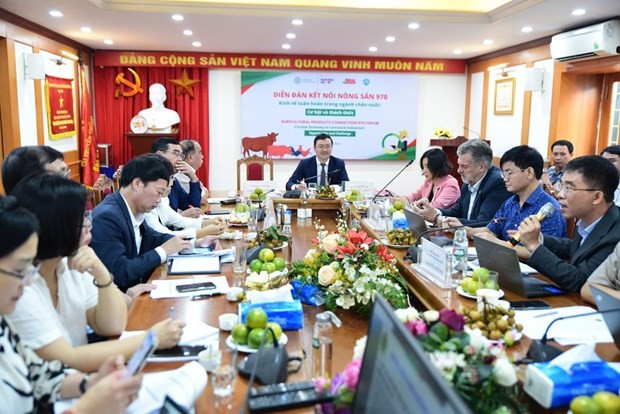 Participants at the forum (Photo: VNA)
However, the circular economic development in Vietnam is not commensurate with the potential as the rate of collection and recycling of agricultural by-products remains low, she said, stressing the need to promote the role and effectiveness of models, and perfect mechanisms to boost production and support the development of circular economic models in various fields.
Nguyen Anh Phong, Director of the Institute of Policy and Strategy for Agriculture and Rural Development (IPSARD)'s Information Centre, said it is necessary to build a legal corridor and standardise the circular economy in the agricultural sector so as to encourage and give incentives to enterprises and production cooperatives to apply technology in developing circular economy.
He also emphasised the necessity to promote cooperation in research, application and domestic and international technology transfer; speed up digitisation; build database systems; and analyse data on circular economy.
Chairman of the Livestock Association of Dong Nai province Nguyen Tri Cong said to develop a sustainable and safe livestock industry, livestock establishments must pay attention to issues related to feeding and environmental sanitation, while distribution units of products must also join this scheme.