The events were selected in different areas, including policies and mechanisms, social sciences, natural sciences, applied research, prominent scientists, and international integration.
Below is the list of notable S&T events in 2021:
1. The 13th National Party Congress eyes sci-tech development and innovation among strategic breakthroughs
At closing ceremony of 13th National Party Congress. (Photo: NDO/Duy Linh)
The resolution adopted at the 13th National Congress of the Communist Party of Vietnam underlined three strategic breakthroughs to facilitate the country's rapid and sustainable development.
One of the breakthroughs is to enhance the quality of human resources and promote innovation and science-technology, uphold Vietnamese cultural values, solidarity and national pride in the cause of national construction and defence.
This is the first time, science-technology and innovation has been listed in a Party's resolution as one of the strategic breakthroughs to support the country's construction and development. This affirms that science-technology and innovation is not only a driving force but also a pillar for Vietnam's socio-economic development.
2. The sixth international conference on Vietnamese studies
The Vietnam Academy of Social Sciences in coordination with the Vietnam National University Hanoi, held its sixth international conference on Vietnamese studies themed 'Vietnam's Active Integration and Sustainable Development' on October 28-29, via both online and offline platforms.
The event brought together more than 500 Vietnamese delegates and over 100 international guests who submitted up to 730 scientific papers and reports on various topics ranging from history, economics, politics, international relations, culture, society, and environment.
3. Vietnamese scientists win Asia Innovation Award for work on water pollution
Dr. Pham Thi Thuy Phuong (fourth from left) and her fellow researchers
A collaborative project on biochemical oxygen demand (BOD) led by Dr. Pham Thi Thuy Phuong from Vietnam's Institute of Chemical Technology, won the Best Innovation Award of the Asia Innovation Award 2021, which was funded by Japan's conglomerate Hitachi.
In their award-winning project, Dr. Phuong and her partners seek to develop biosensors for online assessments of BOD, which can help identify the toxicity of water samples in a timely and accurate manner.
4. Viettel's smart city model named world's most effective and innovative
The smart city model developed by the Viettel Military Industry and Telecoms Group (Viettel) was named the most effective and innovative in the world, according to the World Communication Awards (WCA) 2021's announcement.
Viettel is the only Vietnamese enterprise on the list of nominations and winners at this year's WCA, surpassing the leading giants, such as China Telecom Global, KT Corporation and ZARIOT secured SIMs in the same category.
The award is evaluated based on five criteria including application scope; the ability to meet people's needs or improve their lives; completeness compared to existing solutions in the market; benefits brought to people; the role of organisations and businesses in building a smart city.
Viettel's smart city model is a comprehensive solution that could be tailored according to needs, characteristics, current situations and culture of each province/city, helping use local resources in the most optimal way, providing accurate and appropriate analysis, thereby improving competitiveness and increasing people's satisfaction.
5. The inauguration of erosion-prevention embankments in Ba Ria – Vung Tau province
The third phase of an erosion-prevention embankment was put into operation in the tourist area of Lang Chai village in Xuyen Moc District in Ba Ria - Vung Tau Province.
Built by Vietnam Science and Technology JSC (Busadco), the project aims to protect the sea dykes along Xuyen Moc district, from being eroded due to the impact of climate change and sea-level rise.
6. Cool jackets for medical workers in COVID-19 fight
The jacket helps to keep medical workers cool for up to three hours in hot weather.
In June 2021, A research team from the National Centre for Technological Progress invented a special jacket that helps to cool summer heat for frontline medical staff in the COVID-19 fight.
Designed in the form of a vest, the jacket can be worn outside medical uniforms or inside Personal Protective Equipment (PPE) to keep medical workers cool for up to three hours in hot weather.
From the end of August to November, 2021, more than 4,200 jackets of this kind were handed over to doctors, nurses, medical staff and volunteers who worked at nearly 50 hospitals in COVID-19 hotspots across the country.
7. Made-in-Vietnam mobile isolation helmet earns WIPO recognition
Three Vietnamese students Do Trong Minh Duc, Tran Nguyen Khanh An and Nguyen Hoang Phuc were selected as the Intellectual Property (IP) Youth Ambassadors for Vietnam at a ceremony held at the WIPO Headquarters in Geneva, Switzerland on November 29.
The trio, who are the first IP Youth Ambassadors representing the Asia and Pacific Region, were honoured for their timely and life-saving invention of Vihelm - a mobile isolation helmet with ventilators for people who need complete protection from COVID-19 for long periods of time.
The helmet is specifically for those working on the frontline to prevent COVID-19 and is designed with both safety and comfort features.
8. Prof Chau Van Minh awarded accolades from France and Belarus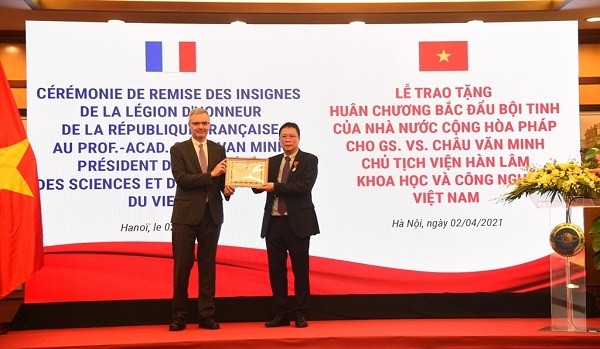 French Ambassador to Vietnam Nicolas Warnery (L) presents the Order of the Legion of Honour to Professor Chau Van Minh at a ceremony in Hanoi on April 2, 2021.
Professor Chau Van Minh, who is President of Vietnam Academy of Science and Technology (VAST), was presented the French Ordre national de la Légion d'honneur (National Order of the Legion of Honour) and the Silver Medal of the National Academy of Sciences of Belarus.
Minh has become the first Vietnamese working in natural sciences and technology to receive the Ordre national de la Légion d'honneur, which is the highest French order of merit for individuals and organisations who have made extraordinary contributions to France as well as its relations with other countries.
Meanwhile, the awarding of the Silver Medal of the National Academy of Sciences of Belarus to Minh showed the appreciation of the Belarus academy for the outstanding achievements in science from the professor in particular and the VAST in general.
9. Japan grants GI certification to Vietnamese lychee and dragon fruit
The Japanese Ministry of Agriculture, Forestry and Fisheries, on March 16, granted geographical indication (GI) certification to Luc Ngan lychee that originates from Vietnam's northern province of Bac Giang, making this fruit the first product of Vietnam to be given a PGI certificate in the North Asian country.
The dragon fruit of south-central Binh Thuan province, was granted a protected geographical indication (PGI) certificate in Japan, on October 7.
The issuance of geographical indication certification looks to create favourable conditions for the two fruits to make inroads into the Japanese market, along with other choosy markets like Europe, the Republic of Korea, and New Zealand.
10. The national festival for innovative start-ups TECHFEST 2021
The National Festival for Innovative Start-ups (TechFest Vietnam 2021) wrapped up successfully on December 15.
Themed "Embracing Innovation – Reshaping the Future", TechFest 2021 featured a series of more than 120 workshops, seminars and other events held both in-person and virtual forms, from September through December. The event brought together a large number of innovative start-ups, innovation accelerators, experts and investors at home and overseas.
Some 1,000 start-ups and 100 investors have participated in the event series, with a total committed investment exceeding 15.16 million USD.