With an expectation of creating a breakthrough in expanding economic scale and increasing productivity thanks to technological and innovative progresses, digital conversion is forecast to change most forms of traditional production and trade, as well as to reshape the world's economy. Therefore, digital conversion has become the main development trend of many countries around the world, including Vietnam.
Through that process, a new economy that has been identified as the "digital economy" which is gradually forming and developing fast. In Vietnam, a digital economy is also growing rapidly, bringing important contributions to the country's economy. However, the explosion of a digital economy has put multiple challenges in front of Vietnam, which requires a synchronous support solutions as well as efforts from various sides to promote this economy in a sustainable way and reduce undue risks.
Over the past few years, Vietnamese living in big cities have gradually formed an online shopping habit. The boom of e-commerce plus the emergence of a series of new business models on the internet, such as platform economy (booking.com, agoda) or sharing economy (Grab, Airbnb), has quickly changed the consumption habits of many people. For young people today, when they need to travel, they immediately think of Grab, GoViet, Bee (online car-hailing apps), or Airbnb, booking.com and many booking platforms to find lodging online. A new economy based on computing technology and internet is developing rapidly in Vietnam, which is defined by experts as being a "digital economy."
According to a research by tech giant Google and Temasek, Vietnam's digital economy was valued at about US$3 billion in 2015, rising to US$9 billion in 2018 and is forecast to reach US$30 billion by 2025. In particular, e-commerce is the fastest developed field, growing at about 30% a year, with revenue in 2018 at about US$8 billion and expected to reach at least US$10 billion by 2020. Telecommunications enterprises in Vietnam also boom with a turnover of about US$6.1 billion, creating more than 851,000 jobs. In the digital content business, the online advertising industry is growing rapidly with a forecast revenue of more than US$1 billion by 2020, three times higher than the 2016's figure. According to an assessment from the Central Institute for Economic Management (CIEM), over the past 10 years, Vietnam's digital economy have been developing constantly in both infrastructure and business market, making great contributions to the economy.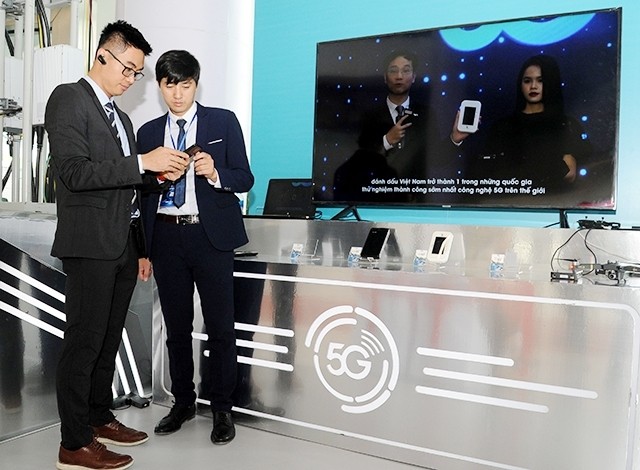 Military-run telecom giant Viettel is one of Vietnam's leading units in digital economic research and development. (Photo: NDO/TRAN HAI)
The explosion of a digital economy not only brings about opportunities but also puts new challenges in front of Vietnam. In addition to institutional and legal issues, there is a risk of network insecurity because the main platform of digital economy is information technology. According to statistics from the National Cyber Security Centre under the Vietnamese Ministry of Information and Communications, in 2018 more than 10,000 cyber-attacks occurred in Vietnam. Head of the Vietnam Computer Emergency Response Team, Nguyen Trong Cuong, said that Vietnam is among the top three countries (after India and China) at red alert with a high number of botnets (networks of computers infected with malicious software and remotely commanded and controlled by cybercriminals) – at over 1 million – which are illegally controlling local computers.
The negative impact of a digital economy on a human resource structure is also a big challenge. FPT Chairman, Truong Gia Binh, has predicted that Industry 4.0 and a digital economy can pose a huge risk as at least 30% of current workers will likely lose their jobs due to new technologies and robots. Meanwhile, according to the National Centre for Socio-Economic Information and Forecast, 77% of Vietnam's labour force does not have sufficient technical and professional qualifications to adapt with the current digital economic development.
Industry 4.0 with the focus on digital conversion is progressing at a very fast pace. However, unlike the previous three industrial revolutions, Vietnam for the first time has an opportunity to get "on the same boat" with all countries around the world in the fourth Industrial Revolution. Not only that, Vietnam also possess certain advantages. According to Dr. Mai Liem Truc, former Deputy Minister of Information and Communications, Vietnam's advantage is to reach the world's top level in some areas, with the most typical being in the field of telecommunications, an important foundation for Industry 4.0 which is now widely available and with hi-technologies equivalent to advanced countries in the world (like 4G and 5G). In addition, Vietnamese people are smart, flexible and adaptable to new things. Meanwhile, the digital conversion race is mainly on the creative and intellectual manner, not only focusing on materialistic aspect anymore.
However, according to Assoc. Prof., Dr. Tran Dinh Thien, former CIEM's Director, Vietnam is still limited in the ability to access Industry 4.0 due to limited in technology, finance, infrastructure and technical human resources. Another remarkable challenge is also come from the integration process. Vietnam has joined the most developed trade agreements in the world, such as the Comprehensive and Progressive Agreement for Trans-Pacific Partnership and the Vietnam-EU Free Trade Agreement. In particular, many countries have identified digital conversion as a vital path to their development. Vietnam will be a partner but also a subject to enormous competitive pressure from other economies. Integration creates pressure, however, it is also an opportunity for Vietnam to gain access to the knowledge and technology of mankind, thereby bridging the gap and creating greater efficiency for its digital conversion process.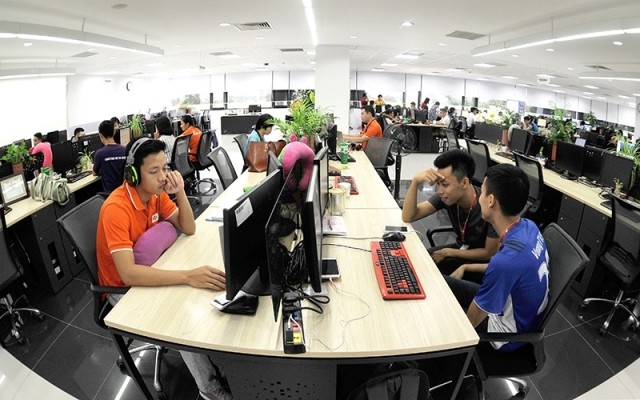 Employees of FPT Software work at the Hanoi-based Hoa Lac Hi-Tech Park. (Photo: NDO/DUC ANH)
In order to boost the sustainable development and reduce risks for a digital economy, more synchronous support solutions and efforts are needed. Prof., Dr. Ho Tu Bao, an expert in digital conversion, suggested to solve the legal challenges by creating favourable legal corridors with normative documents that are appropriate with a digital economy. Digital technologies will be a lever to promote innovation of individuals and businesses, so it is necessary to encourage businesses to make the most of technologies and make the task their highest priority. It is necessary to have strong support from the Government with open management thinking to "untie" enterprises, especially to support small and medium-sized ones to focus on promoting innovation. The Governments and the private sector also need to upgrade digital infrastructure and equip modern digital technology solutions to deploy smart connected digital apps, accelerate cashless payment methods and improve the effectiveness of e-government.
It is also necessary to have tax incentives for investment activities in developing a digital infrastructure and information security. Regarding upgrading of digital infrastructures, experts have suggested to urgently deploy 5G services as it promises to create a good basis for connectivity in the trend of internet of things (IoT), thus opening up huge opportunities for Vietnamese businesses. In addition, IT human resources also play a very important role. The human resource training programmes should aim to accelerate the socialisation of IT education, especially updating training curricula associated with new technology trends, such as IoT and artificial intelligence, providing students with access to this field as soon as possible.
Overcoming the challenges of digital economy is not a simple story, but requires a lot of efforts and determination from many sides. However, if taking advantage of opportunities, a digital economy will certainly be an important motivation to help the Vietnamese economy overcome the middle income trap and continue to grow rapidly and sustainably. Digital conversion is a non-stop arduous process that is full of challenges, but it is also an inevitable trend. In the face of the widespread wave of digital conversion in the country, the Vietnamese business community needs to have confidence and the ability to learn and innovate in order to make their digital conversion a success, thus lifting their development and the nation's growth to new heights.