Where East meets West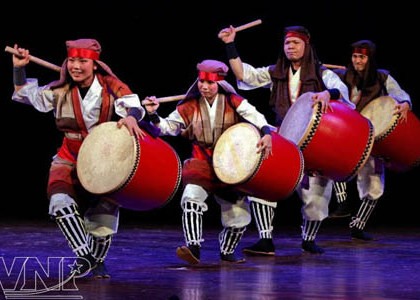 Drummers from Elisa – Okinawa troupe (Japan) (Source: huefestival.com)

Around 1,000 artists from Vietnam and France attended the first Hue festival in 2000. This year, the nine-day event will bring together 68 art groups, representing 38 countries, with about 1,400 members, making it the largest such event ever held.
The increasing participation has shown that the Hue Festival has consolidated its position among international friends, as it has not only brought economic and tourism benefits to the locality but also increased solidarity and mutual understanding between participating countries.
Prominent among the guests this year are Carabosse (France), Elisa – Okinawa (Japan), The Amigos (US), Guadalajara ballet troupe and Mariachi band (Mexico), Lacolmenita (Cuba), Sisu percussion troupe (Norwegian) and Henan dance and music troupe (China). These international artists bring to the stage a wide range of genres—ballet, folk music, electro, jazz, afro-folk and rock 'n roll.
Removing all visible barriers of geological distance, language and culture, the artists will share the common language of art and join hands to invite audiences into exceptional parties of light, music, excitement, and memorable experiences.
In addition to performing onstage, the foreign art troupes will give performances in several rural and mountainous areas to bring joy to the local people.
Further information about the troupes and their performances can be seen at the festival's official website at http://www.huefestival.com/index.php. It is available in Vietnamese, English and French.
Festivities everywhere you go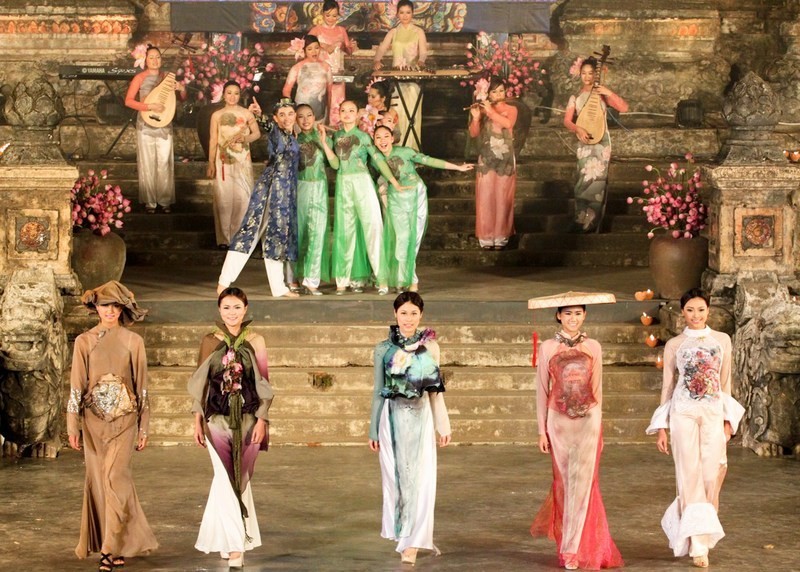 An 'Ao Dai' fashion show at 2012 Hue Festival (Source: huefestival.com)

Visitors to the festival will experience outstanding traditional and contemporary art performances every night at venues inside the Hue Citadel and An Dinh Palace, and at outdoor stages set up around the city.
Tourists can discover the daily life of royal family members of days past at an 'Imperial Night', scheduled at 7:30 pm on April 15 and 19 at the Royal Palace. A royal banquet will also be arranged during the event to provide visitors with an insight into the excellent standard of cuisine in Hue.
The iconic Truong Tien Bridge, which spans the Huong River, will undergo a makeover on the nights of April 18 and 20 thanks to a light installation by artists from Carabosse, France.
With a mission to preserve the traditional beauty of Vietnamese women's Ao Dai, designers from across the country will bring to the Ngo Mon square on April 14 a unique fashion show introducing their best and most colourful Ao Dai outfits in different styles.
The traditional costumes of 11 Asian countries—including Vietnam, Japan, China, Thailand, Malaysia and Mongolia—will be presented at an 'Oriental Night' at Thai Hoa Palace on April 13.
On April 16, an exclusive spectacle on 25 dragon boats along the Nghinh Luong Dinh area of the Huong River will honour Hue folk music, captivating audiences with the beautiful melodies of Hue folk songs.
The streets of Hue will be livened up with colours, sound and dances each evening from April 13–19 as artists from East Asian and Latin American countries perform.
The festive atmosphere will also spread to areas throughout Hue city, with numerous events such as 'Splendid Taste of an Ancient Village' at Phuoc Tich in Phong Dien district, 'Rural Market on Festive Days' in Huong Thuy Town, the children's fiesta 'Colours of Childhood' and 'Tam Giang Lagoon Fantasy' in Quang Dien district, and 'Thuan An – Allure of the sea' in Phu Vang district.
Thorough preparations for a safe festival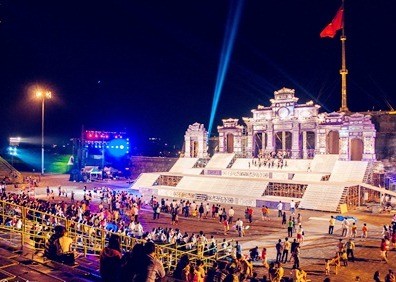 A large stage installed in front of Ngo Mon square for the opening ceremony on April 12 (Source: dantri.com.vn)
During the ten-day 2012 festival, Hue received over 80,000 visitors from around 100 countries and territories. This year's festival is expected to attract 200,000 visitors, half of whom will be foreigners.
Preparations for the festival are nearly complete. The provincial Hotel Association has endeavoured to supply 526 accommodation facilities with more than 10,000 rooms to serve tourists during the event. Eleven hotels in the city have also registered to provide 1,000 free rooms, worth VND1 billion, for the festival.
Eight stages were installed at the Royal Palace and another was erected at An Dinh palace, accommodating from 500 to 2,000 people. On-stage sound and lighting systems have been carefully checked to provide high-quality and vivid shows to the audiences. Other stages have also been set up at public sites and parks, and in districts and towns around the city to provide the setting for free performances for locals and visitors.
The provincial Ho Chi Minh Youth Union committee has mobilised more than 200 volunteers who speak English fluently to support foreign visitors and art troupes.
Measures have also been taken to guarantee clean streets, manage prices at tourist sites, improve healthcare facilities, and to ensure social order, food safety and traffic safety during the festival.
A press centre that will provide computers, Internet access and telephone lines for journalists opened at 17 Le Loi Street to facilitate the media in reporting on the festivities to international sources. So far, 17 central and local press agencies have sponsored communications for the festival.
On the occasion, Vietnam Airlines will operate more return flights connecting Hanoi and Ho Chi Minh City to Hue until June 23. It will provide 400 seats every day on the HCM City–Hue city air route and 300 seats on the Hanoi–Hue flight every day until then.
After seven successful editions, the Hue Festival has grown to be a time-honoured and contemporary art rendezvous for locals and foreigners. It is not only a good opportunity for them to learn more about world cultures but also a time to come together and be blessed with joy and cheer.
Ngo Hoa - Vice Chairman of the People's Committee of central Thua Thien-Hue province, Head of the Hue Festival organising board
Because the festival is an international-level event that requires close and harmonious management, we are exerting every effort to lead it to success, promoting the beauty of the imperial city of Hue as well as the endless charm of Vietnam.
Hoang Tuan Anh - Minister of Culture, Sports and Tourism:
The biennial Hue festival features solidarity and promotes the traditional cultural values of countries around the world, especially ASEAN nations. It is an opportunity to explore the central region's tourism potential.
Pham Cao Phong - General Secretary of the Vietnam National Commission for UNESCO:
Over the seven editions, the Hue Festival has been characterised by strong vitality and unique features, contributing to socio-economic and tourism development in Thua Thien – Hue province and Vietnam in general. The festival has advertised Vietnamese and Hue indigenous culture to international friends, sending them the message that Vietnam is a dynamic, peaceful and friendly country.
Nguyen The Ky – Deputy Head of the Party Central Committee Commission for Communication and Education:
Culture is the spiritual foundation of society as it helps nurture human dignity. The Hue Festival is vivid evidence of the Vietnamese Party's guideline on building an advanced Vietnamese culture. The festival also serves as a cultural bridge spanning all differences between participating countries.