>>> 'The Magic Stick' show: A fitting combination of circus and Vietnamese opera
In an interview granted to Nhan Dan (People) Weekly newspaper, Kien talked more about the show.
Question: What gave you the idea of blending circus and 'cai luong', two art forms which seem to have few similarities, together in a show?
People's Artist Trieu Trung Kien: At a time when people have shown less interest in traditional art forms, I have always thought of ways to renovate our theatre's operation ,bringing a fresh and interesting experience to the audience.
Our team from the Vietnam Cai Luong Theatre and artists from the Vietnam Circus Federation had discussed about doing something together a long time ago. In early 2019, we sat down together and talked in more detail about a collaboration, during which we all agreed to stage four works praising the four immortals in traditional Vietnamese mythology – Tan Vien (the God of the Mountain), Saint Giong, Chu Dong Tu and the Mother Goddess Lieu Hanh.
The mythological theme is not only a fertile territory to promote the advantages of the two art forms but also helps honour the country's culture.
We were blessed with the script of 'Cay Gay Than' (The Magic Stick) on the legend of the love between Chu Dong Tu and Princess Tien Dung by the late renowned author Hoang Luyen. Therefore, we decided to adapt it to the stage and 'The Magic Stick' became the first work within our joint art project.
Can you tell us about difficulties in merging the two art forms together in one show?
We had to manage the duration of the show so that both the circus and 'cai luong' can shine on the stage and support each other in delivering the story to the audience. As our cai luong singers often perform on a box stage, they now had to learn to interact with the audience on the round stage of the circus.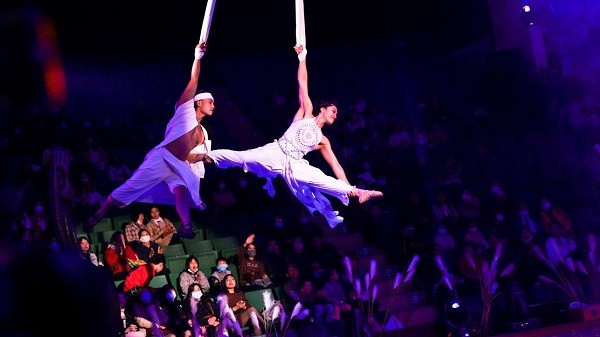 'The Magic Stick' has won great applause from viewers thanks to its fitting combination of circus and Vietnamese opera.
Traditional art troupes and units are now exerting every effort to lure audiences to their theatres, which may stir concern about a fading of the traditional identity in their shows. What do you think about this?
Unless we pay attention to safeguarding our traditions, we will lose the treasured heritage of our ancestors. I think that traditional art troupes and units should preserve and promote the typical identities of our tradition while working out new experiments for their shows.
If younger generations turn their back on 'cai luong', the practice of will obviously fall into oblivion. To avoid this situation, 'cai luong' artists must work to make their shows more appealing to the younger generation. It is time for 'cai luong' to undergo a painful transformation.
I think we shouldn't impose any stereotype on 'cai luong' but let it develop at a similar pace to modern life.
In 'The Magic Stick' show, I worked with musician Dao Trung to create a fusion between cai luong melodies and other folklore tunes as well as jazz music in order to bring the show closer to young audience members.
This might be a dangerous decision but I think it's worth a try as it is a test for cai luong to figure out ways to win the hearts of young audiences.
How has the COVID-19 pandemic affected your theatre?
We had almost no shows last year due to the COVID-19 pandemic. However, we took the time to prepare two new plays. The situation is better now. 'The Magic Stick', was introduced to audiences in mid-December last year.
We have also been active online by sharing our plays on the internet in order to stay connected with our theatre audience.
Thank you very much!