Cambodian Ambassador to Vietnam Chay Navuth: Fostering the building of the ASEAN Community
Cambodian Ambassador to Vietnam Chay Navuth (Photo: VOV)
In recent years, ASEAN has maintained relationships among members and continues to build the ASEAN community. The association has also maintained and expanded relations with partners from outside the bloc. ASEAN member countries have joined hands in the fight against COVID-19 and crime in the region.
ASEAN's achievements have contributed to maintaining peace in the region and the world at large.
At the Special ASEAN Leaders Meeting, all leaders of ASEAN member countries adopted the Five-Point Consensus. Notably, the international community, including the UN, major countries and regional organisations supported the role of ASEAN to help solve the situation in Myanmar.
Every ASEAN member state wishes to conclude the Code of Conduct (COC) in the East Sea/South China Sea as soon as possible. Two factors are indispensable for the early conclusion of this document: the political will and the good faith of all relevant parties, and the peaceful environment throughout the region.
As Chair of ASEAN for 2022, Cambodia will continue to mobilise support and cooperation to achieve the goal of building the three ASEAN Communities, in line with the ASEAN Community Vision 2025, while fostering the development of the ASEAN Community's Post-2025 Vision.
Cambodia has underscored key priorities for 2022 as follows:
Regarding the Political and Security Pillar, Cambodia will focus on strengthening the ASEAN Centrality and ASEAN Unity, for both regional mechanisms and external partners' cooperation, based on ASEAN Way and Principles stipulated in the ASEAN Charter, Treaty of Amity and Cooperation in Southeast Asia, and ASEAN Outlook on the Indo-Pacific.
In addition, ASEAN must be resilient and strong against the pressure and influence stemming from rising geo-political competition, transnational crime, terrorism, climate change and infectious diseases, etc. to ensure our way forward in peace, security, and prosperity.
Regarding Economic Pillar, Cambodia will promote effective implementation of all initiatives and measures agreed upon, as well as leverage trade agreements to the maximum, to expedite the recovery of economic growth while we are living with COVID-19 in the new normal, and ensure that ASEAN remains an attractive and dynamic hub for trade and investment by enhancing both physical and digital connectivity; strengthening the capacity of Micro, Small and Medium Enterprises (MSMEs); and promoting the entrepreneurship amongst women and youth; as well as other priorities aimed at narrowing the development gaps and advancing regional integration.
Regarding Socio-Cultural Pillar, Cambodia will strengthen the development of human resources to respond to the needs on the ground for community building, promote the participation of women and youth in building and maintaining peace, and develop an inclusive social protection system. Another key priority is strengthening people-to-people bonds to enhance the spirit of One ASEAN Identity.
EU Ambassador to ASEAN Igor Driesmans: ASEAN placed at the heart of EU policies in Asia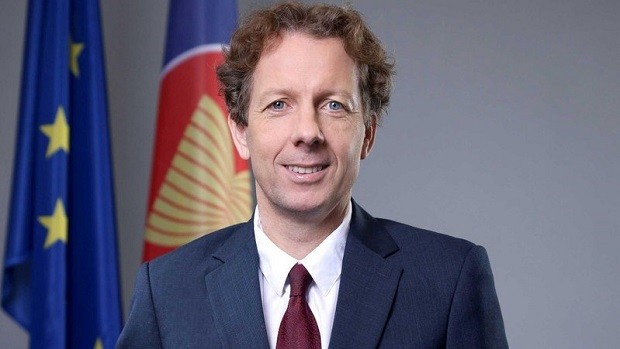 EU Ambassador to ASEAN Igor Driesmans
The EU partnership with ASEAN is at the very heart of EU policies in Asia. In the EU Strategy for Cooperation in the Indo-Pacific, ASEAN is eyed as a region of strategic importance to the EU in terms of political and economic links, global value chain development and resilience, and environmental and climate impacts.
With this goal in mind, the approach is deliberately pragmatic, flexible and multifaceted to ensure that the region remains stable and prosperous.
A strong ASEAN is in the interest of the EU, and the EU fully supports the principle of ASEAN centrality. A strong ASEAN, at the centre of the regional security architecture, helps to ease tensions and provides stability for the region and prosperity for its citizens.
The EU-ASEAN relationship has been based on shared values and principles such as the rules-based international order, effective and sustainable multilateralism, and free and fair trade. This is particularly important at a time of conflicts, geopolitical tensions and increasing rivalries. As geopolitical conditions shift and the world recovers from the far-reaching impacts of the COVID-19 pandemic, the EU remains a reliable, strategic partner contributing to stability and sustainable recovery throughout the region.
The EU and ASEAN established their Dialogue Relations in 1977. The EU-ASEAN partnership has been based on shared values and common goals, working to ensure peace and security throughout the region, building sustainable connectivity, promoting free and fair trade, and supporting sustainable development.
The elevation of EU-ASEAN relations to a Strategic in 2020 reflected the true nature of the enhanced political, economic and security cooperation.
Between 2014 and 2020, EU-ASEAN regional cooperation reached over 250 million EUR dedicated to supporting all three pillars of ASEAN integration, on subjects as far ranging as trade support, forest governance, higher education and student mobility, disaster response, and sustainable use of peatlands.
The EU is already a very active participant and contributor to the ASEAN Regional Forum (ARF). A stronger EU's involvement in the ASEAN Defence Ministers Meeting Plus (ADMM+) and the East Asia Summit (EAS) could only be beneficial for all.
During the testing times of the COVID-19 pandemic, the EU and ASEAN proved to be dependable partners. The EU and our Member States, in a joint Team Europe effort, mobilised over 800 million EUR to support the fight against COVID-19 in the ASEAN region.
Regarding our cooperation, EU-ASEAN cooperation will be structured around three priority topics: implementing the Strategic Partnership, cooperation on environment and climate, and Sustainable Connectivity.
On trade and investment, the EU pursues bilateral agreements with the ASEAN Member States, which pave the way for a potential region-to-region agreement in the future.
The year 2022, which marks the 45th anniversary of EU-ASEAN relations, is important for implementing the EU-ASEAN Strategic Partnership. The EU and ASEAN will adopt a new Plan of Action 2023-2027 focusing on pandemic recovery, trade, rules-based and sustainable connectivity, and enhanced EU-ASEAN security cooperation.
Indian Ambassador to Vietnam Pranay Verma: India gives top priority to engagement with ASEAN
Indian Ambassador to Vietnam Pranay Verma (Photo: Indian Embassy in Vietnam)
India-ASEAN relations are multifaceted and have been growing steadily since India's association with ASEAN, first as a sectoral dialogue partner in 1992 and then as ASEAN's full dialogue partner in 1995. The upgrading of the ASEAN-India relationship to the level of Strategic Partnership in 2012 was a natural progression of our close cooperation with ASEAN.
India is committed to building ever closer links with ASEAN through enhanced connectivity, commerce and cultural exchanges.
This year, which has been designated as the ASEAN-India Friendship Year, India hosted a Special ASEAN-India Foreign Ministers' Meeting in New Delhi on June 16, commemorating the 30th anniversary of India's dialogue relations with ASEAN.
On that occasion, India's External Affairs Minister Dr. S. Jaishankar articulated our vision of India-ASEAN engagement in the following words: "A better-connected India and ASEAN would be well positioned to promote decentralized globalization and resilient and reliable supply chains that are so needed by the international community."
India sees ASEAN as a regional group which has created an ecosystem of peace, prosperity and growth over more than five decades. Recognising the importance of ASEAN, India's leadership has always given the top priority to India's engagement with the group by regularly attending the Annual Summits and related meetings and launching new initiatives in areas of mutual interest.
Today, as Strategic Partners, India and ASEAN have important political and economic engagements and a common interest in the peace, stability and prosperity of their shared Indo-Pacific region.
Based on India's deep civilizational contacts with the region and guided by our Act East Policy and the Indo-Pacific Vision, India is committed to building ever closer links with ASEAN through enhanced connectivity, commerce and cultural exchanges.
Vietnam is a key pillar of India's Act East Policy and an important partner in India's Indo-Pacific vision. The bilateral ties are based on strong mutual trust and understanding, as well as strong convergence of views on various regional and international issues.
Since it acceded to ASEAN 27 years ago, Vietnam has been playing an important role in promoting India-ASEAN engagements. India highly appreciated Vietnam's most constructive role in facilitating our engagement with ASEAN as our Country Coordinator during 2015-18 and ensuring the success of the ASEAN-India Commemorative Summit in January 2018.
In 2020, despite the disruptions of the COVID-19 pandemic, Vietnam successfully steered the ASEAN presidency and facilitated closer engagement between India and ASEAN.
India stands ready and looks forward to working closely with Vietnam to help promote our shared objectives and strengthen ASEAN and ASEAN-India partnership.