2022 has marked a range of milestones in the Vietnam-Australia relationship and this visit provided a platform for discussing and elevating educational partnerships, especially student mobilities. On this occasion Professor Ly Tran and Dr Huyen Bui, Deakin University, Australia, has an article providing an overview of the international education ties between the two countries and recommendations for future cooperation in education.
Educational cooperation for mutual development and human capacity building
There are a range of educational partnerships between Australia and Vietnam, including: cooperation in education and training; development and delivery of joint and twinning programmes; student and staff mobilities; transnational research collaboration; research capacity building; and translation of research findings into practice.
Notably, the number of Vietnamese students studying in Australia has been increasing since the COVID-19 pandemic, reaching 23,520 in August 2022.
One of the highlights of education cooperation between Australia and Vietnam is the Aus4skills programme.
The programme demonstrates the commitment of the Australian government in promoting Australia-Vietnam educational relationship and supporting Vietnam to develop human resources through a range of activities such as scholarship programmes, alumni networks, human capacity building, and development of future leaders.
Our research team undertook a project, titled "Needs of and gaps encountered by employers in the Northern mountainous region of Vietnam as part of the Aus4skills, through cooperation between Deakin University, University of New South Wales and Tay Bac University.
This research has provided evidence-based recommendations for the development of strategic plans and the adaptation of curricula in universities in the Vietnam's Northern mountainous provinces to develop human resources in response to the growing demand of high-quality labour force for the regional and national development as well as the need for global integration.
The findings of the projects was reported in the new book, titled "Employability in Context: Labour Market Needs, Skills Gaps and Graduate Employability Development in Regional Vietnam", released in November, 2022 by Palgrave Macmillan, a world-class publisher.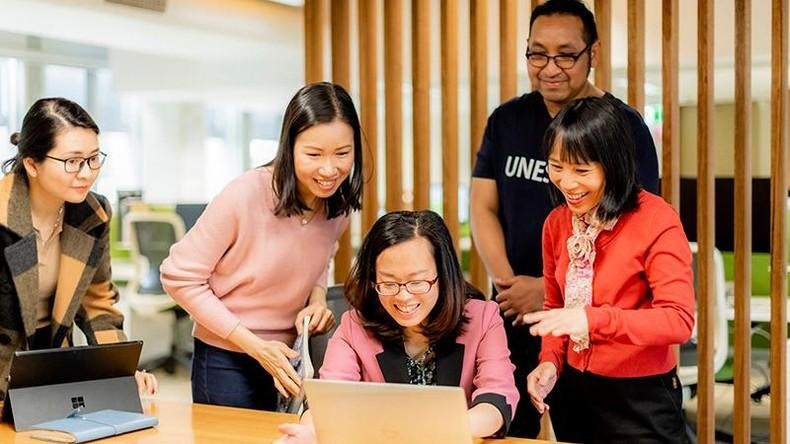 Professor Ly Tran is teaching Vietnamese and Indonesian international students
Vietnam- a short-term mobility destination for Australian students
In recent years, Vietnam has made significant achievements in the internationalisation of education. From being a passive recipient of international education, Vietnam has become an active partner and emerging provider of short-term mobility programmes.
Vietnam's remarkable progress in international education not only enables Vietnamese students to access Australia's high-quality education but also makes Vietnam steadily become a popular destination of short-term study-abroad programmes and internships for Australian students.
Vietnam is currently the fourth destination for Australian students in short-term mobility programmes and internships within the New Colombo Plan, a signature of mobility and public diplomacy programme sponsored by the Australian government. According to the figures from the Australian Department of Foreign Affairs, between 2014 and 2018, the number of Australian students undertaking mobility programmes and internships in Vietnam, through the New Colombo Plan increased more than five times, reaching 3,612 at the end of 2019.
Short-term study abroad programmes and internships of Australian students in Vietnam greatly vary in terms of duration, ranging from a few weeks to a year, as well as fields of study, ranging from climate change, sciences, healthcare, social work to digital technology.
According to a Deakin-led research project on the experience of Australian students through the New Colombo Plan, Australian students and interns greatly appreciate their experiences and the quality of short-term education in Vietnam.
Susan, an Australian intern in Vietnam, shared that she had an opportunity to learn different and new technical aspects of her field of study such as "Arduino and Raspberry Pi". John, another Australian intern, revealed that "SDN technology is relatively new" that he had the opportunity to learn in Vietnam.
Despite being a developing country, Vietnam is one of the world's most dynamic information technology markets that has become a significant hub for software and hardware production in outsourcing services.
The abovementioned achievements could hardly be achieved without proactive and enduring efforts in promoting bilateral relations between the two countries.
From traditional scholarships to help Vietnam improve human resources for the country's development such as the Australia Award scholarship programme and the Endeavor Executive Award to short-term training programmes such as the Aus4skill together with other policies and projects, they all bring Australian education closer to Vietnam
One of the latest developments in the Australia-Vietnam educational partnership is the Australian government's strong commitment to encouraging Australian students to learn Vietnamese language and cultural literacy.
This commitment is evidenced by the Australian government's approval for a pilot programme, in which Vietnam is one of three countries, along with India and Indonesia, being selected to provide in-country language and cultural literacy studies for Australian students.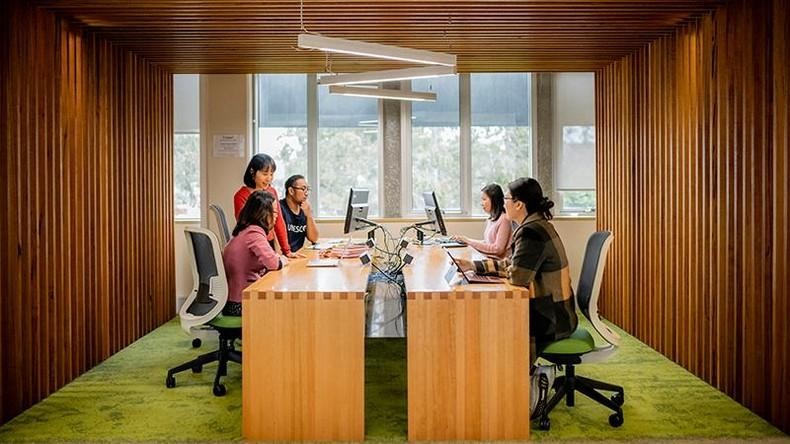 Professor Ly Tran and International students at Burwood Campus, Deakin University
Building an international education brand for Vietnam
James Fairley, an alumnus of Griffith University, shared that the opportunity to study and undertake internships for 12 months in Vietnam through the New Colombo Plan scholarship is a wonderful and precious experience for him.
James not only had the opportunity to learn Vietnamese language and culture and experience the dynamic life in Vietnam but also accumulated valuable professional knowledge for his current job in Trade and Investment between Vietnam and Australia.
Upon his return to Australia, James continues learning Vietnamese through online classes. James represents the Australian young generation who has developed a strong passion and love for Vietnam as well as Vietnamese language and culture. This is an excellent result of the enduring educational cooperation between Australia and Vietnam.
To leverage these emerging opportunities and unleash the potential, Vietnam needs a strategy and a comprehensive implementation plan including the establishment of representative bodies to profile Vietnamese universities in international education, sharing experiences in the internationalisation of education among universities and fostering closer cooperation.
To build Vietnam's brand in the international education space, we put forward the following recommendations:
• Developing a coordinated approach to build capacity for Vietnam to become a regional hub specialising in providing short-term programmes that foster and develop expertise in critical skills areas, semester exchange programmes, and short-term mobility in corporating discipline-specific learning, cultural experiences and internships, both in person and online. In addition, Vietnam can promote the provision of language training for international students.
• Besides traditional joint and twinning programmes at undergraduate and postgraduate levels, Vietnam can cooperate with Australian universities to design training programmes in critical skills areas, especially for micro-credentials. In addition, Vietnam should take advantage of opportunities for international collaboration and digital transformation to offer flexible teaching and learning modes, including blended and online learning.
• Keeping a breast of the latest trends on educational cooperation, human resource development as well as bilateral and multilateral relations with countries in the region and the world.
For example, Australia's International Skills Training programme considers Vietnam to be one of the seven countries (along with Indonesia, Malaysia, India, Colombia, Brazil, and the United States) that are prioritised for cooperation in training, upskilling and reskilling in critical skills shortage areas.
• Leveraging Vietnam-Australia educational partnerships through strengthening alumni networks in both countries.
• Policies and regulations on transnational education (including international or joint and twinning programmes) need to be more flexible regarding the requirement on initial foreign investment capital as well as the regulatory framework for quality assurance and accreditation in the context of interweaving between digitalisation and internationalisation of education, and between online and in-person delivery.
• There should be closer cooperation between the education sector and other related sectors such as tourism, culture, and foreign affairs to build Vietnam's international education brand and make Vietnam a preferred destination for Australian students.
Vietnam can also learn from other countries' experience in leveraging international collaboration in education as a mechanism to foster and strengthen bilateral and multilateral cooperation through education.
On December 1, 2022, a conference on "Internationalisation of Higher Education in Dynamic Asia" was co-organised by Deakin University, Hanoi University of Education 2, Journal of Education Research and STAR Scholars. The conference provides a platform for participants to share experiences in international cooperation in education and training and educational relationships between Australia and Vietnam.
Professor Ly Tran (Deakin University) is a renowned researcher who has valuable contributions to research and education. In 2019, Forbes Vietnam named Professor Tran one of Vietnam's 50 most influential women.
Professor Ly Tran was one of the two Vietnamese recipients of the Shining Star Achievement in Research in the A. Noam Chomsky Global Connections Awards in 2020. She won more than 30 awards, fellowships and scholarships by international and national associations in recognition of her excellent achievements in research and education.
Professor Ly Tran was awarded the prestigious Australian Research Council Future Fellowship in 2017.