In Hanoi, the Christmas atmosphere has filled the streets with Xmas colours illuminating every corner of the capital city. Preparations have been completed, with all eagerly looking forward to Christmas Eve and Christmas Day.
The St. Joseph's Cathedral (locally called Big Church), is one of the most popular destinations for people in Hanoi at this time of the year. Families, couples and especially teenagers gather in groups here to pose and enjoy the warm and peaceful Christmas atmosphere together, a rare scene in many countries in the context of COVID-19.
For foreigners in Vietnam, this is a special Christmas as many are celebrating it without their family members due to the impact of the pandemic. However, Vietnam's effective response to the pandemic has allowed expats to hit the streets on this special occasion and attend churches to enjoy the full Christmas atmosphere.
Since the COVID-19 outbreak, travel restrictions have forced Jack, a Frenchman, from reuniting with his family. But for him, being stranded in Vietnam during an unexpected, prolonged pandemic prevalence around the world is not a bad sojourn.
"The Vietnamese Government has done a good job thus far in fighting the coronavirus, and you can see the results in the festive and joyful Christmas here with colorful decorations while the world outside in still in trouble," said the young Frenchman.
Jack decided to stay in Vietnam considering his safety more assured thanks to the state's effective containment of COVID-19.
Considering his safety, Jack decided to stay in Vietnam rather than returning to his home country. "The effective containment of COVID-19 here made me feel safe and the jubilant Christmas in Vietnam offers similar feelings as in my home country," said Jack.
Since the beginning of the year, COVID-19 has wreaked havoc in over 200 countries and territories, infecting around 77 million people and killing over 1.7 million. Many major powers like the US, the UK, France, Russia, and India have been struggling with the virus with lengthy lockdowns having even been extended. Vietnam has stood out among many others and received global compliments for its outstanding pandemic control, keeping losses to the economy and human lives to a minimum, having recorded only 1,414 cases and 35 deaths.
Living in Ho Chi Minh City for four years, Catherine and Jack from the UK were still impressed with the timely measures Vietnam has taken in effectively containing the pandemic, in comparison with the huge number of international cases.
As Xmas is jubilantly celebrated, expats find Vietnam safe shelter in Vietnam amid COVID-19. (Photo: NDO/Trung Hung)

"I've been here for several years enjoying Christmas and the New Year in Vietnam. It's not cold in the Ho Chi Minh City so it's not really like a traditional Christmas atmosphere but truly this year Vietnamese people can enjoy a big Christmas celebration thanks to their effective control of COVID-19," said Catherine.
The country has successfully overcome three waves of COVID-19 by applying timely response measures and the people's high discipline in observing the Government's directions. Up to now, the country has gone more than three weeks without new infections in the community. The effective control of the disease has made Vietnam a safe place for expats to spend their Christmas season, bringing them feelings of safety and tranquility as they would have at home with their families.
"This year's Christmas in Vietnam looks more active and festive compare to many other countries where the pandemic is more serious. Although we may need to celebrate with masks on, the joyful air and energy seem much higher," said Korean Kim Kyung Sup, Director of LOGOS Law LLC Vietnam Office, who has been living in Vietnam since 2017.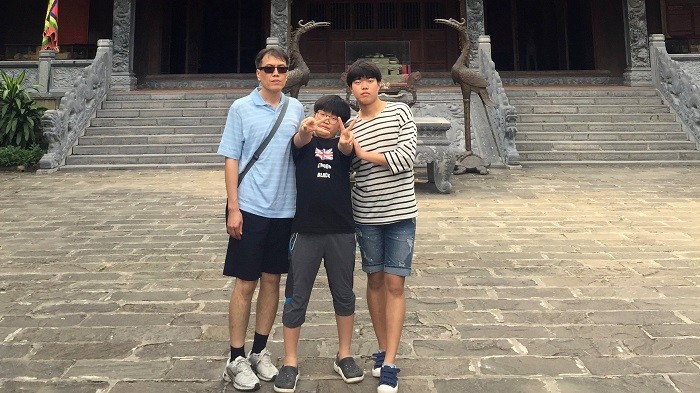 Kim Kyung Sup (far left) and his family members during a trip in Vietnam.
"I think foreigners in Vietnam will be appreciative of and feel blessed to be here with the Vietnamese people, able to enjoy the Christmas season much more so than in other countries," Kim added.