One of the highlights of the day was the competition in the men's team event between Nguyen Duc Tuan from the Hai Duong-Long Hai 1 team, who won a gold medal in men's singles at the 31st SEA Games, and Pham Thanh Son of the Tin Phat Gia Lai team.
Thanks to his expertise experience, Duc Tuan helped his team easily defeat their opponents, thus helping Hai Duong-Long Hai 1 claim a 3-0 victory over Tin Phat Gia Lai, who participated in the competition for the first time.
A men's team match between Doan Ba Tuan Anh (right) from Long Hai-Hai Duong 1 team and Nguyen Anh Tu from Tin Phat-Gia Lai team
In the women's team event, Hanoi T&T, having been evaluated as one of the strongest teams, gained an overwhelming victory over Vinh Long while the Ho Chi Minh City, Army 1 and Police 1 teams claimed convincing wins over the Army 2, Dong Nai 2, and Da Nang teams, respectively.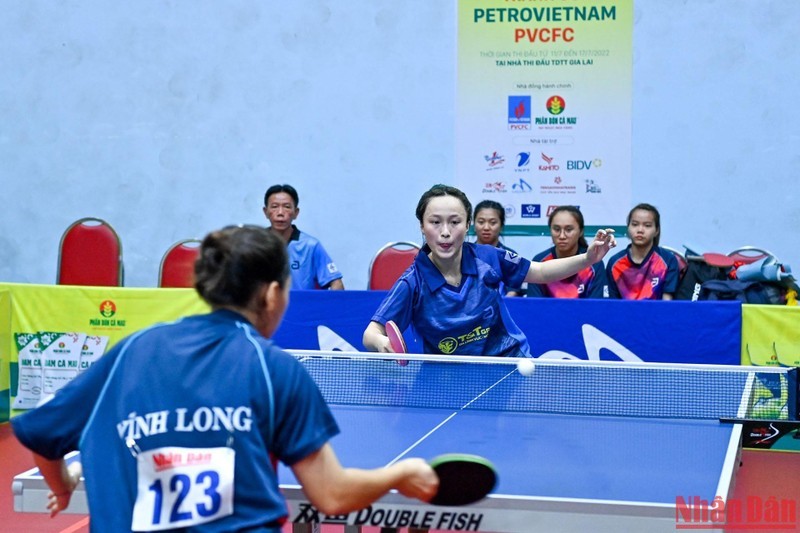 Nguyen Thi Phuong Linh from Hanoi T&T Club earned the first victory after edging past Dong Bao Tran from Vinh Long team 3-2 in her match in the women's team event.
Athletes competed in men's and women's team event on the evening of July 12.