>>> V.League 2020: SHB Da Nang bag first points with 6-1 rout of Quang Nam FC
>>> Pedro Paulo sends Saigon FC to top of V.League table
Here following are the five talking points from the latest V.League action.
Saigon FC lead title race for first time
The coaching staff and players of Saigon FC celebrate their opening goal. (Photo: VPF)
Pedro Paulo scored the only goal for Saigon FC as Vu Tien Thanh's side edged past Ho Chi Minh (HCM) City 1-0 in their HCM City derby on Friday, thus climbing to top spot of the table for the first time since their V.League debut four years ago. In the previous four seasons, the highest ranking conquered by Saigon FC after matchdays was only a second-place position.
Saigon FC are now equal with Viettel FC and Song Lam Nghe An on eight points but have a better goal difference (4:2).
It can be said that leading the title race after four matchdays is a big surprise for Saigon FC who underwent a change of manager ahead of Matchday 2 and do not have star players as in the lineups of teams such as Hanoi FC, HCM City or Hoang Anh Gia Lai. However, thanks to a scientific playing style and the effective utilisation of opportunities, Vu Tien Thanh's side have surpassed the higher-rated teams to become the frontrunners of this year's title quest.
V.League newbies extend impressive run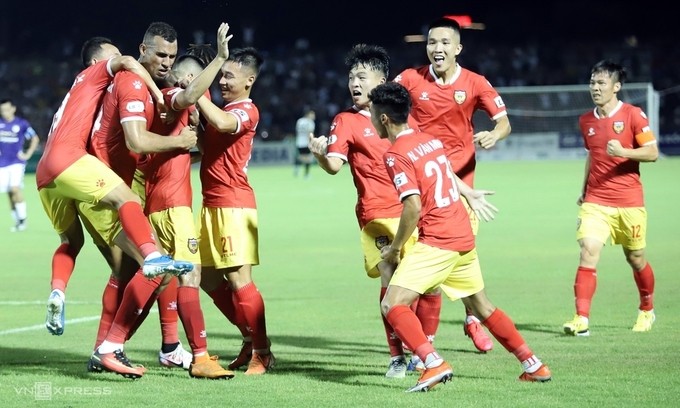 Newly promoted Hong Linh Ha Tinh are delivering a positive start to their inaugural V.League campaign. (Photo: VPF)
After a fabulous 2-0 win over higher-rated Quang Ninh Coal on the previous matchday, newly promoted Hong Linh Ha Tinh produced another shock on Matchday 4 by managing to achieve a 1-1 home draw against defending champions Hanoi FC, who are known to have the best attacking lineup in V.League.
Wining four points after four matches, especially when the opponents were the two V.League giants, can be seen as a couldn't-be-better result for Pham Minh Duc's troops, which will surely give a strong boost to their confidence in the coming stages of their V.League campaign.
A glut of goals for the central region derby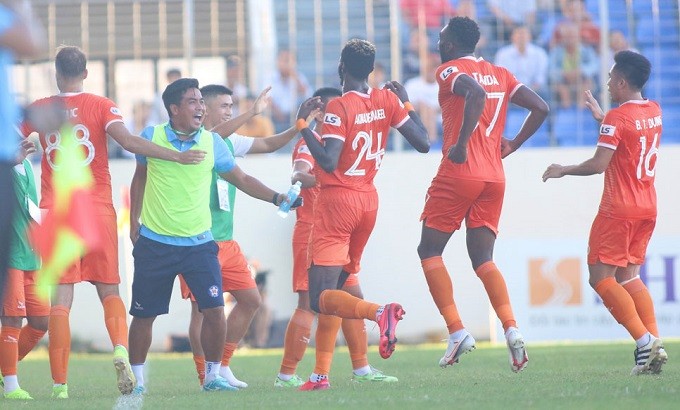 SHB Da Nang players celebrate their resounding victory. (Photo: VPF)
After an extremely poor run of three losses, SHB Da Nang rediscovered their rhythm by demolishing neighbours Quang Nam FC with an amazing score of 6-1 to secure their first victory in V.League 2020. The central region derby also witnessed the most goals scored since the beginning of the season.
With the resounding win, SHB Da Nang bagged their first points in this year's V.League and moved up to 11th place in the title race. More importantly, it allowed manager Le Huynh Duc to temporarily safeguard his chair at Hoa Xuan Stadium and gradually regain the trust of home fans.
Thanh Hoa FC still waiting to taste first win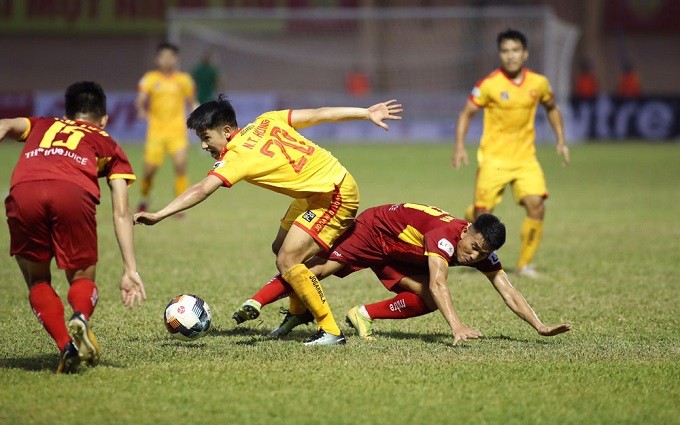 Thanh Hoa FC (in yellow) are the only team to have gone four straight matches without a win. (Photo: VPF)
On Friday, Thanh Hoa FC played their first match under manager Nguyen Thanh Cong who replaced newly sacked Fabio Lopez. However, it seems that they still need more time to change their destiny.
Despite their home-field advantage, Thanh Hoa played out a tedious goalless draw with Song Lam Nghe An, which has kept them rooted at bottom being the only team to have gone four straight matches without a win.
Song Lam Nghe An maintain a clean sheet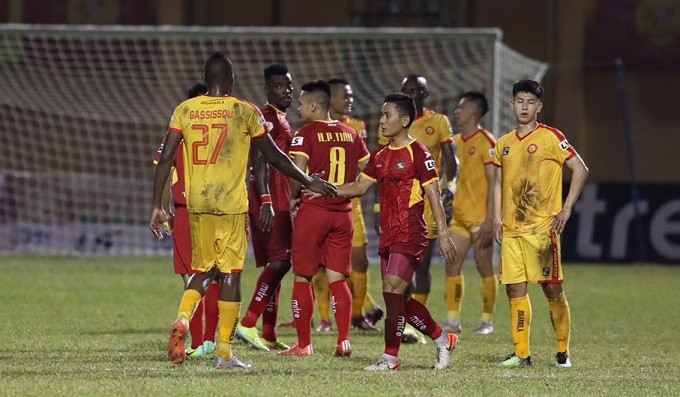 The two teams' players shake hands after the match. (Photo: VPF)
With the scoreless away tie against Thanh Hoa FC, Song Lam Nghe An are one of only three teams to have remained unbeaten thus far in V.League 2020, alongside leaders Saigon FC and second-placed Viettel.
Particularly, manager Ngo Quang Truong's side are the only side to keep a clean sheet after the first four matchdays.