Responding to the movement "All for Vietnam's seas and islands" that is spreading across Europe, overseas Vietnamese in France, who had the opportunity to visit the homeland's seas and islands, established the club.
The club is also expected to promote Vietnamese people, nature, marine culture, and specialities, to attract visitors to Vietnam.
Tran Thu Dung, a founder of the club, said that the club will also engage in fundraising to support students, teachers, schools, community houses, and libraries on Truong Sa islands, contributing to socio-economic development and protecting Vietnam's sovereignty over the seas and islands.
Speaking at the launch ceremony, Ambassador Dinh Toan Thang highly appreciated the initiative, describing the event as a demonstration of the faith of overseas Vietnamese in France, their homeland and its seas and islands.
The diplomat said he hopes that the club will attract more and more members, organise useful and interesting activities towards the homeland, as well as make more contributions to the country in the coming time.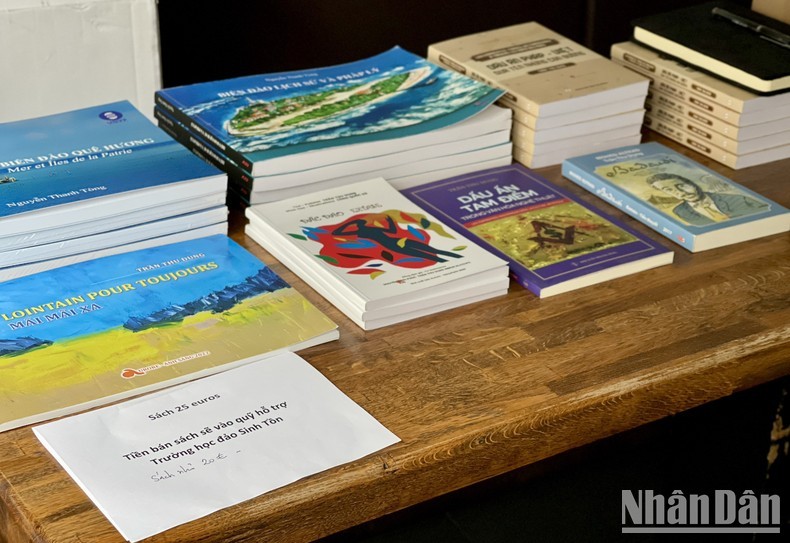 The space of books about sea and islands and literature is on sale to raise funds to support the facilities for classes on Sinh Ton Island.
This is the fifth organisation established by people in Europe, who love the Vietnamese sea and islands.
The first organisation was established in Germany in 2017, followed by in Poland in 2019. The third organisation was established in the Czech Republic in 2022, and in the same year, the Liaison Department for Vietnamese in Europe "For the sea and islands of Vietnam" was launched, with the participation of a large number of overseas Vietnamese, from 12 countries.