The event was attended by Prime Minister Pham Minh Chinh, who is on a US trip for the 78th United Nations General Assembly and bilateral activities in the country, his entourage, and nearly 30 US guests who are senior officials of the US administration and parliament, and representatives of businesses and organisations, along with scholars and US friends.
Opening the event, Ambassador Nguyen Quoc Dung highlighted the significant of the National Day of Vietnam and the elevation of the Vietnam-US ties during the Vietnam visit by US President Joe Biden.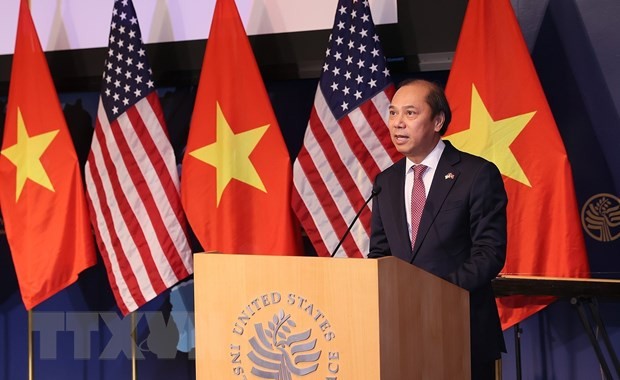 Ambassador Nguyen Quoc Dung addresses the event. (Photo: VNA)
He thanked US friends and partners as well as the international community for supporting Vietnam during the country's cause of national development and enhancing international position.
Kurt Campbell, Deputy Assistant to the US President and Coordinator for Indo-Pacific Affairs on the US National Security Council, extended greetings to Vietnam on the occasion of the National Day, affirming that US attaches great importance to relations with the country. He underlined the US's commitments to supporting a strong, independent, prosperous, and self-reliant Vietnam.
Meanwhile, Senator Dan Sullivan and Senator Jeff Merkley affirmed the strong support from both parties of the US to the Vietnam-US relations, including bilateral cooperation in dealing with war consequences. They spoke highly of the role, position and positive contributions of Vietnam in the region.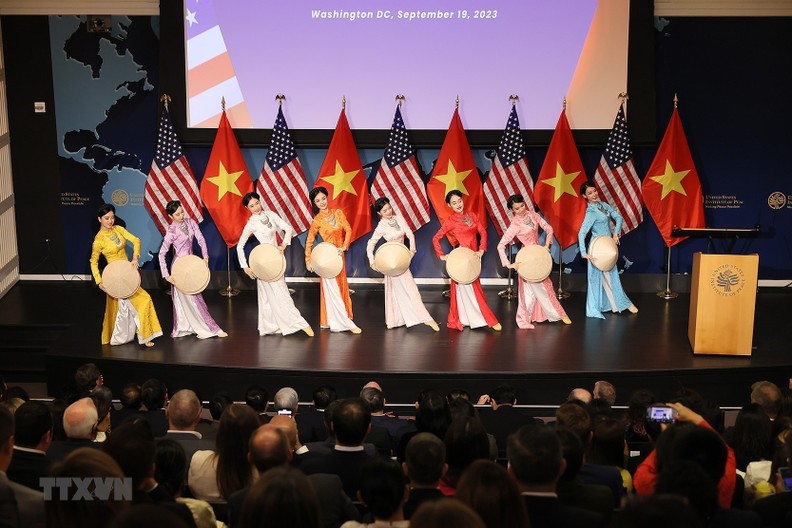 An art performance at the event.(Photo: VNA)
President of the US Institute of Peace Lise Grande underscored that the elevation of the Vietnam-US ties to a comprehensive strategic partnership is an important milestone in bilateral relationship.
Grande thanked Vietnamese partners for accompanying the US and the Institute of Peace in particular during cooperation in overcoming consequences of war.
Participants shared the delight at and optimism on the growth of the Vietnam-US relations, and affirmed to continue positive collaboration with Vietnam to promote the ties.