>>> National Super Cup 2020 to kick-start new football season
>>> V.League 1-2021 to commence on January 16
After dropping the championship title in 2020 to city rivals Viettel FC, Hanoi FC have quickly realised the reasons that forced them to lose points regardless of their ownership of the strongest squad in V.League 1. Despite keeping quiet for the majority of the transfer window, in late 2020 the most prolific club in the history of Vietnamese football raised their voice by inking a contract with Brazilian forward Bruno Cunha Cantanhede, who played a crucial part in Viettel FC's 2020 success. This addition of Hanoi FC will fill the vacancy left by Jamaican striker Rimario Allando Gordon, the new signing of V.League 1 debutants Binh Dinh FC. Although having to play in the domestic front and the AFC Cup 2021, the capital team, managed by Chu Dinh Nghiem, are still among the title favourites in the 2021 season.
Viettel FC cleared their way to the V.League 1-2020 trophy in an amazing fashion. In order to prepare for domestic tournaments and the AFC Champions League 2021, manager Truong Viet Hoang has successfully recruited Brazilian forward Pedro Paulo from Saigon FC. With this quality supplementation, Viettel are expecting to strengthen their attacking power, which will be tested in the 2020 National Super Cup match against Hanoi FC on January 9.
The 2020 V.League 1 crown lifted by Viettel FC, who had been not highly appreciated at the beginning of the season, has been a source of motivation for many other clubs. Hoang Anh Gia Lai FC (HAGL) have not only signed new manager Kiatisuk Senamuang but also strengthened their squad with a number of new quality players. Considered weak in defence with foreign players performing poorly in the 2020 season, Kiatisuk recently signed Brazilian forward Washington Brandao, 30, who has played for many clubs in Southeast Asia previously. In the defensive line, HAGL have been added with Kim Dong-so, former centre back of the Republic of Korea U23 team. Regarding domestic players, many members and former members of the Vietnamese national team, such as goalkeeper Huynh Tuan Linh, defender Nguyen Van Viet (Quang Ninh Coal FC) and defender Nguyen Huu Tuan (Ho Chi Minh City FC), have also been brought to Pleiku Stadium. In addition, overseas Vietnamese centre back S. Dang will also play for HAGL under Kiatisuk's dynasty. With these strong additions, HAGL promise to be a strong contender for the top spot of V.League 1-2021.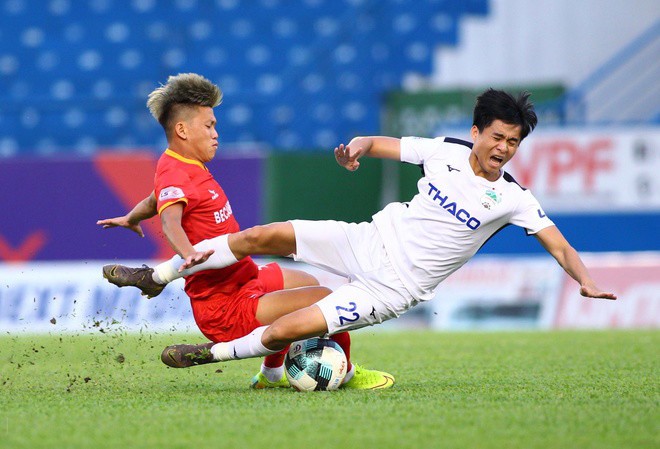 HAGL midfielder Phan Thanh Hau (in white) has joined HCM City FC on a two-year loan contract.

HCM City FC suffered an unsuccessful 2020 season despite their strong investments, due to their unstable players and an ineffective playing style. The southern team will head into the 2021 season with new manager Alexandre Polking, and a series of new domestic and foreign players, such as Brazilian forward Joao Paulo, midfielder Lee Nguyen, goalkeeper Pham Van Cuong (from Quang Nam FC), centre backs Pham Hoang Lam (from Hong Linh Ha Tinh) and Than Thanh Tin (from Saigon FC), midfielders Phu Trung Phong and Le Quyen Huy Tin (from Binh Phuoc), Phan Thanh Hau (from HAGL) and Le Sy Minh (from Nam Dinh), and striker Ho Tuan Tai (from Song Lam Nghe An). With an almost brand-new squad, HCM City are quite capable of producing surprise this season.
Newly promoted Topenland Binh Dinh are the new "rich man" in V.League 1-2021 with sponsors' pledges of up to VND300 billion (US$13.01 million) for three seasons, alongside bonuses of VND10.7 billion for the V.League 1-2021 championship title and VND5 billion for the second-place and third-place positions. If the team finish among the top three at the National Cup front, they will receive cash bonuses of VND3 billion, VND2 billion and VND1 billion, respectively, from sponsors. With a fairly strong team of domestic players and the addition of striker Rimario (from Hanoi FC), defender Ahn Byung-keon (from Saigon FC), national team player Ho Tan Tai (from Becamex Binh Duong) and Duong Thanh Hao (from Quang Ninh Coal), the V.League 1 newbies are bound to make the 2021 title race much more exciting.