ARSENAL'S OLD FAILINGS RETURN TO HAUNT THEM
This season felt different as Arsenal, working together with a ferocious team spirit and the zest of youth, looked on the verge of a first league title since 2004.
But some old failings have returned to haunt them with their defence turning into Swiss cheese at the worst possible moment. They have let in 15 goals in their last seven games, conceding three at home to bottom club Southampton, four at Manchester City and three more at home to Brighton on Sunday (May 14).
There is much to admire in Arsenal but Arteta will know that he needs to add some more steel and depth in key areas for next season when they return to the Champions League and try to put together another title tilt.
GUNDOGAN GIVES REMINDER OF CITY'S DEPTH
While the spotlight has shone on the "striking Viking" Erling Haaland this season, Manchester City's squad runs far deeper than just the 22-year-old Norwegian, and boasts an enviable number of serial title winners.
Ilkay Gundogan gave a vivid reminder of that on Sunday, scoring two superb goals and teeing up Haaland for another in Manchester City's 3-0 victory over Everton that left them just a win away from their third consecutive Premier League title.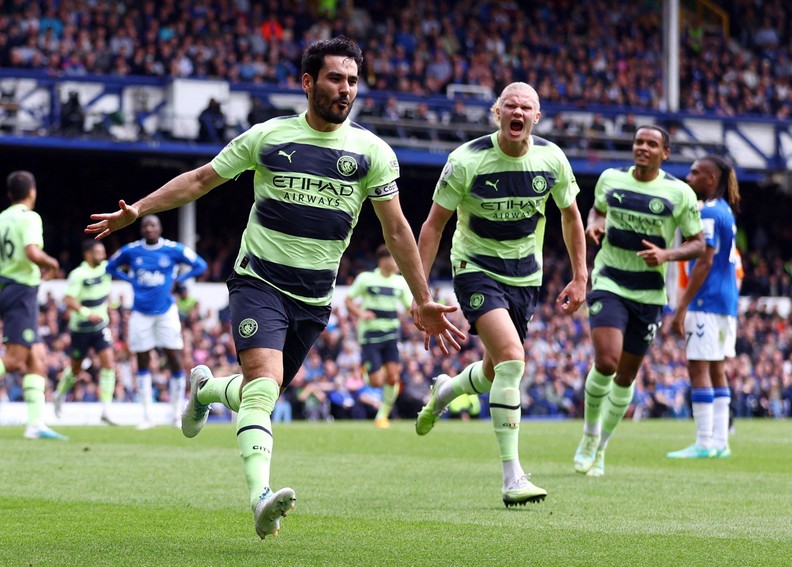 Manchester City's Ilkay Gundogan celebrates scoring their first goal - Premier League - Everton v Manchester City - Goodison Park, Liverpool, Britain - May 14, 2023. (Photo: Reuters)
The 32-year-old German midfielder also netted a brace - and reigned supreme in midfield - a week earlier in City's win over Leeds. Gundogan already has four Premier League titles, four EFL Cups and an FA Cup to his name.
And then there's 31-year-old Kevin De Bruyne, who has won 13 club titles over the years, including the Premier League four times and the FA Cup with City.
With Haaland shackled by Real Madrid in the first leg of their Champions League semi-final last Tuesday, it was left to De Bruyne to score City's equaliser in the 1-1 draw. In the second leg, the goals for a City side brimming in talent could come from any direction.
BARCELONA CLINCH 27th LALIGA TITLE
Thousands of Barca fans celebrated wildly as their side won their 27th LaLiga title and first for four years on Sunday after thrashing city rivals Espanyol 4-2.
A brace by LaLiga top goalscorer Robert Lewandowski in the first-half paved the way for Barca to clinch the title with four games spare as they moved to 85 points from 34 matches and extended their lead at the summit to an unassailable 14 points over second-placed Real Madrid, who have turned their attentions to their Champions League semi-final clash against Manchester City.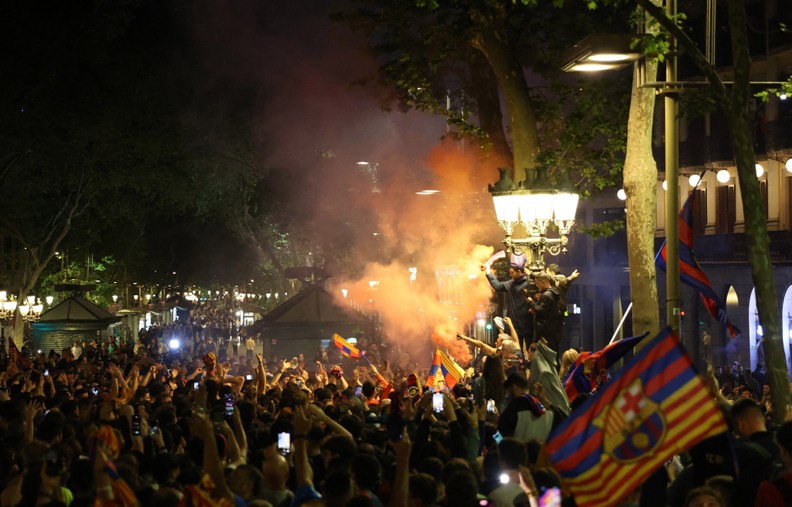 Barcelona fans celebrate in La Rambla after winning LaLiga - LaLiga - FC Barcelona fans celebrate winning LaLiga - Barcelona, Spain - May 14, 2023. (Photo: Reuters)

Barca fans started to gather around the Canaletes fountain on the Rambla boulevard in the city centre right after fulltime, although they will have to wait until Saturday to see their captain Sergio Busquets lift the LaLiga trophy when they host fourth-placed Real Sociedad in front of their jubilant supporters who will pack out their Camp Nou stadium.
FREIBURG BOOK EUROPA LEAGUE SPOT
Freiburg suffered a painful 4-2 loss to Union Berlin on Saturday in their battle for a top-four finish and a Champions League spot, leaving them in fifth place with two games left to play.
But they still had something to smile about a day later when Bayer Leverkusen drew 1-1 against VfB Stuttgart, meaning Freiburg were certain of at least a fifth-place finish and Europa League action next season for the second consecutive year.
In one of the tightest races for a top-four finish, RB Leipzig are third on 60 points, one ahead of Union.
BELGIAN TITLE RACE DOWN TO THREE
Royal Antwerp scored with virtually the last kick of the match to complete a dramatic come-from-behind 3-2 win over Club Brugge and stay on course for their first Belgian title in 66 years.
But Union Saint Gilloise, whose last title success was in 1935, are only one point behind after a 3-0 victory over Racing Genk in Sunday's other match in the championship round.
The top four finishers in the regular season are playing each other in a post-season mini league to settle the championship.
Defending champions Brugge were 2-0 up but fell out of contention after allowing Antwerp to come back with Arthur Vermeeren stabbing the ball home from a corner for the winner in the eighth minute of stoppage time at the end of the game.
JUVE CLOSE IN ON CHAMPIONS LEAGUE BUT LOSE POGBA
Juventus closed in on a spot in next season's Champions League after their 2-0 home win over Cremonese increased their advantage over fifth-placed AC Milan to eight points.
Yet they lost midfielder Paul Pogba to another injury that will disappoint coach Massimiliano Allegri.
Pogba started his first game in over a year on Sunday, having accumulated less than 160 minutes for Juventus this season coming off the bench, after a knee injury kept him sidelined for months.
The injury also ruled him out of the 2022 World Cup in Qatar and was followed by a thigh issue earlier this year.