Thoi Nay (Present Times) publication of Nhan Dan (The People) Newspaper conducted an interview with him to explore more about his efforts to and outcomes in revitalising Vietnamese folk paintings over the past eight years.
Question: What inspired you to create a collection of folk paintings on cats?
Painter Nam Chi: The cat has been highlighted in Vietnamese culture for a long time, something which can be seen through various genres of folk paintings. For instance, in 'Dam Cuoi Chuot' (Rats' Wedding), an iconic Dong Ho folk painting, we can see a rat – the groom of the wedding, present an offering to a cat. There is also a Hang Trong folk painting featuring a cat standing on a table.
The image of the cat appears not only in paintings, but also on carvings in sacred places such as in the Binh Luc communal house in Quang Ninh province, and in the stele of the Linh Quang pagoda in Hai Phong province. This proves that cat has been a familiar animal to Vietnamese people for a long time.
The traditional art heritage of our ancestors has inspired me to create folk paintings on the cat, the mascot of the Year 2023.
Q: What makes your paintings different from other folklore artwork on the cat?
I want to help them understand how talented and creative our ancestors were, and how that's something to be proud of.

Painter Nam Chi
A: I have engaged in the craft of making folk paintings for more than eight years. From the beginning, I asked myself the question of how to diversify the treasure of Vietnamese folk paintings and bring them closer to young people.
I think it is necessary to promote creativity in the making of folk paintings, from the structure and lines to the colours so that the public can acquire the paintings more easily. I also want to add more templates to the collection of Vietnamese folk paintings.
I made several variations for my cat paintings. I created new samples for the cat, and placed them together with other animals, such as fish and butterflies. in the paintings.
Regarding the colour scheme, I utilise contrasting colours in my works, instead of only using colours with similar shades like the way artists often did in folk paintings. Regarding the frame of the painting, I use a circle frame, rarely seen in folk paintings, with the hope of creating a uniqueness to my works.
Q: Can you tell us about difficulties of bringing folk paintings closer to the public?
A: I have to read a lot of research on cats in Vietnamese history, culture, and fine arts, a topic that is barely mentioned by researchers. At the beginning, I had to delete most of my sketches, because the cat in the drawings still looked like a tiger!
Then I had to ask for help from folk painting artisans like Le Dinh Nghien, a veteran researcher on Hang Trong folk painting, to gradually understand the difference between the cat and tiger in painting. The difference is even reflected in each stripe pattern of the painting.
I was also lucky enough to have artist Nguyen Duc Binh gather documents on the cat sculptures at village communal houses, which helped me have a better understanding of the cat image in Vietnamese culture.
Q: What are the messages you want to convey through your cat paintings?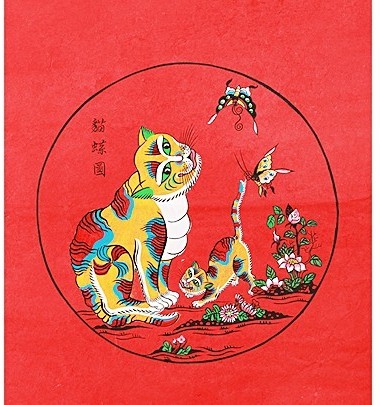 The 'Mieu Diep Do' (Cats and Butterflies) painting is a symbol of longevity
A: Many people believe that the cat is an unlucky animal. But in my paintings, the cat is a symbolic image containing many deep human meanings. For example, the 'Mieu Ngu Do' (Cat and Fish) painting symbolises luck and prosperity, as the image of a cat having a fish in his mouth, which implies that the New Year will bring a lot of fortune, success, and wealth.
Meanwhile, the 'Mieu Diep Do' (Cats and Butterflies) painting is a symbol of longevity, and the painting on mother cat and her kittens illustrates the reunion of family members.
Above all, I want to spread my love of traditional art and Vietnamese history and culture in general to the public, especially young people. I want to help them understand how talented and creative our ancestors were, and how that's something to be proud of!
In the near future, my colleagues and I plan to host exhibitions and workshops on the image of the cat in folk paintings, to help young people have a deeper understanding about the cat in culture as well as the genres of Vietnamese folk paintings.
Besides this, we will try to bring folk paintings in the New Year closer to the public by applying them on items such as key chains, clothes, bags, and accessories, etc. It is among our efforts to build a "bridge" connecting the young generation with traditional culture.
Thank you so much for your sharing!