The statement was made by Moroccan Ambassador to Vietnam Jamale Chouaibi, at a ceremony held in Hanoi on May 25, celebrating the 60th anniversary of Africa Day.
The event featured the participation of Deputy Minister of Foreign Affairs Ha Kim Ngoc, President of the Vietnam Union of Friendship Organisations (VUFO) Nguyen Phuong Nga and Ambassadors of African countries in Vietnam, among other guests.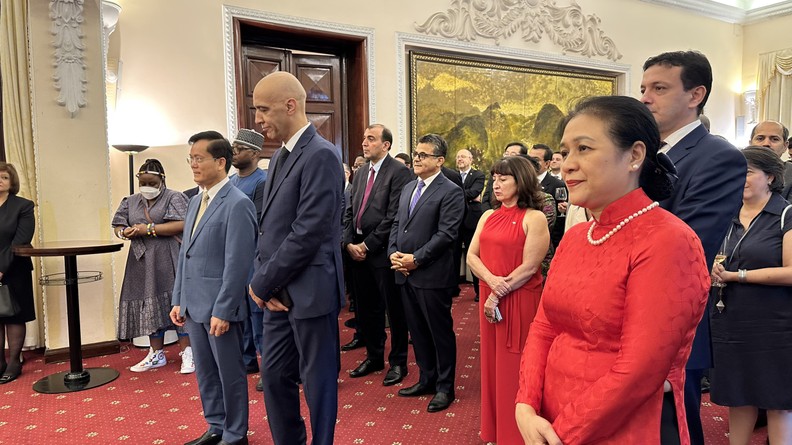 The delegates attend the celebration. (Photo: KIM LINH)
According to the Moroccan Ambassador, the significance of the 25th of May is a landmark in the history of the African Continent, with the foundation of the Organisation of African Unity, which later evolved into the current African Union (AU), in 1963.
"This day is celebrated across the African continent and around the world, to commemorate the progress and achievements made by African nations, in different areas of political, economic, social and cultural development.", he added.
The African Group holds in high regard the importance attached by the Vietnamese Government to the development of its economic cooperation with Africa.
On behalf of the Government and people of Vietnam, Deputy Minister of Foreign Affairs Ha Kim Ngoc extended his warmest congratulations to fraternal African Governments and peoples, the Ambassadors and Heads of Diplomatic Missions representing Africa in Hanoi, as well as African people working and living in Vietnam.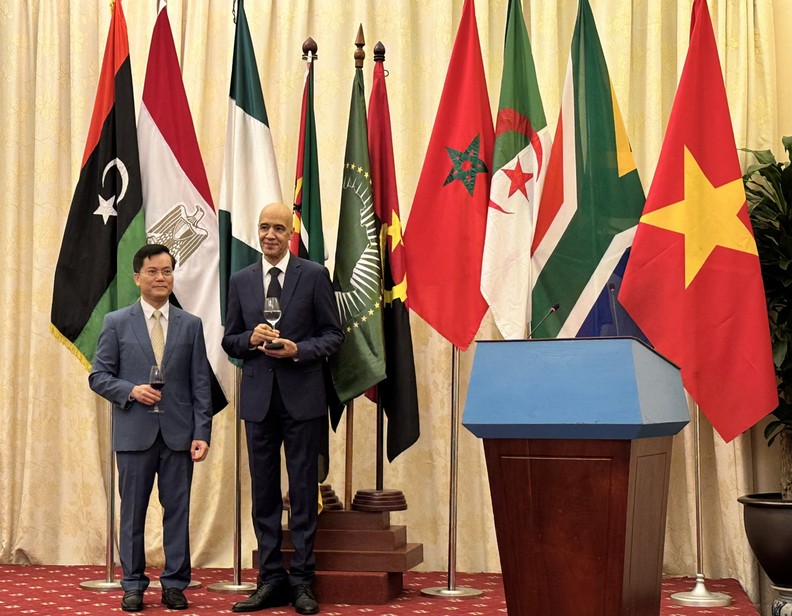 Deputy Minister Ha Kim Ngoc (left) and Moroccan Ambassador to Vietnam Jamale Chouaibi at the celebration. (Photo: KIM LINH)
"As a close and dear friend of the African people, the people of Vietnam always stand in solidarity and lend support to our African brothers", said Deputy Minister Ha Kim Ngoc.
Despite being geographically distant, Vietnam and African countries are very close and dear to each other, as sharing historical similarities and a traditional friendship, that was formed during their respective struggles for national liberation and defence, he added.
The Deputy Minister affirmed that the good political relations, the fruitful cooperation over the past decades, the resolve and support of the leaders and peoples of Vietnam and African countries, and the friendship and multifaceted cooperation between Vietnam and Africa, will be constantly strengthened.
In recent years, the partnership between Africa and Vietnam has gained momentum. Vietnam has become an important trading partner for many African countries and the trade turnover has reached more than 7 billion USD.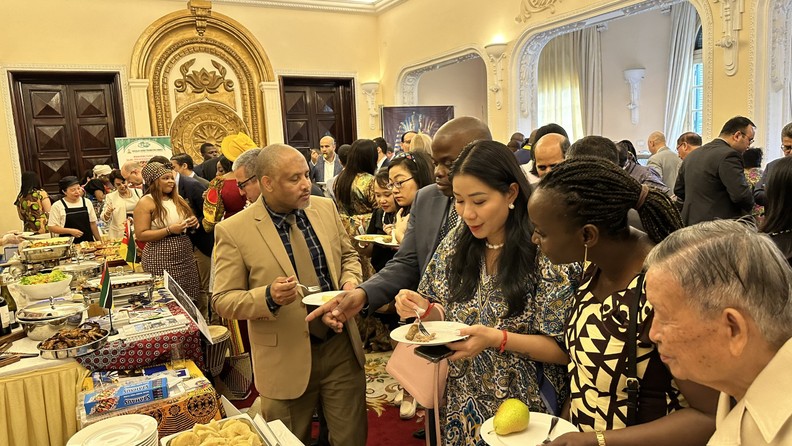 Various dishes of African cuisine are introduced at the celebration. (Photo: KIM LINH)
The celebration featured the diverse tradition of the continent, especially various delicious dishes from African countries including Algeria, Angola, Egypt, Libya, Morocco, Mozambique, Nigeria and South Africa.