HANOI
PERFORMANCE
SiaM vol 7: Wolfie!
8 – 10 pm on April 16
Tranquil Book & Cafe
No 5 Nguyen Quang Bich, Cua Dong, Hoan Kiem, Hanoi
8 – 10 pm on April 18
Magic Music Hall
Floor 5, CT4 Vimeco office building, Nguyen Chanh street, Trung Hoa, Cau Giay, Hanoi
"Schubert in a Mug" (SiaM) is a classical music project started in August 2020. SiaM includes a series of performances combined with talking/conversation organized in small and medium-size venues, with the aim of creating an intimate, cozy atmosphere where both artists and the audience share their love, curiosity, and stories related to classical music.
ReConnect – Concert: Frankfurt in Hanoi, Hanoi in Frankfurt
7pm on April 12
Goethe Institute
56-58-60 Nguyen Thai Hoc Street, Ba Dinh District,
The concert focuses on works written after the 1960s that do not rely on precise pitch or perfect unison and that do not prescribe an exact duration or specific instruments, etc. These pieces are scored with graphic elements or mere text, allowing and even intending for each musician and ensemble to create a whole new interpretation and sound entirely different from any other performance of that same piece.
Les Miserables
8 pm on April 16 – 17
Hanoi Opera House
No.1 Trang Tien, Hanoi
For those who love romanticist literature, Victor Hugo and his work "Les Miserables" are unmistakable. The work has been adapted into many genres, but the musical is generally seens as one of the best versions. Amongt the best-selling musicals of all time, "Les Miserables" brings many deep and poignant emotions both in terms of its content and art.
The musical is a perfect combination between theatrical choreography, music, acting and body language. Audiences coming to the musical will cry and laugh together, and immerse themselves in the world of the characters through vivid melodies, sometimes emotional, sometimes powerful and fierce.
Price: VND 500,000 – VND 700,000 – VND 1 million – VND 1.2 million – VND 1.5 million

EXHIBITION
Exhibition: Eyes without a Face
The exhibition area inside the Japan Foundation library
27 Quang Trung, Hanoi
Eyes without a Face is a project co-organized by the Japan Foundation Center for Cultural Exchange in Vietnam and Manzi Art Space, with support from the Goethe-Institut, and other organizations, individuals and close friends.
'Virtual Private Realms' Exhibition
Manzi Art Space
14 Phan Huy Ich Street, Ba Dinh District,
The exhibition 'Virtual Private Realms' brings together the works of 7 artists: Lananh Le, Din Sama, Nguyen Duc Huy, mi-mimi, Nghia Dang, Trinh Cam Nhi, and Ha Ninh, with a focus on their painting practices.
Belonging to the 9X (millennial) generation, these artists have contributed to a new wave of practitioners in the Vietnamese art scene.
Exhibition: Those who do not move, do not notice their chains
8C, 76 To Ngoc Van Street, Tay Ho District,
The idea of this exhibition is built upon Rosa's inspiration and her revolutionary theory, to keep the link between people whose are always trying to contribute their life for humanity and whose always act to make society be better.
This special showcase brings 5 thoughtful, sensitive, revolutionary, powerful female voices, who have contributed greatly to our society and our culture by way of their art and activities.
HO CHI MINH CITY
EXHIBITION
Group exhibition: Impressions Unearth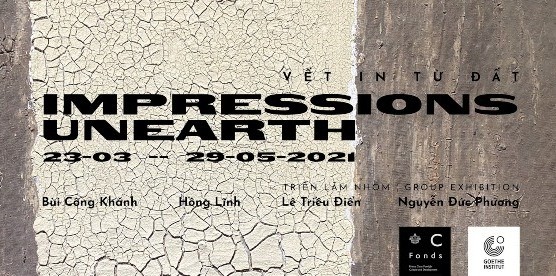 March 23 – May 29
San Art
Millennium Masteri, B6.16 & B6.17, 132 Ben Van Don, W.6, D.4, Ho Chi Minh City
'Impressions Unearth' aims to consider the significance of each body-of-work and uncover how the present artists have, in their specific ways, explored, experimented and recontextualised ceramics and elevated them beyond craftsmanship. Connecting Bui Cong Khanh, Le Trieu Dien, Hong Linh and Nguyen Duc Phuong are ceramics that are in one way or another attached to vernacular traditions – whether in terms of their aesthetic, medium, theme, or site of production – but that have also severed ties with notions of use and function. They are works that test the conceptual boundaries of the medium, objects that intellectualise, revive and honour Vietnamese heritage while expanding our perceptions of ceramics within contemporary art.