Vietnamese President chairs UNSC's high-level open debate
In his capacity as President of the United Nations Security Council in April 2021, Vietnamese President Nguyen Xuan Phuc chaired a High-level Open Debate on April 19 on "Cooperation between the UN and regional organisations in enhancing confidence-building and dialogue in conflict prevention and resolution", which was held in both online and in-person formats.
The debate was attended by UN Secretary-General Antonio Guterres, former UN Secretary-General Ban Ki-moon, and senior leaders of 15 UNSC member states and five regional organisations.
This is the first time a senior Vietnamese leader has presided over such an important activity of the UNSC, sending the highest-level message of orientations, visions and aspirations for development, foreign policy of independence, self-reliance, peace, cooperation and friendship of the 13th National Congress of the Communist Party of Vietnam; and strongly affirming the country's voice, position, commitment and responsible contributions to multilateralism, the UN, and the common efforts for peace and development in the world.
President attends opening ceremony of Leaders Summit on Climate
President Nguyen Xuan Phuc participated in the opening ceremony of the virtual Leaders Summit on Climate hosted by the US on April 22 at the invitation of US President Joe Biden.
President Phuc was among the 40 world leaders invited to join the summit, which rans from April 22-23 and was live streamed for public viewing.
The event aimed to galvanize efforts that keep a goal of limiting planetary warming to 1.5 degrees within reach in line with the 2015 Paris Agreement on climate change. It also highlighted examples of how an enhanced climate ambition will create good paying jobs, advance innovative technologies, and help vulnerable countries adapt to climate impacts.
As part of the summit, the Vietnamese leader attended and delivered a speech at a session on the economic opportunities of climate action scheduled for April 23, together with Biden, the Spanish Prime Minister, and the Presidents of Nigeria and Poland.
Prime Minister attends ASEAN Leader's Meeting
Prime Minister Pham Minh Chinh at the ASEAN Leader's Meeting (Photo: VGP)
Prime Minister Pham Minh Chinh on April 24 attended the ASEAN Leaders' Meeting held at the ASEAN Secretariat's headquarters in Jakarta, the first in-person meeting of its kind in 2021.
During the trip, he also held talks with Indonesian President Joko Widodo; met with Sultan of Brunei Darussalam Haji Hassanal Bolkiah; had bilateral meetings with Cambodian PM Hun Sen, Singaporean PM Lee Hsien Loong and Malaysian PM Muhyiddin Yassin; and received ASEAN Secretary-General Lim Jock Hoi.
Within their meeting, the ASEAN leaders focused on discussing ASEAN Community building, the bloc's external relations, and issues of regional and international concerns.
They also agreed to continue boosting humanitarian assistance efforts to help the people of Myanmar via the ASEAN Coordinating Centre for Humanitarian Assistance on disaster management (AHA).
National Quality Awards 2019-2020 presented to 116 businesses
The Vietnam National Quality Awards 2019-2020 were presented at a ceremony in Hanoi on April 25, honouring 116 companies with remarkable achievements in improving the quality of products and services, competitiveness, operational efficiency, and regional and international economic integration.
The Vietnam National Quality Awards 2019 went to a total of 61 enterprises, while 55 others received the Awards in 2020.
Also at the ceremony, the Global Performance Excellence Awards (GPEA) 2019-2020 were presented to four enterprises: Viglacera Corporation JSC, KIZUNA JV Joint Stock Company, Tan A Production and Trading Company Limited, and Central Power Electronic Measurement Equipment Manufacturing Centre of the Central Power Corporation.
Second group of Vietnam's level-2 field hospital No. 3 departs for South Sudan
Staff of Vietnam's Level-2 Field Hospital No. 3 at Tan Son Nhat International Airport (Photo: qdnd)
The second and last group of staff of Vietnam's Level-2 Field Hospital No. 3 has departed for the United Nations' peacekeeping mission in South Sudan from Ho Chi Minh City on April 21.
The first group departed for the African country from Ho Chi Minh City last month, also on the Boeing C-17 aircraft provided by Australia. They completed mandatory quarantine and have been in the UN base in Bentiu since April 17 to replace the Level-2 Field Hospital No. 2.
The level-2 field hospital No. 3 was established in March 2020 with 70 officers and soldiers, including 64 official and six reserve members, who were all vaccinated against COVID-19.
2021 Sao Khue Awards honour top "stars" in digital transformation
As many as 180 excellent IT products and services were honoured as winners of the 2021 Sao Khue Awards – the most prestigious awards in Vietnam's IT sector, at an awards ceremony held on April 24 by the Vietnam Software and IT Services Association (VINASA).
This year the event has set a "record" with nearly 300 nominations from 161 enterprises, an increase of 57.8% compared to last year's season. This is the largest number of nominations and registered businesses since the event was born.
Through the three rounds, the jury selected 180 excellent IT platforms, services and solutions to award the Sao Khue in 2021, including 25 platforms, 32 services and 123 solutions.
Portrait by late Vietnamese painter sold for record US$3.1 million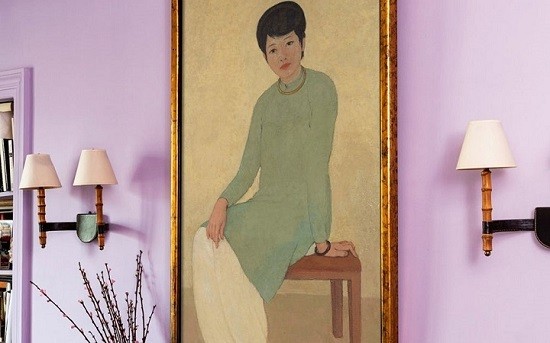 The painting "Portrait de Mademoiselle Phuong".
An oil painting on canvas entitled Portrait de Mademoiselle Phuong (Portrait of Mademoiselle Phuong) by late painter Mai Trung Thu has sold at auction for the highest price paid for Vietnamese art thus far.
Offered in the auction Beyond Legends: Modern Art Evening Sale of Sotheby's Hong Kong, the painting was sold for a record price of US$3.1 million on April 18. With a guide price of US$500,000, the price of the painting eventually soared to US$2.573 million. After taxes and fees were added, the price totalled US$3.1 million.
Portrait of Mademoiselle Phuong was painted by Mai Trung Thu (1906-1980) in 1930. As one of the first artists to graduate from the first course of the Fine Arts College of Indochina in Hanoi, he was classified as one of the four most renowned Vietnamese artists based in France, together with Le Pho, Vu Cao Dam and Le Luu.
National Tourism Year 2021 kicks off in Ninh Binh
The opening ceremony for the National Tourism Year 2021 kicked off at the national special heritage site of Hoa Lu, Vietnam's ancient capital, in Truong Yen Commune, Hoa Lu District, Ninh Binh Province, on April 20.
The opening ceremony featured beautiful song and dance from more than 500 artists and local people, as well as a high-range colourful fireworks display.
According to the organisers, an assortment of events and activities are being held throughout this year under the framework of the National Tourism Year 2021, with 11 major activities and 27 others hosted by Ninh Binh, while a hundred corresponding events are being presided over by the Ministry of Culture, Sports and Tourism along with 27 cities and provinces nationwide.
Bronze Buddha statue in Sapa recognised as Asia's highest statue
The bronze statue has a height of 21.5m and is located at an altitude of 3,075m above sea level.
On April 21, the Great Amitabha Buddha statue located at Sun World Fansipan Legend in Sapa was recognised by the World Guinness Records as the cooper statue located at the highest altitude in Asia.
The bronze statue is 21.5m tall and is located at an altitude of 3,075m above sea level.
The structure was cast in bronze by placing tens of thousands of 5mm thick copper sheets over an iron frame with a total weight of 62 tonnes.