Party, State leaders pay homage to martyrs
A delegation of Party, State, National Assembly (NA), Government and Vietnam Fatherland Front leaders on July 26 offered incense in tribute to fallen combatants at the Martyrs' Monument and paid tribute to late President Ho Chi Minh at his Mausoleum in Hanoi on the occasion of the 75th Wounded and Fallen Soldiers' Day (July 27).
Various activities were also held across the country to mark the occasion, including a meeting with martyr remains search and repatriation teams, presentation of gifts to policy beneficiaries, candle-lighting events, incense offerings, exhibitions, and art programmes.
Vietnamese language textbooks launched in Germany
The covers of three bilingual German-Vietnamese books lauched in Berlin on July 24. (Photo: VNA)
Three German-Vietnamese bilingual books have been launched in Berlin to support the Vietnamese community throughout the country in understanding more about the Vietnamese language and culture.
They were compiled by Ngo Thi Bich Thu, a Vietnamese language lecturer in Germany and her husband Martin Großheim, a professor of the Vietnamese and Southeast Asian history at the Republic of Korea's Seoul National University.
The first book, which includes about 1,500 common idioms and proverbs, is the first bilingual of this kind to be published in Germany. Meanwhile, the other two, entitled "Modern Vietnamese 1" and "Modern Vietnamese 2", not only make it easy for people to learn the Vietnamese language and culture but also contain a lot of up-to-date information about Vietnam in various fields.
IUU fight: Four provinces complete installation of VMS on eligible fishing boats
Four coastal provinces have completed the installation of vessel monitoring systems (VMS) equipment on all fishing boats with a length of 15m and more, according to the Directorate of Fisheries under the Ministry of Agriculture and Rural Development.
The four localities are Quang Ninh, Thua Thien-Hue, Ninh Binh and Ca Mau.
The percentage of fishing vessels with a length of 15m or more that have installed VMS equipment and have signals on a related tracking system reached 93.4% as of June 30.
108 Military Central Hospital receives Asia Pacific Hand Hygiene Excellence Award and Innovation Award
At the award presentation ceremony in Singapore
108 Military Central Hospital is among the five hospitals to receive the Asia Pacific Hand Hygiene Excellence Award and Innovation Award 2022.
In 2020, overcoming difficulties in the context of the rapidly spreading COVID-19 pandemic worldwide, the Department of Infectious Diseases, 108 Central Military Hospital participated and became one of the more than 20 candidates for the award to be invited to the final round.
On June 2, after going through a rigorous appraisal process, proven through actual figures and images in the 5-year report, 108 Military Central Hospital was honoured to become one of the 5 medical units to win the Asia Pacific Hand Hygiene Excellence Award and Innovation Award 2022 at the APSIC Congress, which took place in Singapore from July 28-31, alongside medical units from Japan, Malaysia, Thailand and India.
Vietnamese students win golds at ASEAN University Games
Vietnam won four gold medals in track-and-field events on the first day of competition at the ASEAN University Games on July 27 in Ubon Ratchathani, Thailand.
Bui Thi Ngan finished first in the women's 1,500m event with a time of 4min 29.75sec. Tran Nhat Hoang won the men's 400m, clocking a time of 49.31sec.
Earlier, Pham Thi Hong Le grabbed a gold in the women's 10,000m after 39:04.52, and Vu Thi Ngoc Ha triumphed in the women's triple jump with a 13.30m attempt.
Vietnamese photographer wins first prize at international photography award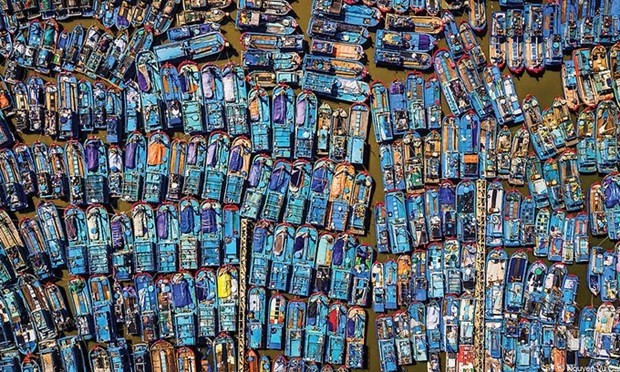 A shot taken by Cao Nguyen Vu captures hundreds of fishing boats anchored in Quang Ngai Province. (Photo courtesy of Hamdan International Photography Awards)
A photo titled "Matrix of boats" taken by Vietnamese photographer Cao Nguyen Vu took the first place title at the Hamdan Bin Mohammed Bin Rashid Al Maktoum international photography award (HIPA).
The photo shows boats anchored in the central province of Quang Ngai as they seek shelter from typhoon No. 9 in 2020, reported Radio the Voice of Vietnam (VOV).
The 38-year-old photographer came first in the nature's general colour category, thereby receiving a cash prize totaling 15,000 USD.
Vietnamese teenager wins gold medal at Asia Arts Festival
Vietnamese representative Vu Huyen Dieu, also known as Bella Vu, bagged a gold medal in vocal music and a silver in piano at the ninth Asia Arts Festival which was held in Singapore from July 26 to 29.
The 14-year-old girl completed her performance in piano's Grade four to six, winning a silver medal on July 26, according to Radio the Voice of Vietnam (VOV).
The following day the Vietnamese teenager performed the song Bella Ciao in Italian with support given by her teacher-pianist Nguyen Long An, securing a gold medal.
Vietnam Sepaktakraw women's team secure world championship
Vietnam defeat host Thailand 2-0 in the final on July 27. (Photo: Khaosod)
The Vietnamese Sepaktakraw women's team secured the championship title in the quadrant event of the 2022 King's Cup Sepaktakraw World Championship, after defeating host Thailand 2-0 in the final on July 27.
In the final match, the Vietnamese quadrant team, including Nguyen Thi My, Nguyen Thi Yen, Tran Thi Ngoc Yen, Nguyen Thi Ngoc Huyen, Tran Thi Thu Hoai, and Nguyen Thi Thu Trang, won 21-15 and 23-21.
Vietnam dominated the event, winning all three group matches, each with a score of 2-0, against Malaysia, Cambodia, and Pakistan, including a victory of 2-0 against the Republic of Korea in the semi-finals.