Party leader pays working visit to Quang Ninh province
Party General Secretary Nguyen Phu Trong paid a working visit to the north-eastern province of Quang Ninh on April 6, during which he encouraged continued development.
Applauding the province's efforts, General Secretary Trong said Quang Ninh has become one of the leading provinces and cities in multiple spheres, a bright spot of reform in the north, and a growth engine for the region. He called on the province to push ahead with innovation, and continue making reforms to develop strongly and comprehensively. Fast development should be accompanied by sustainability, he said, requesting Quang Ninh avoid resting on its laurels.
The Party leader also underlined the tasks of building an incorruptible strong Party and political system, and promoting economic growth in tandem with developing culture, handling social issues, protecting the environment, and ensuring social security, especially for revolutionary contributors, ethnic minorities, residents in the mountainous areas, borders, insular areas, and low-income earners.
The ceremony commemorates legendary ancestors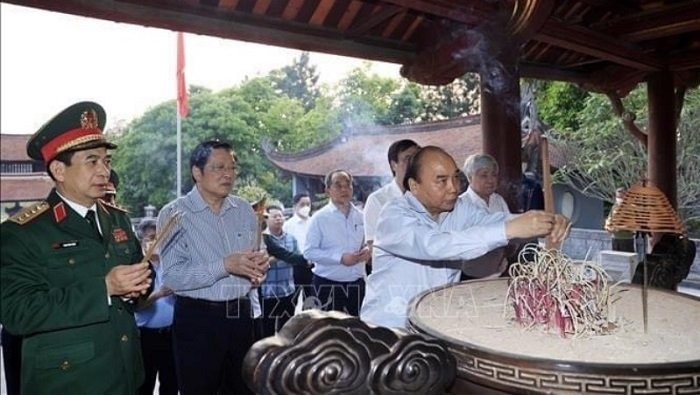 President Nguyen Xuan offered incense to the legendary national ancestors of Vietnam, Father Lac Long Quan and Mother Au Co, at their temples in Phu Tho Province on April 9.
A ceremony was held in the northern midland province of Phu Tho on April 6 to commemorate the legendary ancestors of Vietnam, Father Lac Long Quan and Mother Au Co. Traditional rituals were carried out at the temples dedicated to Lac Long Quan and Au Co in the Hung Kings Temple relic site to express gratitude to the pair who laid the foundation for the country.
Every year, activities worshipping Lac Long Quan and Au Co take place ahead of the commemoration of the Hung Kings, believed to be the very first founders of Vietnam, on the 10th day of the third lunar month (which falls on April 10 this year). Since April 1, Phu Tho has organised a range of cultural and sports activities on this occasion. The worship of the Hung Kings was recognised as an Intangible Cultural Heritage of Humanity by UNESCO in 2012.
Leaders of Government, National Assembly, VFF celebrate Chol Chnam Thmay festival with Khmer people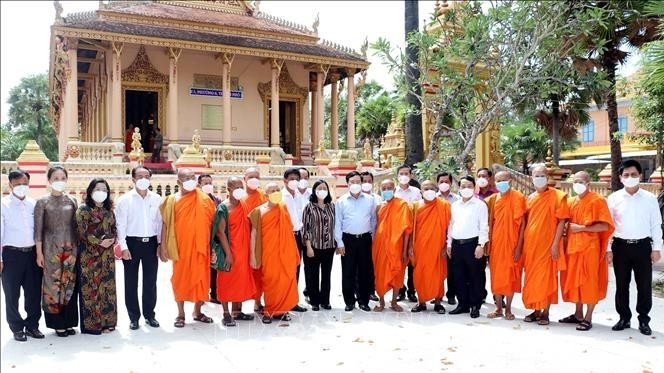 Deputy PM Pham Binh Minh extends Chol Chnam Thmay greetings in Soc Trang Province. (Photo: VNA)
Permanent Deputy Prime Minister Pham Binh Minh wished the Khmer people and Buddhist dignitaries in the Mekong Delta province of Soc Trang, happy, safe and good crops as he joined a gathering in Soc Trang province on April 5 to celebrate Chol Chnam Thmay – the traditional New Year festival of the Khmer ethnic people in the south.
On the same day, Vice Chairman of the National Assembly Tran Thanh Man led a delegation to visit and extended his wishes to Khmer people and Buddhist dignitaries in An Giang province, home to more than 93,000 Khmer people.
Also, on April 5, the President of the Vietnam Fatherland Front (VFF) Central Committee Do Van Chien on April 5 led a working delegation to extend greetings to Buddhist monks in the Mekong Delta province of Hau Giang.
World Bank forecasts Vietnam's economy to grow by 5.3% in 2022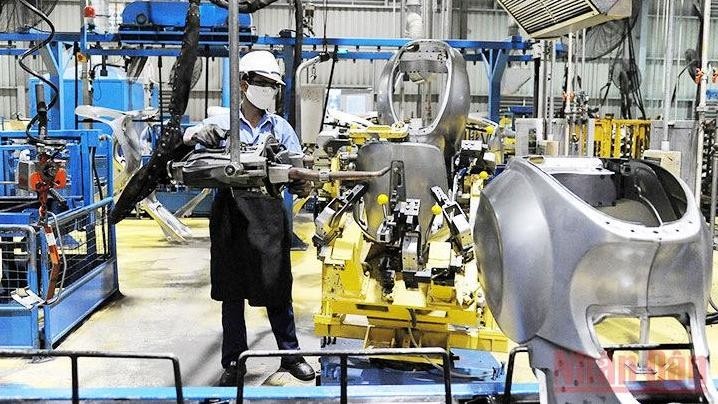 Manufacturing scooters at Piaggio Vietnam (Photo: Lam Thanh)
The Vietnamese economy is expected to grow by 5.3% in 2022, the World Bank stated in its latest economic update on East Asia and the Pacific titled "Braving the Storm". An earlier estimate put Vietnam's economic growth at 6.5% but the forecast has been revised due to the difficulties Vietnam is facing as the country copes with a surge in COVID-19 cases from the Omicron variant.
In addition, Vietnam is severely affected by rising oil prices as its imports accounted for up to 3% of GDP, the World Bank said on April 5. Although Vietnam is regarded as one of the countries able to take the most advantage of opportunities to expand international trade, this has also made Vietnam more vulnerable to external shocks. That means Vietnam needs to be more successful in building and perfecting its social security system.
Budget revenue from foreign trade rises over 22 percent in Q1
The State budget revenue from export and import reached 107.3 trillion VND (nearly 4.7 billion USD) in the first quarter of 2022, up 22.44 percent year on year. This is equivalent to 30.5 percent of the year's target, according to the General Department of Vietnam Customs. Also, in Q1, the customs sector coordinated with relevant agencies to uncover 3,706 violation cases involving over 1.28 trillion VND worth of goods, collecting over 69.9 billion VND for the budget.
Meanwhile, the total amount of social investment capital disbursed in the first quarter of 2021 was estimated at 562.2 trillion VND (24.6 billion USD), up 8.9 percent year-on-year. In particular, the disbursement of foreign direct investment (FDI) reached the highest level for Quarter 1 in the 2018-2021 period, importantly contributing to the country's economic growth in 2022.
Vietnam International Travel Mart 2022 attracts 40,000 visitors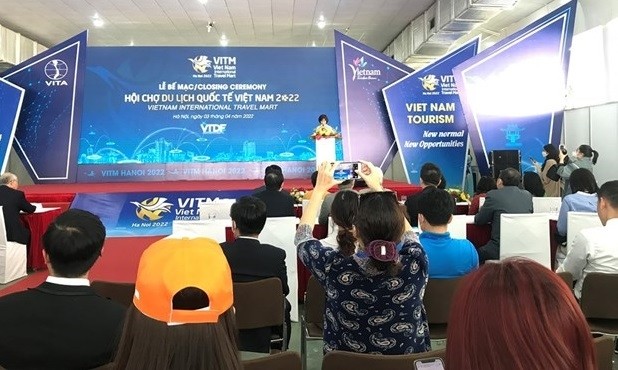 At the closing ceremony of the VITM 2022 (Photo: VNA)
The Vietnam International Travel Mart (VITM) 2022 wrapped up in Hanoi on April 3, drawing over 2,000 businesses and 40,000 visitors. Themed "New normal – new opportunities for Vietnamese tourism, the event attracted the participation of more than 500 firms from 52 provinces and cities nationwide and six countries and territories, in a special context as the tourism industry has experienced a two-year hiatus caused by the COVID-19 pandemic and is recovering after the country's full reopening of tourism activities from March 15.
As many as 25 events were held in the framework of the four-day fair, including a forum on Vietnam's tourism recovery and a workshop on tourism human resources development.
Vietnam beat Myanmar 4-1 on penalties to qualify for the 2022 AFC Futsal Asian Cup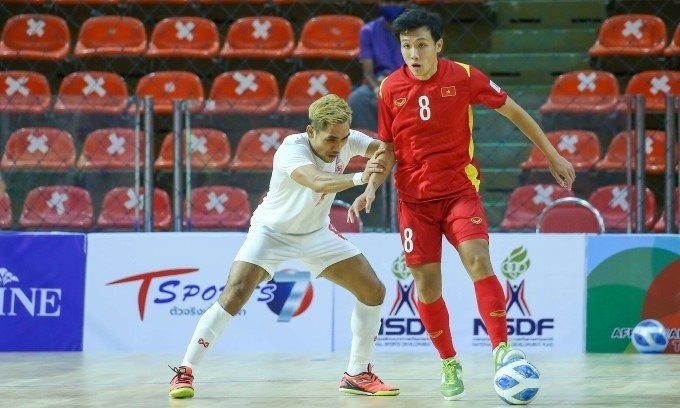 Nguyen Minh Tri (#8) converts the decisive spot-kick in the shootout to send Vietnam through to the 2022 AFC Futsal Asian Cup. (Photo: VFF)
Vietnam cruised past Myanmar 4-1 on penalties after a 1-1 draw in the third-place match of the 2022 AFF Futsal Championship on April 10 to book their place in the 2022 AFC Futsal Asian Cup. Goleiro Ho Van Y was the hero of the shootout as he saved two spot-kicks by Chan Thar and Zin Oo before Nguyen Minh Tri converted the decisive kick to take Pham Van Giang's through to the continental tournament, which will be hosted by Kuwait this September.
This was also the fifth time Vietnam took bronze at the AFF Futsal Championship after the years 2010, 2013, 2014 and 2019. Their best result was a runner-up finish in 2009 and 2012.