Ham Rong tourist site in Sapa town, Lao Cai province
Sitting at the height of more than 1,800 metres above sea level, the Ham Rong (Dragon Jaw) Mountain lies within a 3-km walking distance from Sa Pa township.
The Ham Rong tourist site is comprised of three areas, including a colourful garden, Thach Lam rock gardens, and Ham Rong Mount.
Standing on the top of Ham Rong mountain, visitors can enjoy a panoramic view of Sa Pa, Muong Hoa, Sa Pa and Ta Phin valleys hidden in the mist.
Ba Be National Park in Bac Kan province
Around 250km to the north from Hanoi, Ba Be National Park is located in Ba Be district, Bac Can province. Ba Be Lake Eco-Tourism Area is home to many unique natural attractions.
Stretching more than 8km with a depth of about 20-30m, Ba Be Lake is one of the largest natural freshwater lakes in Vietnam, located in the heart of Ba Be National Park.
The Ba Be National Park is rich in biodiversity with a very special system of primeval forests on limestone mountains.
Trang An Landscape Complex in Ninh Binh province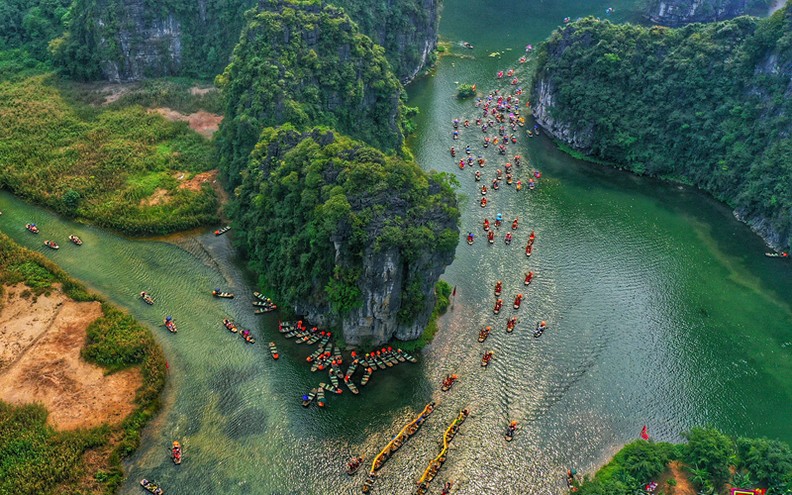 Located in the east of Ninh Binh province, Trang An Landscape Complex comprises Tran An ecological tourism area complex and Bai Dinh pagoda.
Picturesque landscapes of Trang An is a harmonic combination of mountains, valleys and lakes with numerous caves inside stunning limestone karst mountain ranges. Moreover, it is surrounded by primary forests with a variety of flora and fauna systems.
Trai Tieu Lake eco-tourism area in Ha Tinh province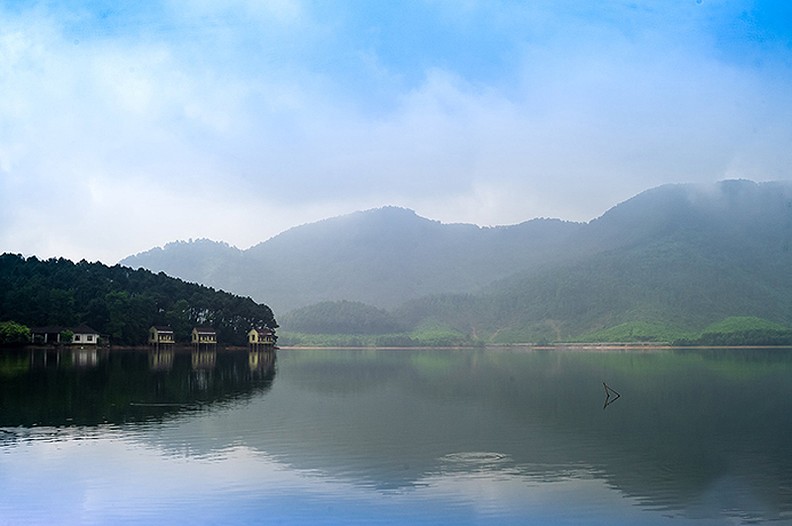 Located in My Loc commune, Can Loc district, Ha Tinh province, Trai Tieu Lake is dubbed as the 'Da Lat of the central region; thanks to its charming scenery and cool fresh air.
One can visit Trai Tieu Lake anytime of the year, but the best time to visit is winter or summer. In the summer, the weather in Trai Tieu Lake is quite cool thanks to the green forest and the hydroelectric lake. Meanwhile in winter, tourists can enjoy the fresh air, the tranquil space of the mountain scenery, and admire gently drifting clouds in the sky.
Ba Na - Suoi Mo eco-tourism area in Da Nang city
Ba Na - Suoi Mo eco-tourism area is located on Ba Na mountain, about 1500m above sea level. The area was recognised by the Government as a Nature Reserve. To reach the top of Ba Na Mount, visitors have to encounter 15km of winding roads. They can take the cable car from Vong Nguyet or trek up to the peak.
Mo stream and nine-layer Toc Tien waterfall are located at the foot of Ba Na mountain, offering attractive stops for tourists to the site.
Binh Chau eco-tourism area in Ba Ria - Vung Tau province
Binh Chau eco-tourism area is located in Bung Rieng commune, Xuyen Moc district, Ba Ria - Vung Tau province. This eco-tourism area attracts visitors, thanks to Binh Chau hot mineral springs, which is a perfect place for visitors to soak in warm mineral waters and watch the steam blurring amongst the primitive green forest.
The tourist area provides nature lovers with a fresh opportunity to explore the magnificent forests and biological diversity, as it is also home to many unique species, many of which are on the verge of extinction.
Bien Ho – Chu Dang Ya Tourist Complex in Gia Lai province
Bien Ho (Sea Lake) is the "heart" of Bien Ho – Chu Dang Ya Tourist Complex, which is located in the northeast of Pleiku city, in the Central Highland province of Gia Lai.
Bien Ho is also the main source of water supply for residents in Pleiku.
The path leading to the lake is picturesque. It is surrounded by seemingly endless evergreen forest. The lake is a reserve with many varieties of rare beautiful flowers and many species of endangered birds and fish.
Can Gio eco-tourism area in Ho Chi Minh City
Located 50km from downtown Ho Chi Minh City, Can Gio is the city's only coastal district and is dubbed as the "green oasis" of the city.
What makes Can Gio more interesting for tourists is their mangroves, which boast a high biodiversity with assorted species of fauna and flora.
In 2000, UNESCO designated Can Gio as the first Mangrove Biosphere Reserve in Vietnam. It is also one of the most extensive rehabilitated mangrove forests in the world.
Thoi Son isle in Tien Giang province
Thoi Son isle covers more than 10 square kilometres in My Tho city in the Mekong Delta province of Tien Giang. The island receives alluvial from Tien River. Here naturally beautiful scenery converges upon the cultural identities of the southern region.
Visitors to the isle can sample southern fruit specialties, and enjoy "Don ca tai tu" - a traditional musical art form of the south.
Cam Mountain tourist site in An Giang province
Cam Mountain (Forbidden Mountain) tourist site in An Hao commune, Tinh Bien district, An Giang province, is one of the most attractive and beautiful destinations in Bay Nui (Seven Mounts) area.
Cam Mount, which is 716m above sea level, is also considered the rooftop of the Mekong Delta in Vietnam.
Visitors can climb the slope through the lush forest canopy, with birds chirping while monkeys and squirrels pass in the branches, or take a cable car to the top of the mountain.