Van Cu is a village with a hundred-year-old tradition of cooking pho, but the people here have never participated in such a large-scale event that has attracted so many visitors.
Next to dozens of stalls of Van Cu villagers are hundreds of stalls from many famous pho brands from different regions all over the country, bringing the traditional pho flavor.
At noon on December 11, the number of visitors from all over the world poured in more and more. At many stalls, visitors queued up to wait for the broth to boil for their turn to enjoy.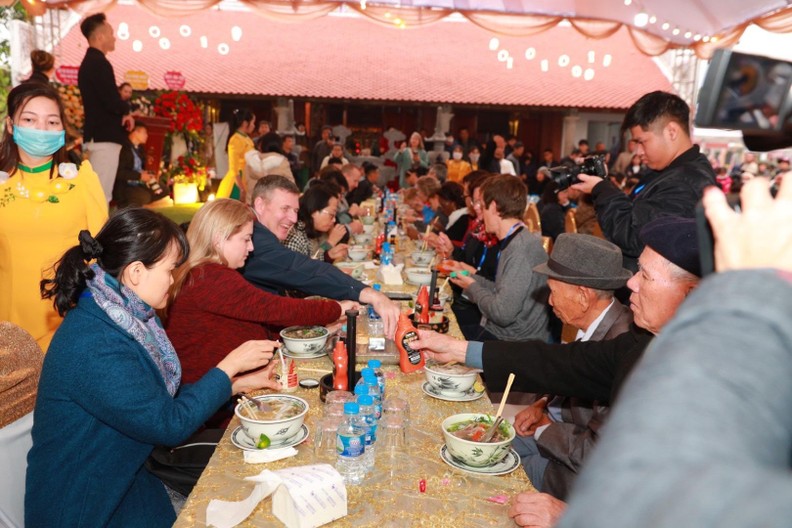 Vietnamese and foreigners enjoy bowls of pho.
And once you eat pho, you can't forget the CHIN-SU chili sauce. A little spiciness mixed with hot noodle soup on a winter day in the North makes pho more rounded and balanced than ever.
Previously, on December 10, 1,000 bowls of pho were served for Van Cu villagers at the communal house yard. The excitement of the festival spreads to all ages.
The infants were carried in the arms of their parents and relatives, the elders came very early while the youngster and the middle-aged who works far away also came back to attend the festival.
It seems like people have to have pho with CHIN-SU, CHIN-SU chili sauce is a available on every table.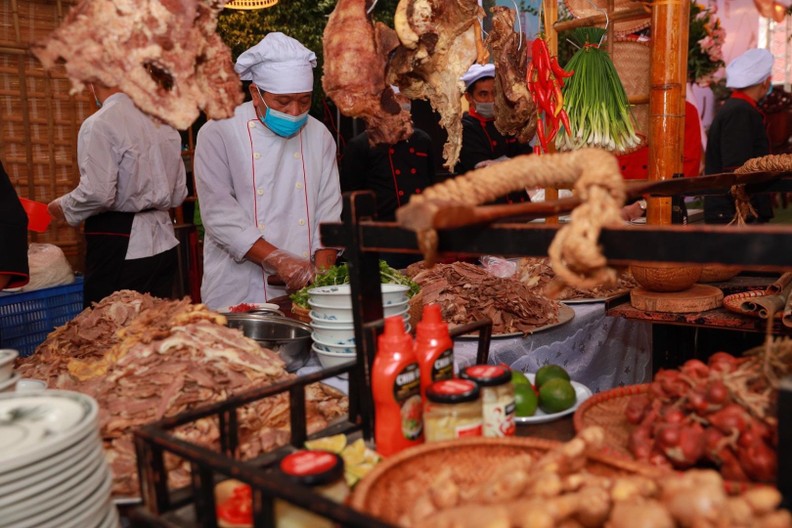 A pho stall at the event.
Mrs. Vu Thi Nhung, 79 years old, village 9, Van Cu village, holding a small child in her arms, enjoying pho while saying: "I always add this chili sauce whenever I eat pho. Even when having pho at home or selling it to customers, I always put CHIN-SU chili sauce on the table."
Also in the morning of December 10, nearly ambassadors and representatives of nearly 20 diplomatic missions in Vietnam had experienced pho in Nam Dinh, a place with great merit in the development of pho.
Besides, "Day of Pho" also attracted huge attention from foreigners. Mr. Chad Richard Kubanoff, an American with a Vietnamese wife, famous for his pho videos on TikTok channel @chadkubanoff with more than half a million followers, also presented in Van Cu village from December 9.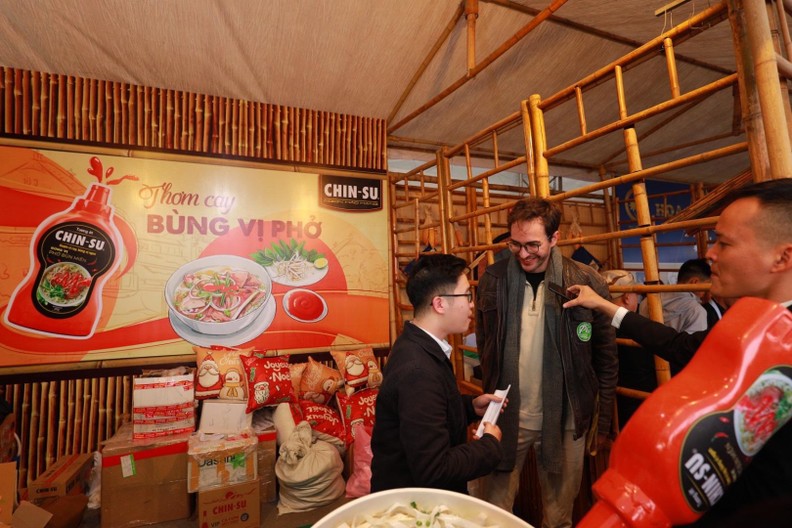 A foreigner visits the booth of Chin-su.
He shared: "I can give a bowl of pho for most people on this planet and they won't be afraid to taste it. Even if they don't eat beef, we can serve them chicken pho. Hardly anyone can resist a bowl of hot, flavorful, rustic and pleasant "soup". He also confidently commented, "It's hard to imagine any other dish that can promote Vietnamese cuisine to the world better than Pho".
"Day of Pho" is an annual event to honor traditional pho in particular and honor Vietnamese culinary culture in general. The event is also a bridge for individuals and organizations to accompany and contribute to spreading the value of Pho and taste of Vietnamese culture to international friends.
Mrs. Le Thi Thiet, President of the Nam Dinh Culinary Culture Association said: "I am very happy that a third of the flavors in a bowl of pho are outstanding with the combination of CHIN-SU chili sauce. The brand has worked hard to achieve flavor of the traditional chili sauce without losing the taste of the beef. Moreover, pho restaurants need chili sauce products like CHIN-SU, exclusively for Vietnamese noodles, while ensuring food hygiene, safety and convenience for pho owners."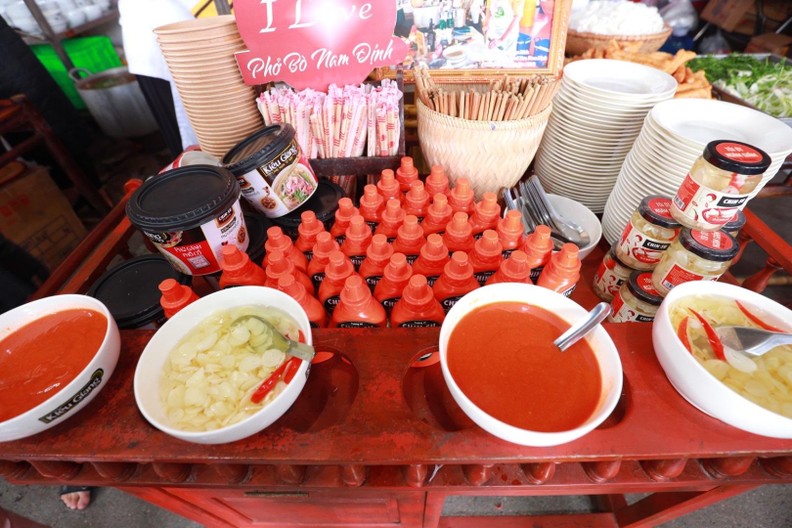 The spices to be used with pho.
CHIN-SU is honored to accompany the Day of Pho in many impressive and meaningful traditional activities. As a brand that has accompanied Vietnamese cuisine for many years and a chili sauce that is indispensable in many pho dishes, CHIN-SU wishes to accompany the program for many upcoming years and be able to contribute to preserving and promoting the value of Vietnamese culinary culture and continuing to spread the pho culture to the domestic and foreign communities.