Entitled 'For the Love of Hanoi' – the name of the Bui Xuan Phai Award), the book realised Rama's love for Hanoi by proposing many passionate ideas about heritage preservation and urban development in the city.
On the occasion, he granted an interview to Thoi Nay (Present Day), a publication of Nhan Dan (People) Newspaper, to talk more about his book.
Question: Your recently-published book focuses on architectural building and Hanoi's heritage. Can you tell us more about this?
Author Martín Rama: There is one thing in common between this book and my previous one, that is, they both discuss the concept of heritage.
The old concept of heritage mostly focuses on the architectural and historical values of the works. As such, it has narrow meaning in which the city is like a lifeless museum.
For me, heritage is a combination of many factors that make Hanoi different from other cities. People's lives in old buildings; noisy, messy but interesting streets; or buildings which may not be so special in terms of architectural and historical value like French villas; or the Soviet-style apartment buildings; the bridges; the market or the coffee shop, they all create a very unique atmosphere of Hanoi. Many foreigners are attracted by that particular style.
If Hanoi can both modernise and retain those unique heritages, it will become a much more attractive place.
Loving Hanoi with all your heart and mind, you introduced a project to protect the "soul of the place" with a highly profitable conservation model. Can you tell us more about this project?
My project is not just about investing, embellishing and gaining profits from the heritage. It has a broader meaning that involves many activities, such as calling the community's support through the dissemination of knowledge about heritage via seminars; building a new and exemplary model of heritage conservation; and attracting more investors to set up private funds to preserve heritage.
For instance, Sofitel Legend Metropole Hanoi is an example of both conservation and generation of high profitability.
Having lived in Hanoi for a long time as the Chief Economist of the World Bank WB in Vietnam, you might have established relationships and cooperation with authorities at all levels and enterprises. Which benefits do these advantages give you in carrying out conservation activities in Hanoi?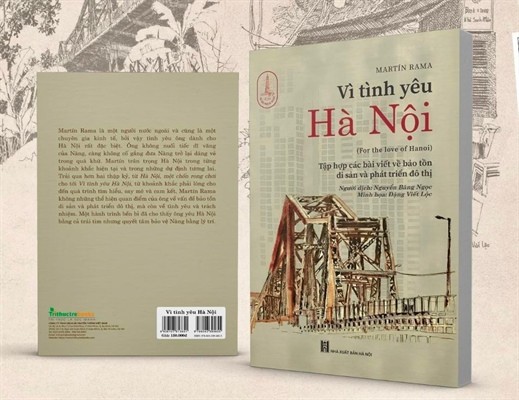 The cover of Martín Rama's book 'For the Love of Hanoi'
It is important to connect with a network of people who love and are able to contribute to heritage conservation activities such as authorities, artists, donors, and the public.
We need to create understanding from the parties, first of all the authorities of the city, especially in areas such as construction, transportation, and infrastructure. Then, public awareness is also important.
Books about Hanoi, seminars, support from intellectuals, journalists, and artists, all of them aim to help the community understand more about the profitability and the value of Hanoi's heritage.
Several major businesses have contacted me, showing their visions of the potential of heritage sites, expressing their aspirations to contribute more to this city. The more people understand and want to contribute, the greater the opportunity for Hanoi's heritage.
You have spent a lot of time, effort and your own money for the Hanoi project. Have you ever thought of finding partners for your project?
I received a lot of support from my Vietnamese friends, such as Quyen - my colleague at WB, young translator Nguyen Bang Ngoc, and Director of Tri Thuc Tre Books Do Kim Co, for the release of my second book. They also help me a lot in my project.
I'm not too young to be doing this forever and I realise that many things have become better over the past years. Among them is the fact that more and more young people think about heritage like me.
Moreover, there are also more people with financial capacity who want to participate in this work.
I wanted to pilot a pioneering model of renovating a block of several old French-styled villas in order to create surrounding space for high-end restaurants, shops, and art galleries.
I also want to work on upgrading old apartment buildings like I did with the one I am living in, by upgrading their infrastructure inside and keeping their original distinctive appearance on the outside. The price of my post-renovated apartment building increased, I am benefiting from this way of preserving the old heritage.
In Vietnam, any good and profitable model will be quickly learned, so I hope my ideas and projects will be spread more widely.
Thank you so much for sharing with us!