Addressing the event, Deputy Minister of Natural Resources and Environment Vo Tuan Nhan said that the day is being celebrated in Vietnam and many other countries for the first time, affirming the significance of sustainable lifestyle in harmony with the environment.
He recalled that Can Gio Biosphere Reserve in Ho Chi Minh City became the first biosphere reserve of Vietnam to win the UNESCO title in 2000. Over the past 20 years, Vietnam's biosphere reserve system has been developed and expanded.
He reported that, to date, Vietnam has a total of 11 biosphere reserves recognised by UNESCO, establishing the country as the second top holder of biosphere reserves in Southeast Asia, after Indonesia.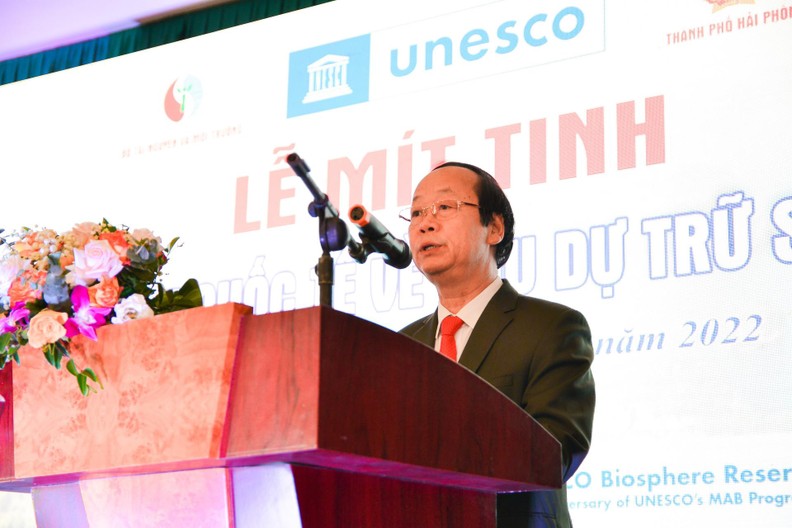 Deputy Minister of Natural Resources and Environment Vo Tuan Nhan speaks at the event (Photo: baotainguyenmoitruong.vn)
While sharing his high appreciation for this achievement, Deputy Minister Vo Tuan Nhan noted that these recognised biosphere reserves have gradually become models of sustainable socio-economic development in their localities.
After receiving the UNESCO title, many biosphere reserves have become more popular, attracting a large number of tourists.
He noted with pleasure that policies and legal corridors to support the management of biosphere reserves in Vietnam have been gradually established, adding that strengthening the effective management of biosphere reserves is among the tasks set out in the National Biodiversity Strategy to 2030 with a vision towards 2050.