NA deputies' delegations of localities nationwide also joined the Q&A session via videoconference, which was broadcast live on national radio and television.
In his opening remarks, NA Chairman Vuong Dinh Hue said the court and procuracy sectors have a very important role to play in ensuring the strict enforcement of legal documents to help with the fight against corruption and negative phenomena.
Courts are judging bodies that exercise judicial rights and protect justice, human rights, citizens' rights, the socialist regime, interests of the State, and rights and legitimate interests of organiations and individuals.
With a high sense of responsibility, courts have improved the quality and effectiveness of judging activities.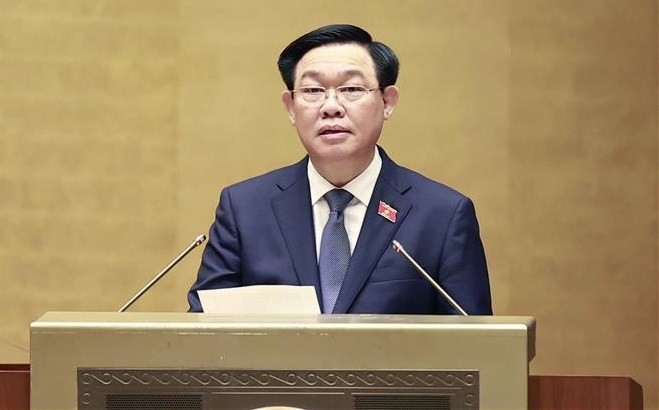 NA Chairman Vuong Dinh Hue speaks at the Q&A session on March 20 (Photo: VNA)
Meanwhile, the procuracy sector, which exercises the rights of prosecution and investigation procuracy, has made unceasingly efforts to better fulfill the tasks assigned by the Party, State, and people, NA leader Hue said.
However, he also pointed out certain shortcomings of the sectors.
The Chairman said the one-day Q&A session covers most of functions and tasks of the two sectors, asking legislators to raise brief and candid questions, and heads of the sectors to give straightforward answers and propose practical, effective, and feasible solutions to improve the sectors' capacity, efficiency, and effectiveness.
It is also an occasion for officials to provide official information about their sectors' performance results, he went on, adding that after the Q&A session, the NA Standing Committee will issue a resolution to serve as a basis for implementation and supervision.