NA Chairman Vuong Dinh Hue said that 69 deputies have so far registered to question Minister - Chairman of the Government Committee for Ethnic Minority Affairs Hau A Lenh.
Key points of the session are the responsibility of the committee and its coordination with relevant ministries and agencies to implement national target programmes and policies to build new-style rural areas for 2021-2025, boost socio-economic development in ethnic minority-inhabited and mountainous areas for 2021-2030, and attract resources for the development of such areas, noted Hue.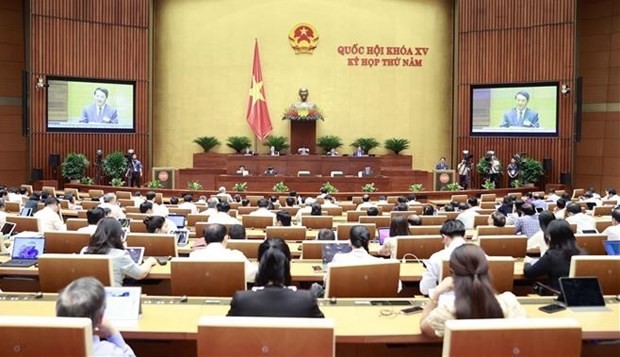 At the NA working session. (Photo: VNA)
According to the top legislator, questions also include measures to remove difficulties and obstacles in policies on the defining of rural, ethnic minority-inhabited and mountainous areas, and the settlement of difficulties in residential land and farming land for ethnic minority communities, thus minimising nomadic farming and deforestation.
The Minister - Chairman is set to answer questions of the deputies, while Deputy Prime Minister Tran Luu Quang, and heads of some ministries will join the session to clarify related issues if necessary.
In his speech before the questions began, Lenh underscored that ethnic minority affairs are a long-term and urgent strategic task of the Party and State, carried out through the Party's guidelines, the provisions of the law, and the system of policies related to many ministries and sectors.
The task makes an important contribution to the implementation of the great national unity strategy, he said, adding a number of difficulties and shortcomings facing the work.