The working session will be broadcast live on television and radio channels.
According to the Government report submitted to the NA, Vietnam fulfilled 13 out of 15 targets in 2022, with GDP growth of 8.02% (the initial reported figure was 8%), GDP per capita of 4,109 USD (the initial figure was 4,075 USD), CPI growth of 3.15% (initially around 4%), and State budget collection of 1.81 quadrillion VND (77.07 billion USD), 201.4 trillion VND higher than the figure reported to the legislature earlier.
The country posted export-import revenue of 371.3 billion USD and ran a trade surplus of over 12.4 billion USD, also exceeding the numbers reported earlier.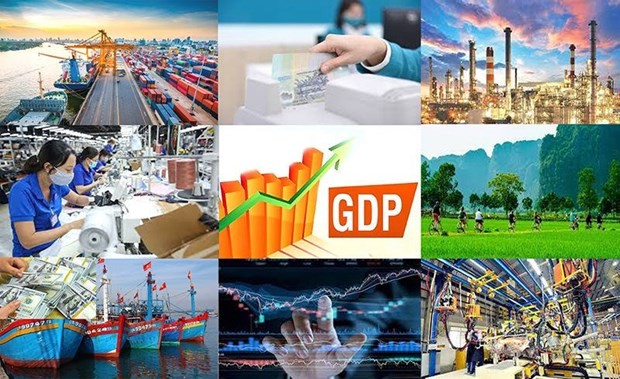 Illustrative image (Source: VNA)
Meanwhile, the GDP in the first quarter of this year increased by only 3.32%, lower than the 5.03% recorded in the corresponding time last year, and the average CPI rose 3.84% in the first four months.
In the four-month period, the State budget collection reached some 632.5 trillion VND, equivalent to 39% of the yearly estimate, and the trade surplus stood at 7.56 billion USD, as compared with 2.25 billion USD reported in the same period last year. The disbursement of public investment was also up 15 trillion VND year-on-year.
The report pointed to difficulties in production and business, especially in industry, construction and small-and medium-sized enterprises, along with slower-than expected progress in administrative reform, and bottlenecks in the corporate bond and real estate markets in terms of liquidity and capital flow.
Besides, the roll-out of some policies under national target programmes and the 2% interest rate subsidy package of the socio-economic recovery and development programme remains sluggish.
The Government said it will consistently pursue the targets of maintaining macro-economic stability, controlling inflation, spurring growth, ensuring major economic balances, stepping up the forecast work to timely work out suitable policies, and continuing to drastically and effectively implementing the socio-economic recovery and development programme, focusing on the growth engines of consumption, investment and export.
The Government will also intensify the building and perfection of institutions and raise the efficiency of law enforcement, and work to complete the draft revised Land Law.