Most of them shared the view that thanks to sound and timely policies adopted by the Party, the National Assembly and the Government in 2022, the national economy recovered impressively with a growth rate of up to 8.02%, the highest as compared with other members of the Association of Southeast Asian Nations (ASEAN) and neighbouring China, and GDP per capita of 4,109 USD, up 393 USD from 2021.
The lawmakers also noted their concern over decreases in Total Factor Productivity (TFP), Information and Communication Technology (ICT)'s asset contributions to national growth, and Environmental Performance Index (EPI).
Many suggested the Government take stronger actions to remove bottlenecks in order to achieve socioeconomic targets set for this year, stressing that the growth rate should stand from 7.5% to 8% in the remaining quarters.
Some held that given external difficulties, intrinsic force should be unleashed, and that growth engines can be found right at home.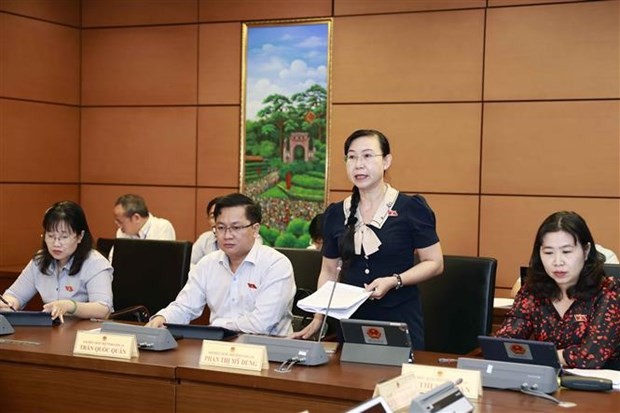 The same day, the legislature holds group discussions on the approval of State budget in 2021. (Photo: VNA)
The same day, the legislature held group discussions on the approval of State budget in 2021, the adjustment of investment policy of the Ka Pet Reservoir Project in Ham Thuan Nam district in the south-central province of Binh Thuan, and a decision on investment policy of a traffic road project from National Highway 27C to Provincial Road 656 from central Khanh Hoa province to the Central Highlands province of Lam Dong and the coastal central province of Ninh Thuan.
They also scrutinised the assignment of lists and capital for tasks and projects under the Socioeconomic Development and Recovery Programme; the assignment, adjustment and supplementation of the medium-term plan on public investment from the central budget for the 2021-2025 period; the further application of the 2% reduction in the value added tax (VAT) in accordance with Resolution No. 43/2022/QH15 dated January 11, 2022; and the policy of additional investment in charter capital for the Bank for Agriculture and Rural Development of Vietnam.