Statistics of Vietnamese representative offices in Cambodia showed that around 30 bilingual schools and classes teaching the Khmer and Vietnamese languages have been established in the capital Phnom Penh and 14 other provinces in Cambodia, attracting the participation of nearly 1,400 students.
Vice Chairwoman of the Khmer-Vietnamese Association in Cambodia Pham Thanh Thuy said the classes and schools have been held with free tuition for children of OVs families.
The teaching programme is developed in accordance to regulations of the Cambodian Ministry of Education, Youth and Sports as well as the Vietnamese Ministry of Education and Training, she noted.
She said that the construction and organisation of schools and classes on Vietnamese language for OVs children in Cambodia has received strong support from local authorities and organisations both from Vietnam and Cambodia.
I was happy to bring words to life for my students, and I was touched to hear them read Vietnamese fluently.

Teacher Le Thi Thuy Linh
Accordingly, the building of the Khmer-Vietnam Friendship Primary School in the provinces of Prey Veng and Svay Rieng was funded by Vietnam's Dong Thap Province and Long An Province, while the school in Kandal Province received investment from Vietnam Bank for Agriculture and Rural Development (Agribank).

Le Thi Thuy Linh, a teacher of a 48-student class in Siem Reap Province, shared that many parents of her students can't read Vietnamese, and they appealed to her to teach their children the Vietnamese language such that the kids will remember their Vietnamese origin.
Nguyen Nhi Anh, Chairman of the Khmer-Vietnamese Association's branch in Koh Kong Province, shared that the two Vietnamese language classes in the locality are open for free for participants.
The organisation of the class has received enthusiastic appreciation from local OVs community, and sent their children to the classes to gain knowledge, read Vietnamese, thus safeguarding their motherland's traditions.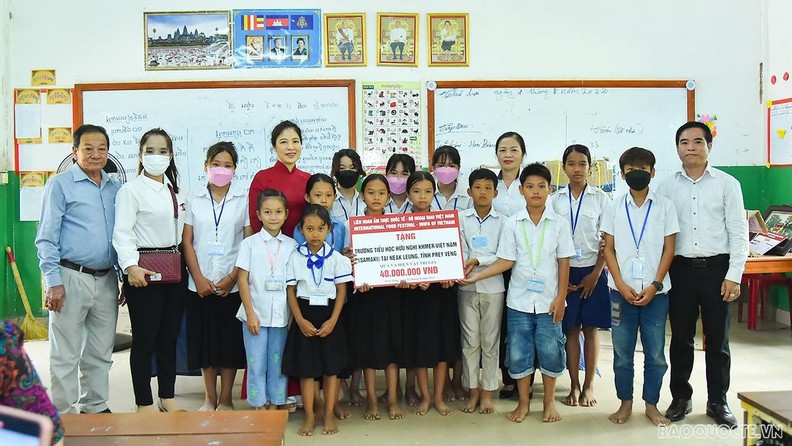 Gifts presented to students of Khmer-Vietnam friendship primary school in Cambodia (Photo: baoquocte.vn)
Chau Van Chi, Chairman of the Khmer-Vietnamese Association in Cambodia, said that the Association always encourages children of the OVs community to learn both the Khmer and Vietnamese languages, and has organised activities to educate the children about their Vietnamese roots.
He revealed that fluency in Vietnamese can bring more opportunities for the children to gain scholarships and study in Vietnam, reporting that the association has helped OVs students in Cambodia to receive more than 200 scholarships to study in Vietnam since 2006.
Currently, there are more than 150 young adults who have graduated from university in Vietnam and returned to Cambodia for work. This is a human resource to join the Cambodians in building the country while contributing to raising the position of the OVs community in Cambodia, he affirmed.
raging their childrento learn the Vietnamese language.