Addressing the Climate Ambition Summit, PM Chinh stressed that climate change remains the biggest global challenge directly impacting and taking a heavy toll on economic development, social security, and people's life safety and health.
A global and universal approach with breakthrough, general, comprehensive, and innovative solutions is required for coping with climate change, he opined, calling for faster, stronger, and more responsible actions to minimise the global temperature rise.
He proposed a new vision, a new mindset, new determination, and drastic actions be made to secure green development and net zero emissions, while just energy transition be accelerated with people put at the centre and serving as the main stakeholder to leave no one behind. He also asked developed countries and international organisations to assist developing and underdeveloped ones with green technology, green finance, green management, training of green human resources, and development of the renewable energy industry and smart grid networks.
The PM suggested building new-generation partnerships and stepping up the mobilisation of green climate finance via the public - private partnership format.
He said developed countries and international partners should double finance for adaptation activities by 2025, put the Loss and Damage Fund into operation at the coming 28th UN Climate Change Conference (COP28) as committed to help developing and underdeveloped countries settle climate change consequences, and continue to make comprehensive reforms of the global financial system to boost the green finance supplying capacity to help the world better respond to big climate challenges.
Vietnam is one of the 30 countries having submitted the nationally determined contributions (NDC) plans and also one of the three first developing nations joining the Just Energy Transition Partnership (JETP). It is also working with international partners to draft a resource mobilisation plan to be announced at COP28 with the hope of turning this partnership into a model helping promote just energy transition worldwide, PM Chinh went on.
He affirmed that Vietnam is determined to achieve net zero emissions by 2050 and, with the international community's adequate assistance, reduce the greenhouse gas emissions by 43.5% by 2030 and raise the rate of renewable energy to over 70% by 2050.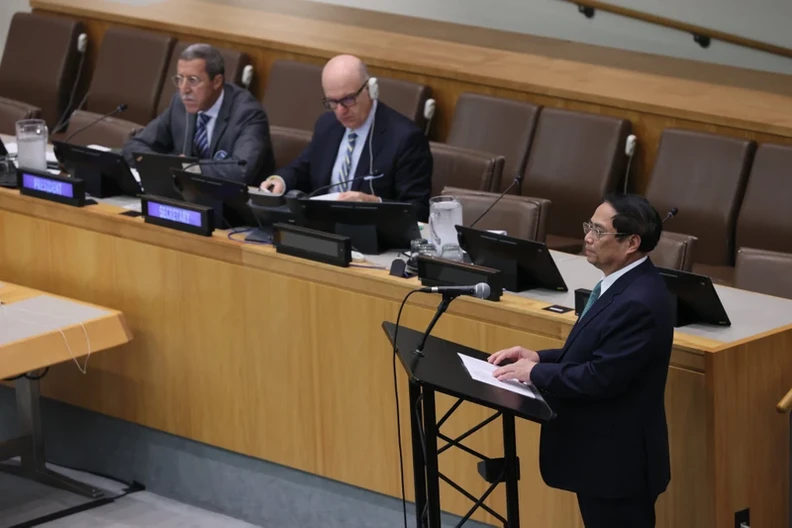 PM Pham Minh Chinh delivers remarks at the UN High-Level Meeting on Pandemic Prevention, Preparedness and Response in New York on September 20. (Photo: Duong Giang)
Speaking at the UN High-Level Meeting on Pandemic Prevention, Preparedness and Response, PM Chinh pointed out the highly serious consequences of the pandemic, and appealed to the international community to take actions so that future generations will not suffer from the scourge of pandemics.
He said that international cooperation and solidarity in both bilateral and multilateral terms play the decisive role in improving the epidemic prevention and response capacity, particularly in developing countries.
He asked for priorities to promoting the timely and equal access to vaccines, treatment capacity, public awareness, technology transfer, vaccine and medicine production capacity, and effective financial support for developing and underdeveloped nations.
It is necessary to focus on improving the capacity of grassroots and preventive health care, consider this as an urgent task of each country and international cooperation, and promoting multilateralism, global solidarity, universal solidarity, and all countries' efforts in epidemic prevention, the PM remarked.
Highlighting Vietnam's efforts in joining hands with the international community to share information and experience in a timely and effective manner to cope with epidemics, the Government leader emphasised Vietnam's support for appealing to the international community to list global health security as a priority in the agenda so as to early prevent, prepare for, and effective respond to epidemics.
He also underlined the spirit of giving the top priority to caring for and protecting people's health and life to achieve sustainable development and leave no one behind.
On this occasion, PM Chinh highly valued and thanked countries and international organisations, including the World Health Organisation, for their effective cooperation and assistance for Vietnam, especially during the COVID-19 pandemic.
The meeting approved by consensus a political declaration on pandemic prevention, preparedness and response. It decided to hold another UN high-level meeting on pandemic prevention, preparedness and response in 2026 to comprehensively review the declaration implementation.
The convening of this meeting was an initiative of Vietnam in coordination with some key countries. It was proposed and approved by the UN General Assembly in September 2022 with a view to devising effective solutions to national, regional, and global-level shortcomings in preparing for, preventing, detecting, and responding to health emergencies.
Vietnam proposed the selection of December 27 as the International Day of Epidemic Preparedness, which was approved by the UN General Assembly in 2020.