The patriarchs include elders, heads of families, religious dignitaries, and intellectuals, whose voice is always respected and listened to, and whose actions gain trust from villagers.
Jat B village in Ea Hiu commune, Krong Pak district, Dak Lak province, was once a difficult village with 118 households of more than 500 people, most of them being Rede ethnic people.
According to elder Y Bhem Knul, on the first days of implementing the new rural area programme, local authorities called on locals to donate land for the construction and expansion of roads, but the appeal gained little response from villagers.
"As a Party member, I felt that I should act as an example for people to follow, thus I donated nearly 500 m2 of land for the construction of a communal cultural house," elder Y Bhem Knul said.
Around ten years ago, Drao village in Cu Ne commune, Krong Buk district, Dak Lak province used to be a "hot spot" of security and order. To address the problem, elder Y Kru Ayun actively joined local authorities to organised many meetings to raise public awareness of conspiracies, and online sabotage activities of hostile and reactionary forces.
As a result, the village's security and solidarity has been maintained, people have worked together to make their hometown more prosperous and beautiful.
In the border commune of Ia Mor, Chu Prong district, in Gia Lai, elder Ksor H'Blam is honoured as the "foundation" of the village. After more than 20 years working in the army, she retired with the rank of senior lieutenant.
Returning to her hometown in Krong village, Ia Mor commune, she has shared her knowledge and experience with villagers, to help them improve their livelihoods by instructing them to increase rice crops and cultivate industrial crops. She has also coordinated with local border guards in forestry protection and development.
H'Blam and many other village elders and influencing people, have been established as examples for others to follow, and their joint actions have brought about positive changes to the village, said Vice Chairman of Ia Mor Commune People's Committee Nguyen Tuan Anh.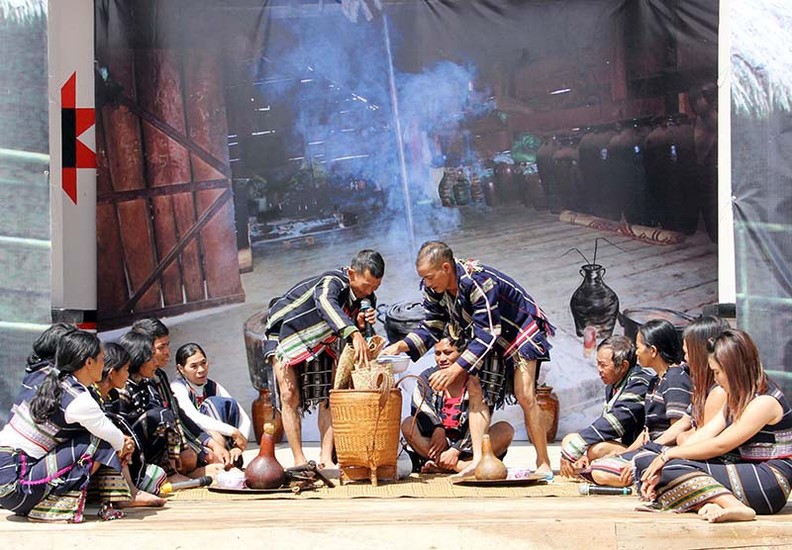 Elders host an important ritual of K'Ho ethnic people.
In many villages in the Central Highlands, locals still practiced superstitions regarding health problems. Secretary of the Ro Koi Village's Party Committee, A In said that in the past, when someone got sick, his family would invite shaman to hold rituals with many offerings including pigs, buffaloes and cows. The rituals did not help to sweep away the disease, they even made the family run out of money to pay for offerings.
Given the situation, A In came to every household to convince them to dismiss the superstitions, stressing that patients must go to doctors for health check-ups and treatment. Now, such rituals on health beliefs have not been practiced in the village anymore.
In the south of Central Highlands, elder Tou Prong Dzung in Ka Do village, Ka Do commune, Don Duong district, Lam Dong, is known as a prestigious and enthusiastic Party member. He served as the Chairman of the Commune People's Committee, the President of the Commune's Fatherland Front Committee, and the Secretary of the village's Party Committee.
Since his retirement, he worked as Chairman of the Ka Do Commune Association of the Elderly. "It is necessary to listen to the opinions and understand aspirations of villagers," he said, adding that officials and Party members must set examples for others to follow.
In the past, Ka Do villagers grew only one crop of rice and corn per year, thus they lived in poverty. Since Elder Dzung encouraged them to develop household economies and shift the crop structure, the people's livelihoods have significantly improved.
Elder Dzung has also paid special attention to preserving and promoting indigenous culture. He has opened free classes on teaching Chu Ru and K'Ho ethnic languages to officials in the district, which helps to bring them closer to local people.
There are many other influencing patriarchs in communities across the Central Highlands localities, who have been honoured as "pillars" of the villages and have made considerable contributions to popularising the guidelines, policies and laws of the Party, State, and authorities to locals and increasing people's trust in the Party and State.