The event features the participation of large numbers of representatives of the government of the Primorye region (Far East, Russia), Vladivostok City, consulates of other countries in Vladivostok, the Vietnam-Russia Friendship Association of the Primorye region, and Russian war veterans who served in Vietnam, along with representatives of Vietnamese organisations, businesses and communities living and studying in Vladivostok.
Speaking at the ceremony, Vietnamese Consul General to Vladivostok Nguyen Dang Hien emphasised that the relationship between Vietnam and Russia is a traditional friendship based on mutual trust, which has been tested over the years.
The two sides regularly exchange delegations at all levels, cooperate in all fields of politics, economics-trade, security-defence, culture, science, and education. At the ceremony, Vice Governor of the Primorye region Nikolai Stetsko congratulated Vietnam on many important achievements over the years.
He affirmed that Vietnam and Russia have strong friendship relations. The people of the two countries always support and help each other in many fields. Political dialogue between the two countries has developed stably.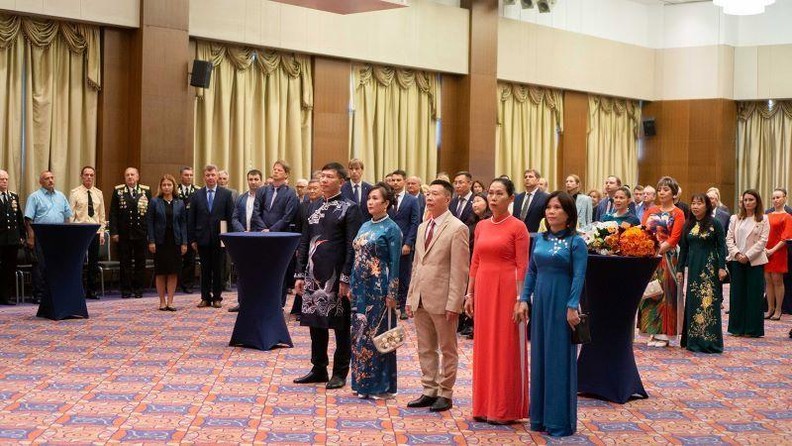 The ceremony was attended by a large number of delegates.
In a congratulatory letter read by Vladivostok Deputy Mayor Daria Stegniy at the ceremony, Vladivostok Mayor Konstantin Shestakov shared their belief that the development of relations between the Vladivostok City government and the Consulate General of Vietnam in Vladivostok would further promote mutual understanding between the two peoples, consolidating the lasting friendship between Russia and Vietnam, as a strong motivation for the two countries to deepen their integration and implement the proposed plans.
President of the Vietnam-Russia Friendship Association in the Primorye region Evgeny Vlasov emphasised that the relationship between Vietnam and Russia is that of a traditional friendship. This friendship is not in words, but in concrete actions.
In a warm atmosphere, the delegates joined together to enjoy musical performances performed by the Vietnamese community in Primorye as well as to taste some special dishes of Vietnam.