Even now when Vinamilk is already a dairy powerhouse, Lien still always underlines the need to continue renovating and changing so that the company can grow more strongly and sustainably.
30 years of innovative leadership
Lien once said that creativity is a matter of life and death, which has been regarded as the DNA of Vietnam's largest dairy producer. In her message to Vinamilk staff at the start of 2022, the helmswoman highly valued the human factor and the sustainable staff connection as the reasons behind its success.
She said that the journey ahead remains a challenge and whether Vinamilk can catch up with the recovery momentum and create breakthroughs depends on the company's mindset, action, determination and solidarity. She also mentioned people's health and safety as the most important factor.
Lien has been with Vinamilk since it was established 46 years ago, when it took over and successfully restored three dairy plants severely damaged by war. She contributed to the issuance of policies for a "white revolution" to construct and develop cow farming regions in the 1990s. In the following more than 15 years, Vinamilk succeeded in developing 14 international-standard cow farms, which managed 160,000 cows and produced 1 million litres of milk each day. At the same time, Vinamilk also established 13 modern milk plants in Vietnam.
In addition to being a competent manager, Lien is also known to have great business acumen. She is the creator of many well-known products such as Dielac and Southern Star, which are also Vinamilk's top exports to many countries in the world. Her success story during 30 years as Vinamilk CEO is always associated with creativity and the reform mindset.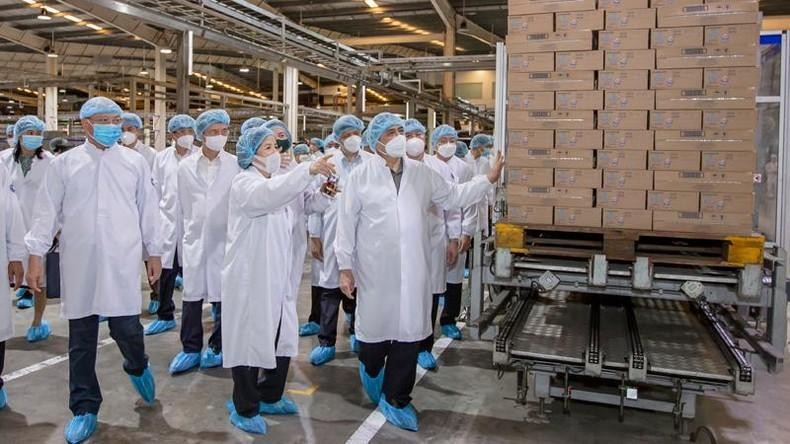 Vinamilk CEO Mai Kieu Lien takes the Prime Minister for a tour of the company's milk plant in Binh Duong Province.
Healthy competition for consumers' sake
Lien's hometown is Hau Giang Province, but she was born in Paris in 1953. In 1957, her family, who were Vietnamese patriotic intellectuals living in France, returned to Vietnam to contribute to the homeland.
After graduating from Trung Vuong High School, Lien was dispatched to study about dairy processing in the Soviet Union. After returning to Vietnam, the became an engineer in charge of the production unit at the Southern Milk and Coffee Company, the predecessor of Vinamilk, and then assumed the roles of Deputy Technical Director, Deputy General Director, and finally General Director of Vinamilk in December 1992.
Working at Vinamilk since its early days and as its top leader for 30 years, Lien has created breakthroughs for the company, becoming the most notable success story of the equitisation process thanks to the spirit of innovation.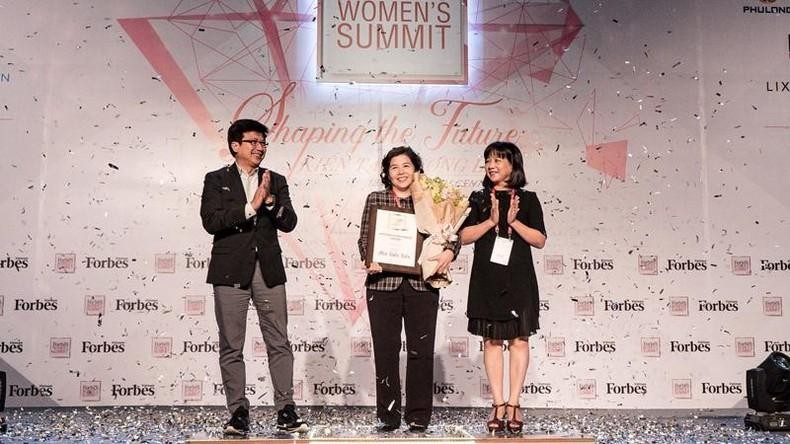 Vinamilk CEO Mai Kieu Lien receives the Forbes Vietnam Lifetime Achievement Award.
During her 46-year career at Vinamilk, Lien has always maintained the progressive mindset that healthy competition will motivate development and benefit consumers. Despite the impacts of COVID-19, Lien was still consistent with the target of growth by renovating Vinamilk's products, expanding its markets and enhancing its investment efficiency.
According to Lien, the success of a company lies not only in the business numbers but also the values it brings to the community and the country as well as its partners, customers and workers. The combination of such factors is also the foundation for Vinamilk to make further advances on its journey of sustainable development.
Making Vinamilk the most potential dairy brand globally
With a right development strategy, after nearly five decades, Vinamilk has become not only the largest diary company in Vietnam but also made a name for itself on the global dairy map, standing at number 36 among the world's 50 largest dairy companies in terms of revenue, according to the 2021 rankings by Plimsoll. Vinamilk is also the sole Southeast Asian company on the list.
Recently, according to a report by Brand Finance, Vinamilk's value has increased by 18% to reach 2.8 billion USD, making it the dairy brand with the most potential globally. For a milk brand with nearly a half-century history, this assessment is highly significant as it shows that Vinamilk is possessing great potential for continued growth in the future.
However, the road to success is not a bed of roses. To achieve such results, Lien had to navigate Vinamilk through many difficulties, especially in 2021 when the COVID-19 pandemic severely affected global economic and trade activities. But Vinamilk made great efforts to maintain revenue growth and surpass the 60 trillion VND (2.4 billion USD) mark.
This year, Vinamilk is working actively to implement many major projects such as Hung Yen Dairy Plant, Moc Chau Dairy Paradise, a beef cattle project in Vinh Phuc, and the debut of a joint venture in the Philippines. Even during the pandemic, Vinamilk still stepped up its international business with respective growth of 7.4% and 10.2% in 2020 and 2021.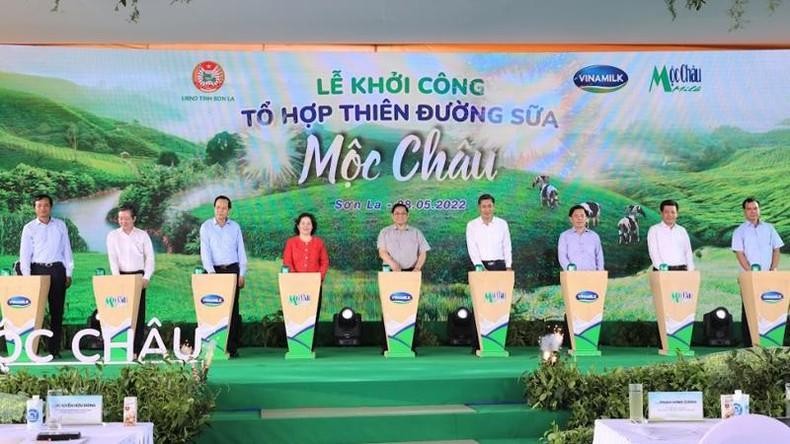 The ground-breaking ceremony for the Moc Chau Dairy Paradise project.
With her significant contributions to the development of the dairy industry in Vietnam and the region, Mai Kieu Lien has been presented with the Labour Hero in the Doi Moi Period title, and the first-class and second-class Labour Orders. She was also named by international organisations as one of the most powerful businesswomen in Asia.
Last month, Lien was also honoured as an excellent businessperson of 2022 for her capability to navigate Vinamilk through difficulties to maintain stability, restore growth and sustainable development.